GIORGOS GIAKOUMAKIS brought down the curtain on his Celtic career with the second goal that clinched a 2-0 victory over Kilmarnock in the Viaplay League Cup semi-final at Hampden on January 14.
He will be nowhere near the south side of Glasgow when the holders compete for the silverware against Michael Beale's Ibrox side on February 26.
If Giakoummakis had hung around a little longer he might have managed to score his first goal against the Govan club.
The 28-year-old Greek international will never get another opportunity to add to the 26 strikes he claimed over a 57-game career at the Hoops.
He ended his association with the Parkhead club officially when he signed a three-year deal at Atlanta United.
The MLS club sat down with their latest transfer purchase to put him through 17 questions to introduce the frontman to their supporters.
Remarkably, there is no mention of Celtic. Peaky Blinders get a shout-out, though!
Here is the full questionnaire.
Before we get into our 17 questions, how do you prefer your name to be pronounced? 
YOR-gos Yah-koo-MA-kees.
Now, why Atlanta United? 
First of all, I watched a lot MLS the last two or three years, and of course it was one of the leagues that I would love to play in. Atlanta because I know Atlanta is a very, very good, very nice club. It's a big club with a lot of fans, which is something that I really like because I'm a passionate person and I love to play in front of crazy fans, which Atlanta has.
I watched all of Atlanta United's games from last season. It helped me a lot to make up my mind and sign with Atlanta. And I researched about the training facilities and the stadium and they're just amazing. It was an extra motivation to join Atlanta.
Who's coming with you to Atlanta? 
My wife is going to follow me with my two kids. I can't wait. I have one boy, a one-and-a-half year old, and a daughter who's six months.
QUESTION TIME…Giorgos Giakoumakis is put on the spot. Image courtesy Atlanta United.
What's your favourite thing about being a dad? 
Everything. My life changed since I became a dad. From one moment to the next, it's like my life had a point finally, and it's something that is priceless.
And where is home to you? 
I was born and raised in Crete. It's the biggest island in Greece. I love my country. I'm really proud of it. It's a very beautiful country, especially in summer. You have amazing islands, places to visit, a lot of history. It's a place that I miss a lot while I've been playing the last few years in another country. I miss it a lot. It means everything for me.
What's your favourite meal from back home? 
Well, I have some specific recipes, but in general, the base is spaghetti.
Do you have any nicknames? 
I love to be called "Yako." It's from my surname. "Tank" is one of the better ones that I really love. That comes from my size and my strength.
What's your strongest soccer memory? 
When I signed my first professional contract when I was 17 and a half years old. Because at the time I thought that I finally made it, and I was really proud. I was also really happy because I felt how proud my family was and that was really special for me.
UPS…Giorgos Giakoumakis and Anthony Ralston celebrate the Greek striker's title-winning goal in the 1-1 draw with Dundee United at Tannadice on May 11 last year.
DOWNS…Giorgos Giakoumakis hits the deck after a collision with an opponent.
Any pregame rituals you do to get yourself ready before a match? 
I try to focus and try to relax the whole day. A couple hours to go, I try to focus a lot. I pray. I'm a religious guy, so I pray. I pray always to stay healthy and to be sharp in the game.
Do you listen to any music before a game? 
As long as the DJ of the team is good, I don't have any issues. If he's not, then I have to wear my headphones and listen to my music. I can listen to everything, but I love some house music before games. That works me up and gives me motivation.
What's one item you have to have with you on road trips? 
Definitely my iPod. I'm a Netflix guy. I'm watching all those series. I think I've watched everything. I spend a lot of time traveling on buses, on airplanes and yeah, I need something to have fun with during the journey. A few of my favourite Netflix shows are Breaking Bad and Peaky Blinders.
What sports do you like to watch other than soccer? 
NBA because of the Giannis Antetokounmpo, first of all. The last two years, I've also been watching a lot of tennis. Those are two sports I really like. And now, I think I have the chance to get to know the NFL better. It's not a really popular sport in my country, back in my hometown. We don't have rugby. We don't have something similar to football. So, I want to learn more about that sport, and I think I'm going to watch a lot of games. And now, I have a good chance with the Atlanta Falcons.
What's the best advice you've ever received? 
Never doubt myself. That was the best thing because during your career, some people will believe in you, some people don't. Most of them probably won't believe in you. The most important thing is to stay strong, physically and mentally, and never doubt yourself. Because if you doubt yourself, if you don't believe in yourself, no one else will.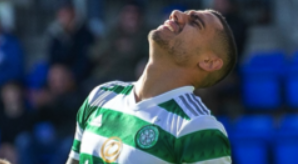 HEAVENS ABOVE…Giorgos Giakoumakis looks skywards after missing a chance.
What inspires you to give your best on the pitch? 
My babies. Since my babies came into my life, I don't know why but whenever they are on or near the field, I feel a responsibility and a pride to score for them and have a nice performance.
How would you describe your playing style? 
I'm a proper nine. I try to get into the box. I can score and that's something that I've worked a lot on the last two to three years. My best abilities are my strength, my movement, my ability to score. And I think that I'm also mentally strong.
What are you most looking forward to in 2023 with Atlanta United? 
Well, when you join Atlanta, you have to have as a main target the goal to win the league. And as many trophies as possible. That's the main target you have. One of my targets also is to be a top scorer in the league and help my team with many goals. If I can, I want to score all these goals to help my team achieve their goal.
How many goals do you want to score this season? 
I never mention any number because you never know… but I can tell you one thing, if I don't score in a game, I'm not happy.
Finally, what do you want the 17s to know about you? 
Just that I'm looking forward to playing in front of our supporters and getting to know them. I know they're going to expect many things from me. I'm really comfortable with that. As long as I stay healthy, I will deliver and we can celebrate many goals together.
Better get your tickets now 🍿 pic.twitter.com/EbNJF2wxHY

— Atlanta United FC (@ATLUTD) February 8, 2023
Click Here for Comments >