CELTIC hero Harry Hood passed away four years ago today at the age of 74 following a long and brave battle against cancer.
The skilful forward was legendary manager Jock Stein's record signing for the club when he bought him for £40,000 from Clyde in March 1969.
Unfortunately, Harry became the third Celtic player to die in just over a month following Lisbon Lions Billy McNeill (79) on April 22 and Stevie Chalmers (83) a week later.
Hood became a successful publican and businessman when he retired from playing at Queen of the South in season 1977/78.
The classy forward, who had been the last Celtic player to score a hat-trick against old Rangers until Moussa Dembele matched the feat in a 5-1 win against the new version at Parkhead in September 2016.
HAMPDEN HAT-TRICK HERO…Harry Hood runs away after scoring one of his trio against Rangers in the 1973 League Cup semi-final. Billy McNeill is about to add his congratulations.
Hood, one of the great uncapped players of his time, achieved his feat in a 3-1 League Cup semi-final in 1973.
He scored the winning goal in the 2-1 victory over the Ibrox side in a Scottish Cup Final replay in 1971. He also claimed the first strike in the 3-0 triumph over Dundee United in the Hampden showpiece in 1974.
During his seven-year spell at Parkhead, he won five league championships, three Scottish Cups and two League Cups. He scored 123 goals in 310 appearances in all competitions. He became one of only 29 players in the club's history to score over 100 goals for the Hoops.
Hood was a rarity who actually knocked back his boyhood idols when they first made a move for him in 1964.
Speaking to author Alex Gordon in the  book, 'CELTIC: The Awakening', he revealed: "Actually, I could have joined Celtic about five years earlier than I did. I came into the Clyde team first time around in 1962 at the age of 18.
"I was enjoying my football and there were stories doing the rounds that Celtic, remember this was before Jock Stein, liked what they saw. They did make a move and I turned them down. Why? Money.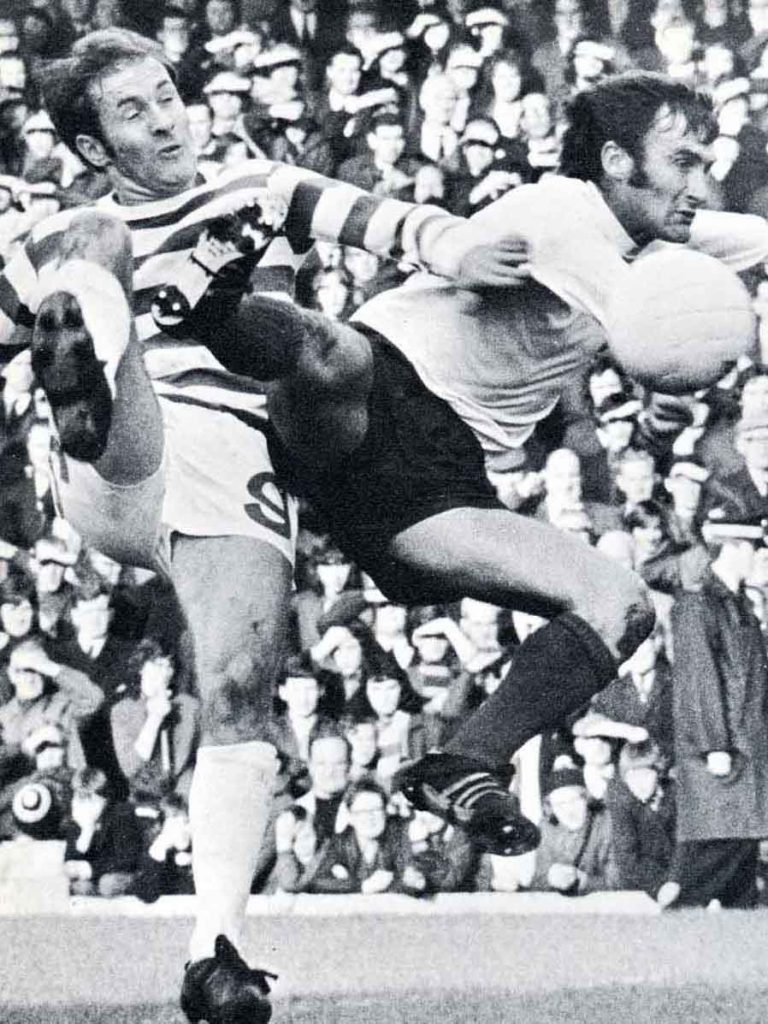 CRUNCH…Harry Hood is on the receiving end of an unorthodox challenge from Dundee defender Bobby Wilson.
"I was part-time at Shawfield while working as a sales rep. I was picking up £26-per-week. Celtic offered me £20 and I was told there would be no signing-on fee. Six pounds was a fair amount of cash back then and I couldn't afford to take the drop.
"So, I stayed at Clyde and eventually moved to Sunderland where my time there was ravaged by injuries. I missed an entire season with a double hernia.
"I returned to Shawfield in 1966 and came back onto Celtic's radar in 1969 when Jock shelled out his biggest-ever fee at the time to persuade me to make the short trip to Parkhead.
"They made it worth my while on that occasion."
Hood also talked to Alex for his tribute book, 'BILLY McNEILL: In Praise of Caesar,' when he spoke of his team-mate and great personal friend: "I have to say Billy went out of his way right at the start to make me feel welcome at Celtic.
"I think he saw that as one of his duties as club captain. I really appreciated him putting himself out on my behalf. Immediately, I realised what he meant to Celtic and what Celtic meant to him.
"Billy was in charge of the dressing room; he was the buffer between Jock Stein and the players. I didn't envy him the role. Let's face it, who wants to be put in charge of around 20 adolescents?
NICE ONE, HARRY…the Celtic striker leaves Morton keeper Erik Sorensen helpless.
"More often than not, if someone had a problem they would talk it over with Billy. Again, he accepted that as part and parcel of him being the team leader. He was the main reason for the great camaraderie that existed among the players at the time.
"Billy McNeill was a lot more than just an exceptional centre-half.
"I was quite quiet in a dressing room, which was maybe just as well because I would have required a loud hailer to be heard above some of my Celtic teammates. Bertie Auld and Tommy Gemmell weren't exactly shy and retiring.
"When things got a little rowdy, Billy would say: 'Right, lads, that's enough of that'. It would get the job done and sanity would be restored. Billy was a fierce competitor, but he was a first-class team-mate out on the field when the going got tough.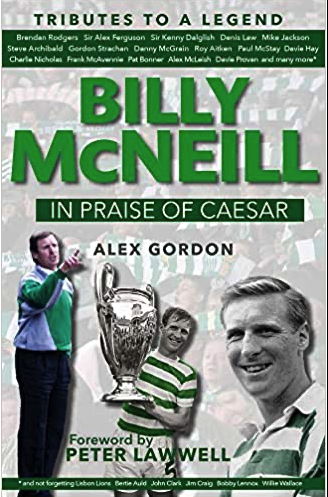 "He was tall, had the chest jutting out and looked every inch the team's inspirational captain and some people may have misconstrued that as arrogance.
"They would be completely wrong in thinking along those lines. Billy McNeill was never conceited or full of himself; he was far too well grounded for that sort of egotistical outlook. What I would say is he was confident.
"And, believe me, that is a necessary commodity playing in front of many thousands every matchday for one of the most famous teams in the world. Big Jock would have us well prepared for a game and say all the right things before kick-off.
"After that, Big Billy took over when we were out on the pitch. He was a thorough professional and it was a joy to play alongside him."
Click Here for Comments >