CALLUM McGREGOR admits the champions didn't look like Celtic in their 4-2 defeat to Hibs in Edinburgh in midweek.
However, the Hoops captain insists he is NOT worried about the three-game run without a win since Ange Postecoglou's side clinched their second successive title with a 2-0 victory over Hearts at Tynecastle on May 7.
The team's acclaimed swagger has been replaced by an astonishing stagger as the title kings have lost at Ibrox and Easter Road and drawn at home to St Mirren.
CAPITAL PUNISHMENT…Callum McGregor can only look on as Elie Youan fires in Hibs' first goal in the 4-2 win over Celtic in midweek.
As the 29-year-old Scotland international anchorman prepares for Flag Day tomorrow against Aberdeen in the east end of Glasgow before focusing on the Scottish Cup Final against Inverness Caley Thistle at Hampden a week later, McGregor attempted to put the situation in perspective.
Reassuring the Celtic fans that the players have the ability to lift their levels again as they chase a glorious treble, the onfield leader said: "Yeah we can. I have no doubt that we'll be ready to go for Hampden.
"We have a good track record of coming through the big games and the big moments. We've been strong as a group. That gives us the confidence that we will be ready to go for the Final. The last few games haven't been great, but I have no doubt. I'm full of belief.
"We have a big game on Saturday and it's a chance to celebrate the title and for the supporters to celebrate an unbelievable season in the league.
"We already have a Cup in the bag and after Saturday's game, full focus switches to the Final."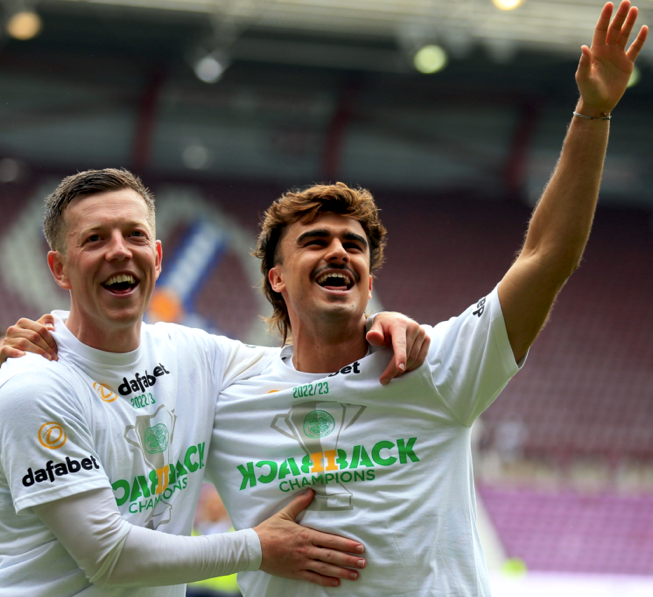 JUST CHAMPION…Callum McGregor and Filipe Jota celebrate Celtic's second successive title triumph following the 2-0 win over Hearts at Tynecastle on May 7.
McGregor, speaking to the Daily Record, continued: "The main thing is we remember the feeling of disappointment and we don't just disregard it. We don't just say: 'We're champions and who cares?'
"That's not the mentality of this group. We need to remember how it feels when we lose.
"Firstly, for a Final that we want to win and, secondly, for next season when we don't want to give teams any oxygen in how they play against us and get confidence. We have to harness this feeling as much as we do when we win.
"You have to keep that with you and minimise how many times you feel like this.
"But we have a real chance to celebrate tomorrow and, hopefully, that will give everyone a lift."
Reflecting on the abysmal second-half against Lee Johnson side's when the visitors threw away a 2-1 advantage following the red card for Daizen Maeda, McGregor observed: "Whatever team we send out on the pitch, we have to look and act like a Celtic team.
"To be honest, I don't think we did that. We didn't cover ourselves in glory.
ON THE BALL…Callum McGregor enjoys the backing of the Celtic fans at Hampden.
"The first-half was good, but then we let them back into the game. Then we didn't deal well with going down to 10 men. So, as much as the manager says he takes responsibility for the changes, we need to take it as players, as well.
"It doesn't matter how well you think you're doing, a few results and you are right back to earth.
"That's life at Celtic. You don't win for a few games and there's a crisis! It's a good lesson for the new players. Hopefully, the guys will take that learning and it's the same for the rest of us.
"You can never really come off it at Celtic."
Quizzed if he was worried about the winless sequence, McGregor added: "No, you have to put it into context.
UP FOR THE CUP…Callum McGregor and his Celtic team-mates acknowledge the fans following the 2-1 League Cup Final victory on February 26.
"If anyone is trying to pick holes in the group for whatever reason, you just have to look at what we did up to winning the title.
"It's been outstanding, with very minimal mistakes and hardly any dropped points. There have been massive winning streaks where we've shown hunger, desire, everything.
"Of course, we're disappointed with the post-split fixtures and results. We haven't reached that level. But up until becoming champions we were outstanding, so it's difficult to be hard on the group.
"Yes, we want to maintain as high a standard as possible, but sometimes in football it doesn't quite work like that. We have dipped a little bit, whether that's physically being a little bit tired or the demands that the run took out of the team.
"When the objective is complete, it's maybe human nature that you subconsciously take a little bit of a step back. There's always a fight to stay on the edge as a professional footballer.
"You're judged on playing on the edge and you always fight to improve and get better."
Click Here for Comments >