FLAMBOYANT Filipe Jota admits he is "so grateful" to be living the dream at Celtic.
The Portuguese flyer added another eye-catching strike goal to add to his spectacular collection in the 4-0 romp against Giovanni van Brockhorst's stunned Ibrox outfit at a rocking Parkhead yesterday.
Jota embarked on a solo sortie after being released by a peach of a pass from the impressive Matt O'Riley.
The £6.5million recruit from Benfica raced away from Connor Goldson, drew Jon McLaughlin from his line and completed the exercise with an exquisite dink that floated towards its destination in the 32nd minute to double the champions' advantage following the opener from Liel Abada.
STRIDING FORWARD…Filipe Jota races onto Matt O'Riley's perfect pass.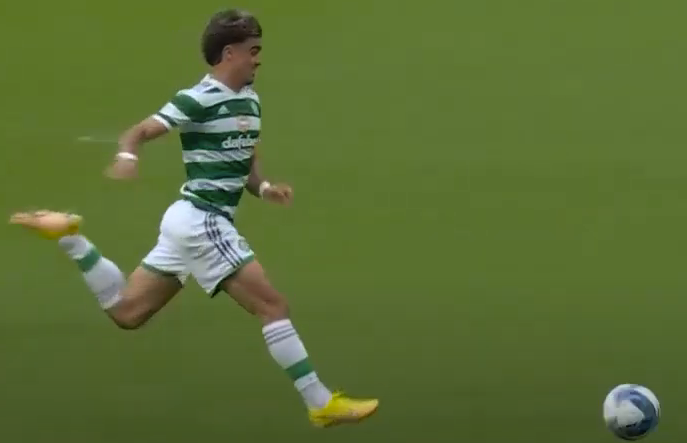 POISE AND COMPOSURE…Filipe Jota addresses the situation in an instant.
BEST FOOT FORWARD…the Celtic ace lifts the ball goalward as Jon McLaughlin tries to cover the angles.
FLOATING ON AIR…Filipe Jota bamboozles the Ibrox keeper with a cheeky dink as he puts Celtic 2-0 ahead.
The 23-year-old entertainer, who wowed the Hoops support during his mesmerising loan season, was unstoppable as he put in a full shift ahead of Tuesday's Champions League Group F encounter against holders Real Madrid under the lights in the east end of Glasgow.
As he reflected on another good day at the office, Jota said: "We know these games are really special and we came with the mentality of doing well, sticking to our principles and just delivering. I think we did it.
"It's always a big result because it's a win. But if it was 1-0 it could still be a good result. It always depends on the way we play and I think the way we played out there was very good.
"So, we need to keep at it now. I've said this quite a few times. I'm so grateful to be in a team that plays this kind of football.
"I've played like this all my youth and this is just the way I want to play football, with these principles.
"Attacking football, high tempo, high pressing, one v ones, crosses, assists, goals. That's what we aim for."
SALUTE FROM A STAR…Jota accepts the acclaim from the delighted Celtic fans after another moment of magic.
Jota, speaking to the Sunday Mail, continued: "It's just an unbelievable time to be alive right now. It depends what people think is dream football. For some people the dream is to win, even if you play badly.
"But if you can play well and win games? That is what we want.
"We are in a good moment right now. But there are plenty of difficult matches to come, so we need to remain humble and work hard.
"That's what we have been doing since last season and we want to keep improving."
Discussing his breathtaking strike, Jota commented: "When I received the ball I was not expecting to chip.
"Football is like very short seconds – you just need to decide in the moment. Once I saw the goalkeeper coming I knew I had to chip.
"I think a tap-in is just as satisfying as the other goals because it's still a goal. As long as the ball goes into the net I'm happy with that."
With Carlo Ancelotti's All-Stars providing the opposition on Tuesday, Jota added: "People often think that confidence brings more confidence.
PARADISE…Filipe Jota shares the joy with thousands of celebrating Celtic supporters.
"But these are the times you just have to remain humble and stick to your principles. We know how hard it was against Rangers to play this kind of football. Now we have to keep our feet on the ground.
"We still have room to improve and need to be better game after game. When you start to play football playing in big games are the moments you want. In 15 years you can tell your children you enjoyed these moments.
"We will stay responsible, know what we have to do, but, at the same time, enjoy it. Because it's very good to play these games. You know that to be a great football player you have to both attack and defend well.
"We know we need to be compact defensively. It's impossible to always be attacking.
"But we have been doing good work when we need to."
JUST PARADISE: ABADA AT THE DOUBLE WITH CHAMPS TO THE FORE
Click Here for Comments >