ANGE POSTECOGLOU has spoken out about the bewildering inconsistences from match officials and VAR assistants which have seen "at least three major decisions go against us".
The Celtic manager also mentioned the "mental gymnastics" of some people over the controversial decision at Ibrox on Monday which CQN described earlier this week as "defending the indefensible".
We highlighted some reports attempting to justify the decision by referee John Beaton and technical assistant Willie Collum not to award the champions a stick-on penalty-kick in the 2-2 derby draw.
It was clear central defender Connor Goldson had used both hands to push away an effort from Carl Starfelt in the 64th minute at a stage the hosts were leading 2-1.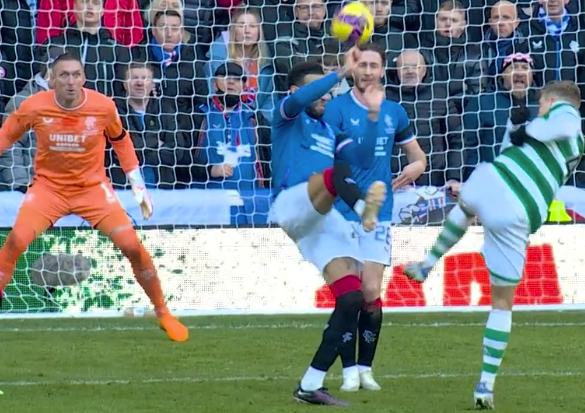 WHAT A SAVE…Connor Goldson diverts Carl Starfelt's close-range effort as goalkeeper Allan McGregor looks on. 
Astoundingly, there was no punishment from either the official with the whistle or the assistant looking at multi screens in a studio across the city.
It baffled many onlookers that Beaton was not even instructed to at least have another view of the flashpoint incident on the touchline TV monitor.
Postecoglou, preparing for tomorrow's Premiership visit of Kilmarnock, said: "It's a penalty. I've seen some people do all sorts of mental gymnastics trying to show why it's not a penalty which probably suggests it is, just trying to find a reason it's not. If it wasn't, it would be a simple explanation.
"It's just really confusing now for players in the box to know what they can or can't do, because it seems it changes depending on who is in charge of the decision-making process.
VAR-CICAL…Ange Postecoglou has his say on new technology he believes has gone against Celtic at least three times since it was introduced in late October.
"There has been zero consistency and these things normally even themselves out.
"But with the introduction of VAR and the decisions that have gone against us, there's ZERO chance that's going to even out by the end of the season."
Postecoglou, speaking to Sky Sports, continued: "It's just remarkable, we've had at least three major decisions go against us.
"We can say it just comes down to interpretation or whatever people want to say, but I guarantee you if that game finished 2-2 and it was Rangers were denied that decision, the talk would be about how that was a title-defining decision.
"The fact that it wasn't because we still have a reasonable result, as we have in all the other games like at Tynecastle when the decisions went against us, doesn't mean we should ignore it.
"That could be a team that gets relegated on a decision like that."
The Hoops gaffer added: "It still needs highlighted and it still needs clarification.
"To go back to your original decision, it's a penalty in my mind. Before we even started introducing VAR, it's always been a penalty.
"There were only two saves in the game; one by Joe and one by Connor, that's it."
▫️ 'Zero consistency' in VAR decisions
▫️ 'Zero chance' things will even out
▫️ 'At least three major decisions' gone against Celtic

Celtic boss Ange Postecoglou has his say on the claims of handball against Connor Goldson at Ibrox and the use of VAR this season ⬇️ pic.twitter.com/9EAPhlQGi7

— Sky Sports Scotland (@ScotlandSky) January 6, 2023
Click Here for Comments >