THE fates appeared to be snarling at Tommy Burns as he experienced extreme turbulence during his third year as Celtic manager during the tempestuous 1996/97 crusade.
The fans' favourite had returned to the club on July 12 1994 and had won the Scottish Cup in his debut campaign. That was followed by a barren term and all eyes were on the boss during another challenging season.
In another CQN EXCLUSIVE series, we chart Tommy Burns' career as the team's gaffer during turbulent times on and off the field. Here is the seventeenth instalment from Alex Gordon's tribute book, The Winds of Change, which was published by CQN in 2015.
Please enjoy.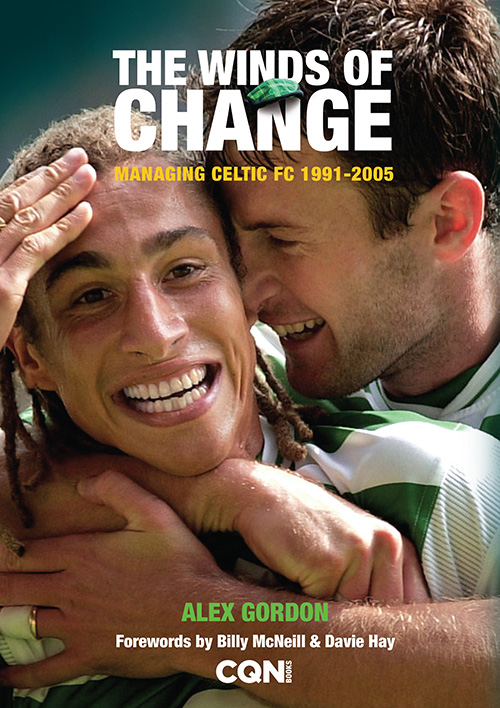 PAUL McSTAY, after missing 15 consecutive games with his troublesome ankle injury, was given a hero's welcome by 45,818 fans as he returned to first team action against Dunfermline three days before the end of 1996.
The inspirational midfielder might have wondered what he had let himself in for when former Celtic player Gerry Britton put the Fifers ahead in only six minutes. And there was a scare moments later when Britton got through again, but trundled a shot wide of the target with only Stewart Kerr to beat.
It was a let-off and Celtic realised it. Two quickfire efforts turned the game around before half-time.
Jorge Cadete, displaying excellent predatory instincts, equalised in the 35th minute and a restored Pierre van Hoiijdonk grabbed a second three minutes later. The Portuguese raider got No.3 in the 52nd minute and Simon Donnelly had overworked keeper Ian Westwater fishing the ball out of the back of his net for a fourth time just before the hour mark. Britton got a second for Bert Paton's side.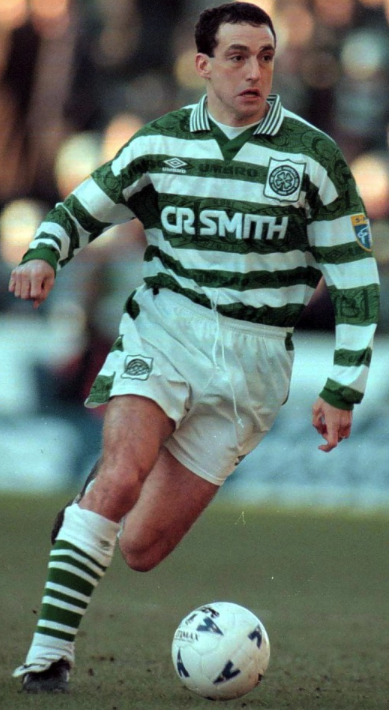 ON THE BALL…Paul McStay was welcomed back to the Celtic first team by Tommy Burns.
Manager Tommy Burns was all smiles at the end, particularly with the return of his skipper McStay. He enthused: "We've really missed him while he has been out. It's only when you try to buy someone as a replacement you realise that no-one is quite as good. The important thing Paul brings is composure.
"You want to try to put passes together and perform as a team unit and Paul helps that happen. He has got the experience to make up for what he is lacking in match fitness and he is absolutely thrilled to return to the team, though both he and I knew he would make it back."
He added: "Over the last few games, the players have given everything in the knowledge we can't afford to drop a single point. Sometimes the silky stuff has to go and you've got to be prepared to sweat and we have shown we can do that."
Celtic were now due to travel across Glasgow for the New Year head-to-head with Rangers at Ibrox on January 2 to usher in 1997 in the traditional tribal manner. There could be no settling for a point by Celtic on this occasion which Burns was more than aware played perfectly into the hands of Walter Smith and their ancient adversaries.
CRASH, BANG, WALLOP…Andy Goram punches away as Alan Stubbs challenges – an aerial duel that prompted a flare-up during an explosive Old Firm encounter.
All too often, the Parkhead men had been picked off by a set of opportunists more than content to sit back, absorb pressure and hit on the break when the opening arose. Celtic had exposed their back more than was comfortable in recent years and had the scars to prove it.
Burns, of course, had another problem – could he afford to take a chance on Paul McStay, his onfield leader? The savage, relentless competitiveness of an Old Firm confrontation is not an occasion designed to accommodate anyone other than those in peak condition. McStay, with only one game since August, couldn't possibly have been completely match-fit for the 90-minute rigours required of such an encounter.
The Celtic manager, though, had supreme faith and the utmost belief in his midfielder and McStay's name was one of the first on his team sheet for a vitally important set-to where only the most resolute would emerge victorious.
Unfortunately, McStay, awarded an MBE in the New Year Honours' List, had nothing to celebrate after a high-octane, controversial Glasgow derby that scorched through an hour and a half of contentious issues. Rangers won 3-1, but the story behind the scoreline made for interesting reading and, possibly, also made for huge embarrassment for referee Jim McCluskey and his farside linesman Gordon McBride.
Neither could have been remotely satisfied with what they had contributed to another evening where Burns and his Celtic players must have wondered about the fickleness of fate. Even Walter Smith had the good grace to admit: "The first-half was pretty even, but in the second-half Celtic had much more pressure. They looked the team more likely to score and even go on and win.
"I had a feeling they would cause us much more problems in the second 45 and that was the case."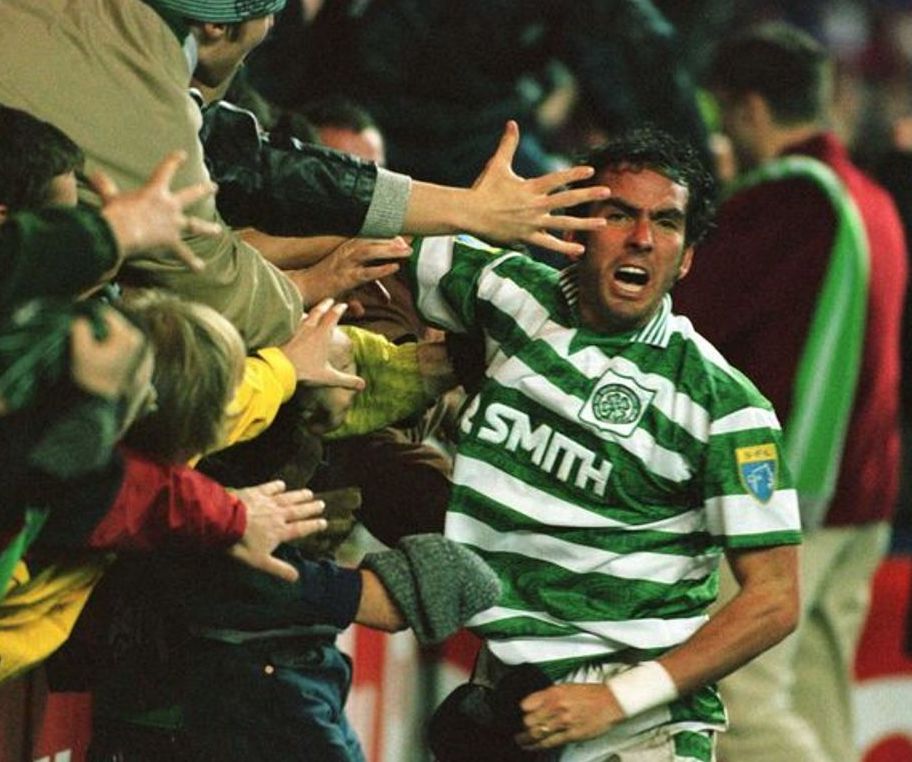 GOVAN GLEE…Paolo di Canio celebrates with the Celtic fans after equalising against Rangers at Ibrox.
On this particular occasion, there was a lot about the treatment of Paolo di Canio that was reprehensible, on and off the pitch. The Italian's vulnerable, brittle temperament became a shameful target throughout the confrontation and it is to his credit he did not respond to the merciless goading and inexcusable taunts.
In only 10 minutes, Di Canio was completely taken out of play by a blatant bodycheck from centre-half Alan McLaren. The match official adjudged it to be a yellow card offence and the Rangers defender could count himself extremely lucky. Twenty minutes later, the Celtic forward was, rightly, halted in his tracks as he sped onto a Jorge Cadete pass.
He was offside by at least three yards and didn't bother complaining as he turned away and started to jog back upfield as the ball ran through to Andy Goram. The keeper, for no apparent reason, didn't wait for the ball to be placed for the free-kick. Instead, he blasted the object off Di Canio's exposed back.
Of course, the volatile forward reacted and, within minutes McStay, Ally McCoist and, inevitably, Paul Gascoigne were involved in a squabble. Referee McCluskey, astoundingly, took no action against the goalie, who triggered the aggro. The Rangers fans chanted Goram's name for the next few minutes in appreciation of his actions and also his accuracy with his right foot. And so it went on, but Di Canio held his feelings in check and, thankfully, refused to retaliate.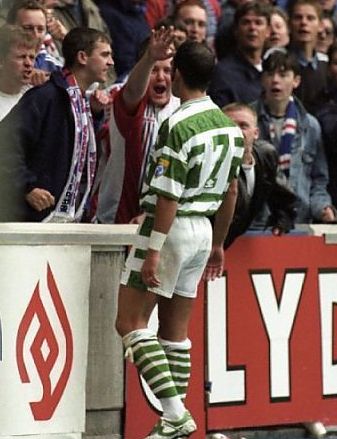 CONFRONTATION…Paolo di Canio gets up close and personal with the Ibrox support.
Rangers took the lead in nine minutes with an unstoppable free-kick from midfielder Jorg Albertz, known as 'The Hammer' as testimony to his awesome shooting power. Jackie McNamara, who would perform better in future games at Ibrox, gave away a free-kick 30 yards out after a trip on raiding left-back David Robertson.
The German took a full 15-yard run-up to the ball before hitting a pulverising left-foot strike through the wall and low past Kerr. McNamara, last man in the wall, turned away just as Albertz made contact. The shot was later timed at a shade under 80-miles-per-hour. The Celtic goalie didn't stand a chance.
Di Canio gave nemesis Goram a fright with a cunning free-kick that skipped up off the damp surface. The keeper fumbled the ball and it was booted clear. Goram was involved again shortly afterwards when he was unhappy after a mid-air challenge from Alan Stubbs at a left-wing corner-kick. Defender Gordan Petric had to grab his colleague, drag him away and attempt to calm him down before play resumed.
Little had been seen of the much-vaunted Gascoigne, now a preposterous peroxide blond, as the game ebbed and flowed at a frantic pace. Burns introduced Pierre van Hooijdonk for Simon Donnelly seven minutes after the turnaround and the Dutchman responded with a flying header which was pushed away by Goram at his right-hand post. Moments later a Di Canio effort was frantically booted off the line by a desperate Goram.
CONTROVERSY…Jorge Cadete spins to fire an unstoppable shot past Andy Goram with defender Gordan Petric and Pierre van Hooijdonk looking on. The 'goal' was mysteriously chopped off.
A goal just had to come and Celtic got the equaliser they so richly deserved in the 66th minute. Tommy Boyd started the move by carrying the ball towards the penalty box, it was shuttled speedily between Van Hooijdonk and Cadete and fell perfectly for Di Canio to rifle a low shot under the Rangers goalkeeper.
Burns' men stepped up the pressure as they went in search of a second goal and Smith pulled off the ineffective Peter van Vossen in the 75th minute and replaced him with Erik Bo Andersen, a young striker bought from Danish outfit Aalborg for £1.2million the previous season. It was to prove a pivotal substitution.
With seven minutes remaining, McNamara and Brian O'Neil got involved in some suicidal head-tennis on the edge of their penalty area. To be fair to the right-back, he was blameless when he nodded the ball inside to the centre-half to cut off an intended pass to Albertz. O'Neil must have taken a rush of blood to the head as he decided to knock the ball back to his team-mate.
The ball took a bounce and completely eliminated the surprised McNamara. Albertz gathered the gift, fired it low across the six-yard box to the unguarded Andersen and he toe-poked it past Kerr. It was an act of utter recklessness by O'Neil and, once more, Celtic were forced to pay the most severe of penalties.
JOY BHOY-FOR A MOMENT…Jorge Cadete turns away after scoring what he – and most people – thought was the second goal for Celtic. The match officials had other ideas.
However, four minutes later, Burns and Billy Stark were hugging on the touchline in delight as the ecstatic occupants of the Broomloan Road stand got a great view of Cadete's swivel and shot that zoomed high into the net past a static Goram. McNamara's right wing cross had been knocked down by Phil O'Donnell into the Portuguese attacker's path and his touch and turn completely flummoxed his marker, Petric.
But the Celtic grins quickly became groans when the farside linesman raised his flag and signalled for offside. In fairness, referee McCluskey, on this occasion, couldn't be faulted and had to go on the say-so of his assistant, McBride. He got it terribly wrong and there can be no plausible explanation for his faulty call because TV evidence proved he was right in line with the incident.
He had the best view in the ground. Cadete was at least a yard onside when O'Donnell first made contact with the ball to head it on. Clearly, it was a travesty of justice.
Two minutes later, Rangers were 3-1 ahead. Alas, a tiring McStay, who had been well off target with two shots earlier, fluffed a pass inside. It was smuggled through to Andersen who flicked it out to Albertz on the left. The Dane took off in a direct line for the Celtic goal as McNamara tried to keep pace.
However, the fresh legs of Andersen gave him the advantage and he was in the clear by the time the midfielder slid the ball in front of him. He took time to check Kerr's positioning before clipping his effort wide of the keeper's outstretched right leg and in at the far post. Forlornly, McNamara could only follow the ball into the net.
SMASH'N'GRAB…Paul McStay can only look on in anguish as Erik Bo Andersen slots No.3 past Stewart Kerr.
Celtic had now gone nine consecutive games without beating their arch rivals. There were many hard luck stories in the midst of the confrontations, but statistics tend to be cold and uncaring of circumstances. And those were the heartless facts only two days into a new year with Rangers 14 points clear at the top of the Premier League.
Burns ruefully observed: "Football can be a very cruel game. The boys put in a tremendous fight and, as far as the goals go, there is nothing you can do to allow for individual mistakes. Those sort of things have happened in football for more than a 100 years, but you just have to live with it. It was more difficult to take because Rangers had so few chances against us.
"The good thing is that the boys applied themselves after going behind so early. They showed intelligence and endeavour and my disappointment is for them – especially after putting so much into the game – and I don't feel that the scoreline reflected the run of play. I thought we were going to go on and win the game.
"In the second-half, we were getting better and better. And I don't think Jorge's strike was offside. Di Canio, Van Hooijdonk and Cadete did very well, but Andy Goram was Andy Goram, though it wasn't him who beat us this time."
Burns didn't care to elaborate and added: "We still have 18 games to go and we will try to win every one of them, as was the case before this match even if we had won. We are certainly up for that and we will not be throwing in the towel."
* TOMORROW: Don't miss the EXCLUSIVE eighteenth dramatic instalment in The Tommy Burns Story – only in your champion CQN.
Click Here for Comments >