MIKE JACKSON was an up-and-coming Celtic player in the late fifties and early sixties alongside the likes of Lisbon Lions Billy McNeill, who became Mike's lifelong best friend, and Bertie Auld as well as Paddy Crerand and John Colrain.
They became known as Celtic's answer to the Hollywood Rat Pack led by Frank Sinatra and consisting of singers and actors Dean Martin, Sammy Davis Jnr, Peter Lawford and comedian Joey Bishop.
Interestingly, another footballer of some repute who linked with the Celtic lads was a bloke by the name of Jim Baxter, star of the show across Glasgow at Rangers.
In another CQN EXCLUSIVE, Jackson recalls some of his early days at Parkhead in author Alex Gordon's tribute book, 'Celtic: The Awakening', which was published by Mainstream in 2013.
Please enjoy.
'It was a Wednesday night league game at Celtic Park during the time of the Home Internationals and Paddy Crerand was with the Scottish squad, so I half-expected to be playing in his position at right-half.
'I arrived at the park just after 6pm and was met by my old schoolteacher John Murphy, who was instrumental in most of the boys from Glasgow's Holyrood School going to Celtic.
THE FAMOUS FIVE…Paddy Crerand, Billy McNeill, Mike Jackson, Jim Kennedy and Dunky McKay.
He sent me and others such as Paddy, John Kurila and Charlie Gallagher to the club. I think he acted as an unpaid scout and for years he did the public address work at Parkhead.
'Anyway, I met Mr.Murphy – I could never call my former schoolteacher John – and he had just received the team to announce for the game. Sure enough, I was pencilled in to play at right-half.
At 6.45pm, Bob Rooney, our physiotherapist, came into the snooker room where all the lads congregated to relax and get ready before a game.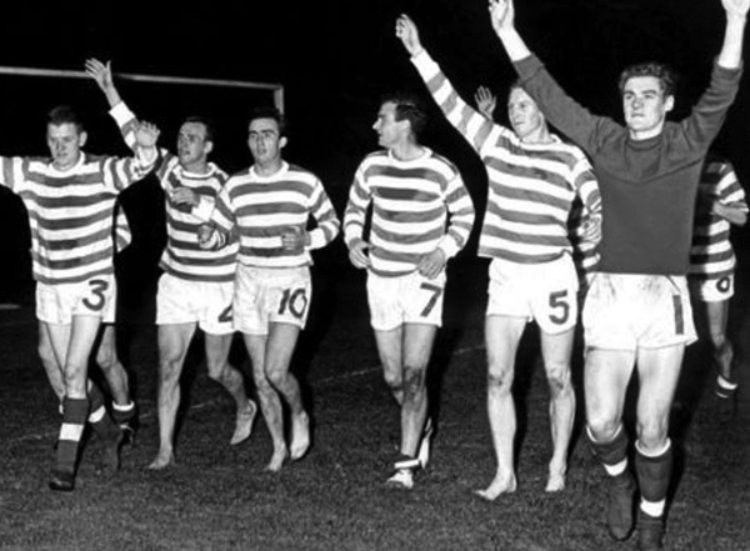 LAP OF HONOUR…Mike Jackson (No.10) and his great pal Billy McNeill (No.5) lead the beaten Celtic team around the Parkhead pitch.
'According to Bob, I was now at inside-right, but, at least, I was playing so I went in to get ready for the game.
'I did all my usual preparations, had my rubdown with the oil and liniment and was knocking the ball about in the shower area. Then Bob reappeared. He told me to go and have a bath. I wasn't playing now, there had been another change made to the team.
'So, at 6.30pm I was right-half, at 6.45pm I was inside-right and at 7.15pm I was out of the team altogether.
'I had given my dad a ticket for the game and told him I would be playing. He was in the stand and wondered why there was no sign of his son when the team ran out. He thought I had taken ill.
'I can also remember another bizarre situation back on a Monday night in September 1962 when we were due to play Real Madrid, the most glamorous team in the world and the side that had won the European Cup five times out of the previous seven years.
HEAD MASTER…Mike Jackson rises in front of the great Alfredo di Stefano to thump an effort at the Real Madrid goal.
'With those soccer aristocrats in town, it guaranteed a 72,000 all-ticket sell-out at Parkhead. The last time the magical Spaniards were in Glasgow was two years previously when they memorably thumped Eintracht Frankfurt 7-3 at Hampden to win the European Cup. Weeks before our game, the Celtic supporters had been going on endlessly about the prospect of watching Di Stefano, Gento and Puskas in the flesh.
'Hey, as a player I could hardly wait to get on the same pitch as those guys.
'The ground was packed long before the evening kick-off as the players assembled in the snooker room as usual. We all wanted to get the opportunity of facing the fabled Real Madrid; that would be something to tell the grandkids.
'However, none of us took a place in the starting line-up for granted. We were also told that each club could name three substitutes for the game which was highly unusual in those days.
'Remember, Celtic won the European Cup in 1967 and were only allowed to name goalkeeper John Fallon as substitute with no outfield players on the bench. Would you believe our chairman, Bob Kelly, was against the idea of substitutes that night?
RISE AND SHINE…John Hughes in an aerial duel with Real Madrid centre-half Jose Santamaria.
'Thankfully, he relented when Real insisted on naming three extra players who would get an outing at some stage of the evening.
'It was getting fairly close to kick-off time and all the players were standing around in our civvies wondering who would get the nod. Bob Rooney popped in with a sheet of paper and said: "Right, lads, get ready to strip. It's Frank Haffey in goal with Dunky MacKay at right-back. Jim Kennedy, you're at left-back. The half-back line is Pat Crerand, Billy McNeill and Billy Price."
'Then Bob got ready to leave. "Hey, Bob, you've only named six players, what about the rest of the team?" I asked.
'Our physiotherapist looked over his shoulder and replied: "Oh, we haven't picked the forward line yet. I'll be back later."
'So six of the guys could get prepared for the game while another ten or so of us were left milling around with our hands in our pockets. Crazy, I know, but so typical back then.
'Eventually, Bob returned with not a lot of time to spare. "Right," he said, "we've got a forward line now." He continued, "Bobby Lennox, you're outside-right, Charlie Gallagher is at inside-right, John Hughes is at centre-forward."
STEVIE WONDER…Celtic striker Chalmers lashes the Hoops goal past helpless Real Madrid keeper Rogelio Dominguez.
'Then came my big moment. "Mike Jackson, you're inside-left and Frank Brogan will be outside-left."
'There was a pause before the other guys were told who would be stripped as substitutes. "Stevie Chalmers, Bobby Carroll and Alec Byrne, would you like to get ready, too?"
And with that Bob was gone.
'Actually, it turned out to be a really memorable night. I recall they went two goals ahead with efforts from Puskas and Amancio and I swear our own supporters were cheering on our opponents.
'Our fans were just so thrilled to see such a team performing at Parkhead and it turned out to be the forerunner of some fabulous European evenings in the east end of Glasgow.
'I believe we played quite well, but our defence had no answer to the breathtaking pace of Gento, on their left-wing. He raced away to plonk the third behind Big Frank around the hour mark although we pulled one back almost immediately through Stevie Chalmers, who had come on for Bobby Lennox.
HERE WE GO AGAIN…skipper Billy McNeill and keeper Frank Haffey return to the pitch with the Celtic fans demanding a lap of honour.
'With about fifteen minutes to go, Stevie looked as though he had got another, but it was ruled out for some earlier infringement.
'Now if that had stood, we would have been in for a very interesting finale to the contest. Alec Byrne and Bobby Carroll also came on for Frank Brogan and John Hughes in the second-half in a very exciting and entertaining game.
'We lost 3-1 and the 72,000 capacity crowd greeted the full-time whistle as though we had just won the European Cup itself. They were ecstatic.
'We went back to the dressing room and prepared to get cleaned up. Bob Rooney came in and said: "Guys, the fans are demanding a lap of honour. They're not leaving until you go back out there."
THE END GAME…the victorious Real Madrid team are applauded off the pitch by the Celtic players.
'So, some of us without socks and others in their stocking soles, grabbed any sort of jersey or someone else's discarded shorts to go and take a bow in front of the support.
'I've got to say, I think that might just have been the first lap of honour by a Celtic team at Parkhead.
'Certainly, it was the first ever taken by a side that had just lost 3-1!'
*DON'T miss the big-name EXCLUSIVES – only in your champion CQN.
Click Here for Comments >