THE legendary Jock Stein masterminded Celtic to his tenth title success 46 years ago today.
It was also his final championship after kicking off the historic procession of nine consecutive triumphs by guiding the Hoops to a 1-0 win over Motherwell at Fir Park in May 1966.
An identical scoreline against Hibs at Easter Road 11 years later propelled the flag sequence into double figures for the iconic Parkhead manager.
In another CQN EXCLUSIVE, author Alex Gordon looks back to another glorious day in the club's history with an extract from his fifteenth Celtic book to celebrate the team's first 51 untainted titles, 'Celtic: 50 Flags Plus One', which was published in 2020.
Please enjoy.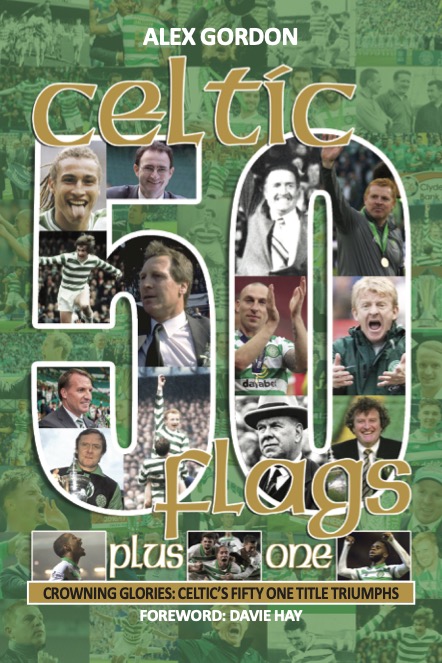 JOCK STEIN, at the age of 54, didn't realise it, but he was about to enjoy his last hurrah as Celtic manager in season 1976/77 after constructing a captivating line-up that would expel Rangers among the also-rans after the Ibrox outfit had experienced back-to-back championship victories.
In the previous campaign, Celtic had been cast adrift without Stein's steady hand on the tiller. They were a wayward, rudderless ship and, on far too many uncomfortable occasions and with all due respect to caretaker manager Sean Fallon, the only similarity with the team that had rampaged through nine successive title triumphs and this malfunctioning unit was the green-and-white hooped shirts.
Stein, of course, had survived a brush with death following a horrific car crash on the A74 at Lockerbie in July 1975. He had been returning from holiday with his friend Tony Queen, a well-known Glasgow bookmaker, and their wives when his Mercedes saloon was involved in a direct collision with a vehicle travelling in the wrong direction.
RISE AND SHINE…Kenny Dalglish is hoisted onto the shoulders of Tommy Burns and Danny McGrain at Easter Road after the 1977 title win. Johnny Doyle and matchwinner Joe Craig join in the celebrations.
Without Stein's guidance and influence, Celtic lurched to nine defeats from thirty-six games in the inaugural Premier Division season. To put that in context, it had taken the last three campaigns in the nine-in-a-row sequence for the team to rack up nine losses.
An insipid Celtic limped in second behind Jock Wallace's Ibrox outfit, six points adrift in the era where you still received two points for a win.
However, on the Wednesday evening of April 13, Celtic required a point to win their thirtieth league championship when they travelled to Fir Park to take on Motherwell.
Remarkably, they succumbed to their heaviest defeat of the season, losing 3-0 with the unfortunate Andy Lynch deflecting two shots in the last five minutes beyond Roy Baines, deputising for the injured Peter Latchford.
It had been a strange experience for the 13,820 onlookers with the visitors dominating the encounter without managing a solitary goal. They went in at the interval trailing to an Ian Kennedy effort and Dame Fortune continued to snarl in their direction throughout the second forty-five minutes.
TITLE WINNER…Joe Craig fires the only goal of the game past Hibs keeper Mike McDonald.
The focus very swiftly switched to Edinburgh and a meeting with Hibs at Easter Road where Pat Stanton had the opportunity to lift his first – and only – league medal in his distinguished career.
On Saturday, April 16 1977, with Hibs' cranky chairman Tom Hart churlishly banning TV cameras from Easter Road, Celtic made absolutely certain of the flag when Joe Craig netted the solitary strike of an entertaining encounter in the 63rd minute.
The opportunity was set up by Alfie Conn with some quick thinking following a shot from Ronnie Glavin which had clattered against Mike McDonald's post. While Craig scored and Conn sparkled, veteran Pat Stanton strolled through the 90 minutes in imperious fashion. Jock Stein's wheeling and dealing had paid off handsomely.
Kenny Dalglish was hoisted shoulder high by his team-mates at the final whistle as the team did a deserved lap of honour in front of an explosion of green and white. Two years of anguish and hurt faded into history.
Matchwinner Craig said: "I was astonished when Celtic signed me and I was astonished when I got the only goal of this game. I watched the ball come off the post from Ronnie's shot, break to Alfie and suddenly I knew it was going to happen for me.
"As soon as I hit the ball I knew I had scored. I just couldn't move and then the boys piled on top of me. It was a great moment."
WE ARE THE CHAMPIONS…captain Kenny Dalglish celebrates with Tommy Burns while Danny McGrain, Pat Stanton, Roy Aitken, Joe Craig, Roddie MacDonald, Andy Lynch and Alfie Conn savour the moment in Edinburgh.
A jubilant Pat Stanton added: "To win a league championship medal anywhere is special, but to win it at Easter Road is something really special for me. This was only my second game at Easter Road in a Celtic jersey and the outcome could not have been more satisfying.
"This is one of the happiest days in my playing career."
Jock Stein, celebrating his tenth title, sipped at his orange juice as he talked to journalists and, with a bright and beaming smile, admitted: "Well, I'm glad that it's all over. There's been a great deal of tension on the players over the last few games.
"Now that it has lifted, we will get down to playing real football. I've always felt this team would be better once they had won something and I think we are going to enjoy the rest of the season."
* DON'T miss the big-name EXCLUSIVES – only in your champion CQN.
Click Here for Comments >