CQN continues its enthralling and EXCLUSIVE extracts from Alex Gordon's book, 'That Season In Paradise', which takes us through the months that were the most momentous in Celtic's proud history.
Today, we look at another dramatic step along the team's destination towards their crowning glory.
JOCK STEIN was only too aware of the date as the Celtic coach transported his players from Seamill to Hampden for the Scottish Cup semi-final against Clyde on April 1, traditionally known, of course, as 'April Fools Day'. It was a potential banana skin against part-time opponents who went into the encounter as 5/1 rank outsiders.
Davie White, the bold and aspiring thirty-three-year-old Clyde manager, was earning deserved acclaim for what he was achieving at the prudent Shawfield outfit. He made no brash or outrageous boasts before the match and merely announced he hoped his team would do enough to make their supporters proud. He wasn't quite in the same class as Stein in the kidology stakes, but he had a fair stab at it, anyway. White, who spent his entire nine-year playing career at the homely Rutherglen club, was asked if he had anything special lined up for his team as they prepared for the big game. Producing the underdog card, he replied, 'Well, if I could get all the players off their work at the same time that would be great.'
Stein, the master in the specialised art of deception, might even have smiled at the bluff by the ambitious young pretender. The shrewd Celtic manager would have been well primed about the form of Clyde during their 1-0 league win over Dunfermline at Shawfield the previous month. He wouldn't have forgotten their 5-1 trouncing of a fine Hibs team in November. Nor would he have overlooked a 1-0 victory over full-time Morton at tricky Cappielow in an earlier round of the Scottish Cup.
There was more than just a 'let's-forget-about-the-ball-and-get-on-with-the-game' approach from his last-four opponents. One newspaper scribe had watched in obvious awe at White's assembled bunch of butchers, bakers and candlestick-makers and wrote, 'Clyde move the ball out of defence into attack with the grace and accuracy of a conjurer opening his scarves to reveal a dove.' Nobody's fools, then.
Jock Stein wasn't buying into the notion that the game was already a foregone conclusion. Emphasising that outlook was the fact the Celtic medical staff had worked all week in an effort to have Bobby Murdoch one hundred per cent fit to play after missing the Partick Thistle game with the ankle injury sustained the previous Saturday against Hearts. The broad-shouldered midfielder with the svelte touch underwent two x-rays before Stein reluctantly ruled him out and once again played Willie Wallace in the right-hand side of his midfield twosome. On this occasion, he would be partnered by Bertie Auld with Charlie Gallagher dropping onto the substitute's bench.
Drizzle greeted Billy McNeill and Harry Glasgow, the respective captains, as they led their teams out of the tunnel, across the red ash running track and onto the drenched pitch. The infuriating Hampden Swirl was once more making its annoying presence known. This was to be Celtic's seventeenth domestic Cup-tie of the season, including the League and Glasgow Cups, and Stein's team had won the lot. Clyde, with combination of true grit, exceptional organisation and generous fortune, were ninety minutes away from ending the sequence. The encounter finished all-square without either keeper being invited to retrieve the ball from his net.
HEADS I WIN…Tommy Gemmell clears from a young Harry Hood in a rare Clyde attack.
HEADS YOU LOSE…Clyde defender John McHugh clears an effort from Billy McNeill effort off the line.
And, yet, Celtic claimed with validity for a penalty-kick four minutes from time; the proverbial stonewaller that was witnessed by everyone in the 56,704 crowd with the curious exception of the only man who mattered, referee John Gordon. The match official was no stranger to controversy and, in 1978, was banned by the Scottish Football Association after receiving gifts to the value of £1,000 from AC Milan before a UEFA Cup second leg tie which the Italians won 3-0 against Levski Sofia following a 1-1 draw in Bulgaria. The suspension was just twelve years too late for the frustrated Celtic contingent congregated around the vicinity of Mount Florida that afternoon.
Photographs in the following day's newspapers showed incontrovertible proof that Clyde defender Davie Soutar had used an elbow to divert a goalscoring shot from Jimmy Johnstone off the line. Remarkably, Gordon waved play on to utter disbelief of the Celtic players and obvious relief of their Clyde counterparts. It would be trite to imply the part-timers did not deserve something following their superhuman efforts, but it is difficult to ignore the fact that luck intervened on sporadic occasions to keep them interested in the national competition. Billy McNeill twice powered headers beyond Tommy McCulloch and resolute defender Glasgow cleared the first and, moments later, John McHugh performed another last-ditch rescue from under the crossbar.
One watching scribe observed, 'To be truthful, it was a dour battle, fought without marked inspiration by either side. The general standard of passing and finishing was deplorably low and, although there was perhaps more excitement in the second-half during which Clyde were facing into a troublesome wind, it was fleeting and, as often than not, completely unproductive. It is perhaps indicative of the afternoon's trend of events that all the players who passed muster were in defence. Billy McNeill, as well as being a masterful centre-half, was the game's most effective attacker, even if he did confine his efforts in that sphere to corner-kicks.'
The reporter continued, 'Such was the ineffectiveness of the forwards that it was not until thirty-one minutes had elapsed that either goalkeeper had to make a save of any consequence and, even then, it was by a defender, Tommy Gemmell, who brought out the best in Tommy McCulloch with a tremendous shot from twenty yards which looked netbound all the way until the goalkeeper miraculously turned the ball over the crossbar one-handed.'
Jock Stein left immediately after the game to catch a plane bound for Czechoslovakia to watch European Cup semi-final opponents Dukla Prague. He admitted, 'Yes, it's disappointing not to finish the tie and we had the chances that would have gone in on another day. An extra fixture at this stage of the season is something we could do without, but we are still in the tournament and we will just have to win the replay.'
The second game would have to be played again on the following Wednesday which would give the Celtic manager, scheduled to return from the Czechoslovakian capital on Monday, forty-eight hours to prepare his players for another Hampden tilt. His mood was heightened somewhat when he was informed Rangers had lost 1-0 to Dunfermline at Ibrox and Celtic were now two points ahead at the top of the table with a game in hand and only five matches left to play. The Parkhead side were now massive favourites to achieve their second successive championship.
In front of a crowd of 55,138 in the replay, Celtic were two goals ahead by the twenty-second minute, courtesy of efforts from Bobby Lennox and Bertie Auld, and had as good as booked their third successive Scottish Cup Final berth during Jock Stein's reign and their fifth in seven years. Willie Wallace again lined up in the No.4 shorts, but, on this occasion, was hardly a direct replacement for Bobby Murdoch. Stein gave that position to Charlie Gallagher with Auld playing beside him on the left. By the time Davie White had cottoned on, his team were heading for the exit.
The opening goal arrived as early as the second minute when Stevie Chalmers had a shot blocked and Lennox swooped on the rebound. And Auld, displaying his usual quick thinking, claimed the second after Chalmers had nodded the ball into his path. The midfielder flummoxed his marker Stan Anderson with a swift shuffle of his feet and a change of direction before belting an effort high past Tommy McCulloch. Jimmy Johnstone had looked out of sorts and it was no surprise he was replaced by John Hughes just before the hour mark. It was later discovered the winger had been suffering flu symptoms and he wasn't even considered for inclusion to the squad for the game against Motherwell three days later as Celtic travelled to Fir Park, the scene of the previous season's joyous title celebrations.
NINETY MINUTES FROM GLORY…Celtic players John Clark, Tommy Gemmell, Ronnie Simpson and Billy McNeill line up before the European Cup semi-final against Dukla Prague.
The players may have had their focus somewhat blurred with the European Cup semi-final first leg against Dukla Prague at Parkhead due the following Wednesday, but they failed to spark on this occasion. It was a fairly dismal confrontation and the nearest Celtic came to breaking the deadlock in the first-half was a trademark header from Billy McNeill that was knocked off the line by Davie Whiteford with his goalkeeper, Peter McCloy, out of position and in distress. Charlie Gallagher limped out of proceedings at half-time and was replaced by Jim Brogan, whose forte was more destructive than constructive, but it didn't prevent the champions from winning 2-0 to keep their place at the pinnacle of the First Division with four games remaining and a match in hand.
The barrier-breaking goal arrived just before the hour mark when Bertie Auld crossed for Willie Wallace to strike an awesome volley wide of McCloy. Tommy Gemmell made certain in the seventieth minute with another blistering penalty-kick. It was a vital win to put Jock Stein's team on fifty-four points while the best Rangers could have managed was a total of fifty-eight. Celtic also had the distinct edge on goal average, with one hundred and five strikes compared to the Ibrox side's ninety-eight while Ronnie Simpson had conceded twenty-eight as opposed to their twenty-seven.
On a crisp, still Wednesday evening of April 12, Celtic moved within an hour-and-a-half of a place in the European Cup Final. Jock Stein's pre-match requirement was stark: a two-goal advantage to take to Czechoslovakia. The players responded and Dukla Prague were dismissed 3-1 in front of 74,406 excited supporters who were beginning to believe their team just might be in with a chance of conquering Europe. The thought would have been disregarded as a combination of irrational, unreasonable and absurd only eight months beforehand.
JINKY'S DINK…Jimmy Johnstone lifts the ball over Dukla Prague keeper Ivo Viktor for the opening goal.
Willie Wallace went some way to replay his £30,000 transfer fee with two splendid goals in his debut appearance in Europe's premier trophy. Jimmy Johnstone, a source of inspiration on this occasion, claimed the other. But the encounter kicked off in controversial fashion when Stevie Chalmers had a goal disallowed. Tommy Gemmell flighted an inviting ball downfield, Wallace got a touch to Chalmers, he slipped it to Johnstone coming in from the right and the little winger chipped it back for Chalmers to nod in at the near post. The referee ruled Johnstone's foot was dangerously high while collecting the ball and cancelled the effort.
Dukla, it must be pointed out, were no dummies on an evening that was perfect for football. Josef Masopust would never be invited to blow out the candles on a thirtieth birthday cake again, but he was looking very comfortable in his team's engine room as he dictated the flow of the game with masterly poise. In the gangly Stanislav Strunc he had a willing accomplice in making life a trifle uneasy for the Celtic defence. Ronnie Simpson had to look lively on two occasions before he actually set in motion the game's opening goal in the twenty-eighth minute.
The keeper, who normally initiated attacks with throw-outs, mainly to Bobby Murdoch and Bertie Auld, elected to launch a clearance down the middle. Chalmers got a flick and it fell for Auld who teed it up for Wallace. His shot deflected off a defender into the path of Johnstone and he gleefully lifted it over the head of the outrushing Ivo Viktor, another internationally-acclaimed goalkeeper. However, that effort was nullified on the stroke of half-time when the Celtic central defence got into a real muddle on their own eighteen-yard line. Strunc pounced and stroked the ball away from Simpson. Celtic Park was struck dumb.
PARKHEAD SILENCED…Stanislav Strunc levels for the Czechs just before the interval.
Simpson remembered, 'Masopust created the opening with a through pass to Nedorost. The inside-left slipped and looked as though he had handled the ball, but he managed to flick it to Strunc, the tall, ungainly outside-right, who fairly crashed it where I didn't want it to go.'
Tommy Gemmell said, 'In the dressing room, we got the usual pep talk from Big Jock and, rather obviously, conceding a goal just before the interval is horrible timing. But you can't come off the pitch feeling sorry for yourself.
'You must not dwell on it; you have to concentrate fully on what is still to come. "Just play like you did in the first-half and you'll win," urged the Boss. Actually, we were already thinking along those lines, anyway. I know I was.'
Just before the hour mark, the left-back punted the ball forward and Wallace was running free of the Czech defence to get a wonderful touch off the outside of his right boot to send the ball soaring into the net for the second goal.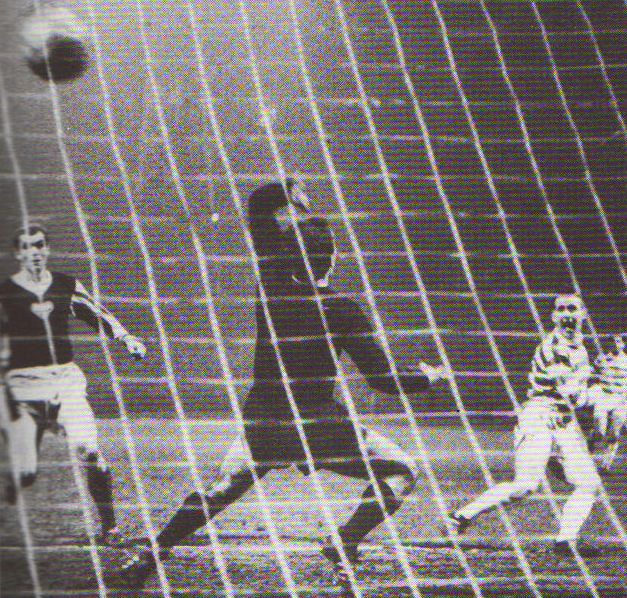 PICK IT OUT…Willie Wallace flashes an effort high over Ivo Viktor for the second goal.
Five minutes later, a desperate Ladislav Novak pawed away a high ball from Bobby Murdoch and received a booking for his goalkeeping tendencies. It didn't get any better when Bertie Auld stepped up to take the resultant free-kick. He dithered a bit to unsettle the defensive wall and then touched the ball sideways to Wallace who bulleted an unstoppable first-time drive past Viktor. The ball was stretching the netting before he even had the opportunity to twitch a muscle.
With twenty-five minutes still to go, the Czech champions were on the verge of collapse and surrender. They were there for the taking as Celtic rolled forward in numbers, the fans urging them on for more goals. Chalmers slashed one past the post, Wallace wasn't far off target with another and Murdoch sent a left-foot belter just over the crossbar. Wallace even knocked one against the face of the bar from a Chalmers cross.
Masopust the maestro had disappeared under the onslaught, but he and his team-mates held out until the end and Celtic had to be content with a 3-1 advantage to take to Prague.
Willie Wallace said, 'There has always been the suggestion I should have taken my European bow in the quarter-final ties against Vojvodina. I have heard that, although I was registered to play in the domestic competitions, someone had been a little late in getting the forms to UEFA to allow me to play in the European tournament. I signed for Celtic on December 10 1966 and the first leg against the Yugoslavians was on March 1 1967. That's a fair period between signing and that game and, to be completely honest, I don't know how long you had to be registered back then to allow you to play in Europe.
'I am not complaining, though. You never know what might have happened if I had played against Vojvodina – maybe we wouldn't have got through! As it was, I was more than delighted to play against Dukla Prague in the following round. I had been sitting alongside the injured Joe McBride in the stand at Celtic Park to witness that astounding quarter-final against the Slavs and I thought, "Wispy, this is the place for you!" I wanted a slice of that, believe me. I know the other lads would all say the same thing, but the atmosphere generated by our support during those European occasions was just breathtaking. Quite staggering, really.
'I was well up for the Dukla game. I had anticipated it for weeks and just hoped I would get the go-ahead from Big Jock to play. You never took anything for granted with the Boss because that would have been a huge mistake. But everything just went so well for me on my European Cup debut. I couldn't have scripted it better myself. A 3-1 victory and two goals from me.
'Okay, it would have been nice to have claimed a hat-trick, but I wasn't grumbling. I came close, you know. I actually hit the crossbar near the end. Big Jock had told us beforehand, "Get a two-goal advantage and I'm sure we'll get through." My first goal came just before the hour mark when Big Tommy launched one downfield. It might have been a clearance, but he has always assured me it was an inch-perfect pass! Anyway, suddenly I had a bit of freedom in the Dukla penalty area, and managed to flick the ball with the outside of my foot and it carried past their keeper.
'About five minutes or so later, Celtic Park just went crazy when I scored again. It was all down to the cunning antics of Bertie Auld. He stepped up to take a free-kick, paused and looked as though he was about to recentre it. I knew what was coming next, though. Bertie merely slipped the ball to the side and I was coming in behind him to hit it first time. The ball flew through their defensive wall and was in the net before Ivo Viktor could move. It looked like an impromptu bit of skill from Wee Bertie, but, take my word for it, that little bit of trickery came straight off the training ground. We practised that move every day.
'It was an idea from Big Jock who was always looking at ways of developing free-kicks and corner-kicks. He continually urged us to put variety into deadball situations and Wee Bertie seized the moment against Dukla Prague. The Czechs were startled. They began pointing at Stevie Chalmers and claiming offside. Stevie had followed my shot into the net, but there was no way he had been off. It was just his speed getting round the back of the wall that got him into that position. When I connected with the ball, I can assure everyone that Stevie was well onside.'
TOMORROW: Celtic's Wembley wonders and stalemate in Prague.
Click Here for Comments >