TOMMY BURNS had won the Scottish Cup in his first season as Celtic manager after his appointment on July 12 1994.
The league title, though, was his priority target and the legendary Celt came so tantalisingly and frustratingly close to achieving his aim during his second campaign.
In another CQN EXCLUSIVE series, we chart Tommy Burns' career as the Hoops gaffer during turbulent times on and off the field. Here is the tenth instalment from Alex Gordon's tribute book, The Winds of Change, which was published by CQN in 2015.
Please enjoy.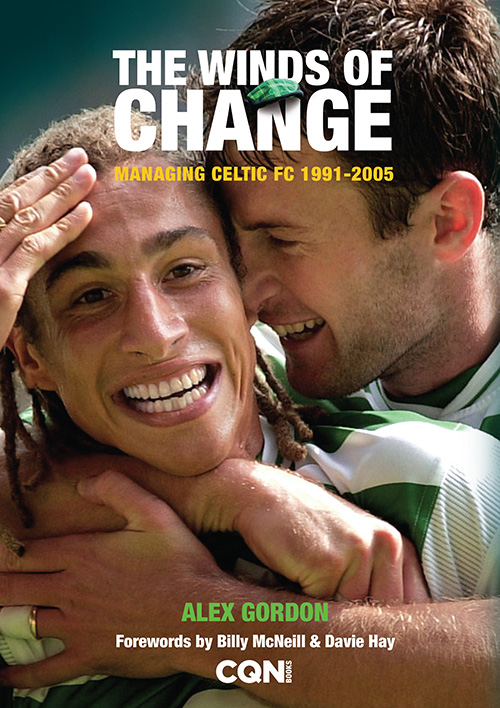 CELTIC remained undefeated in their remaining 31 league games in season 1995/96, a record for the Premier League, and still failed to win their first crown in nine arduous, agonising years.
There can be no argument they did have their opportunities. Worryingly, when they were presented, Celtic consistently failed to respond to the openings. It became the recurring and unwelcome theme in a distinctly strange campaign in the club's history.
It's difficult to be too harsh on Tommy Burns. He did, after all, sprinkle some stardust on an ailing team and actually delivered a trophy – the Scottish Cup in 1995 – but there can be little doubt the players did not perform on occasions when they were gifted with favourable occasions to derail Rangers.
It wasn't quite a case of style without substance, but, for whatever reason whenever it was really required, the team fell short.
OLD FIRM TUSSLE…Andreas Thom and Stuart McCall battle for possession.
Celtic went into 1996 with their first game against Rangers at Parkhead on January 3. Walter Smith's men arrived on top of the league, took a merciless pounding for a massive percentage of a blood-and-thunder confrontation and left with a goalless draw and their position intact.
The Herald reporter observed: "Rangers are still eight points clear at the top of the Premier Division this morning and that is something Celtic must find hard to believe. Last night saw the fourth Old Firm clash of the season and this was one which was totally dominated by the Parkhead men – and yet they still failed to beat the New Year jinx which has haunted them now for eight long years.
"It was in 1988 that they last won this fixture and yet, last night, it should have been so different. This was a match they could have won – this was a match they should have won. For most of the game, they were in command and, in the second-half in particular, they dominated as their fans urged them on for the single goal which surely would have settled it.
"The closing forty-five minutes began with a Phil O'Donnell shot which struck the base of Andy Goram's right-hand post and then ended with a diving header from substitute Andy Walker which went just off target."
The report concluded: "Few would argue that Celtic deserved three points. But the reality today is that once again they have failed to get them against their age-old rivals."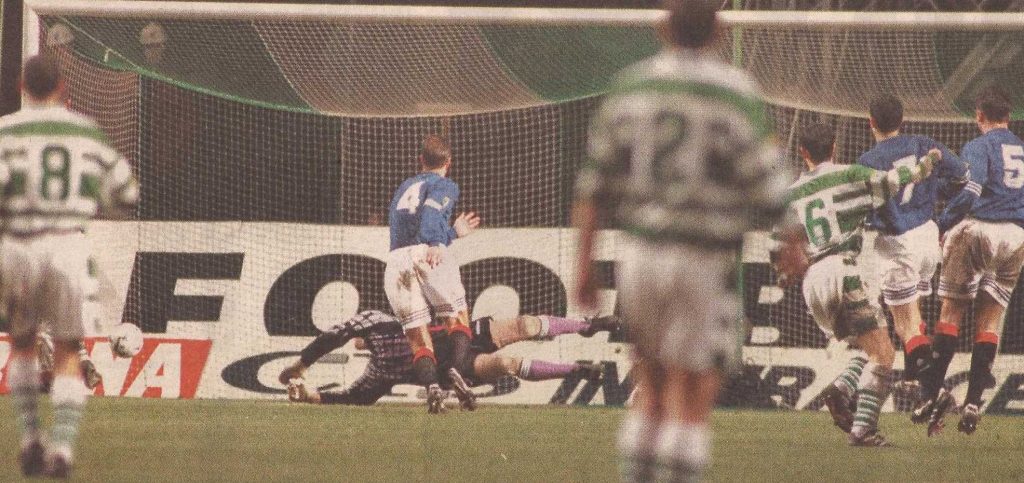 KNOCK ON WOOD…Phil O'Donnell (No.6) watches his low shot beat Andy Goram, but smack off the post.
Goram withstood the barrage and, startlingly, might have picked up a win bonus when Paul Gascoigne left a leaden-footed Gordon Marshall stranded with a 25-yard free-kick which cannoned off the bar with only three minutes to play. Captain Richard Gough, with a fair degree of honesty, admitted: "I thought it was going to be a case of Celtic pressure and us sneaking it near the end."
Tommy Burns lamented: "When I pass away, they will put that on my tombstone – 'Goram broke his heart'. He's probably the best keeper I've ever seen."
The international No.1 had kept Celtic at bay in three consecutive games at Parkhead and Burns still found the ability to lighten the mood when he added: "I've got a contract out on him."
Celtic were playing catch-up with Rangers and were compelled to play five more league fixtures in January – four in succession away from home. Remarkably, by the time they played Kilmarnock at Rugby Park on the twentieth of the month they could have taken over pole position. Not for the first time, the players fluffed their lines.
CRUNCH…Pierre van Hooijdonk challenges Andy Goram as Paul Gascoigne looks on.
The sprint for points began with a meeting against Motherwell in Glasgow and it was a tight 1-0 win with Pierre van Hooijdonk settling the issue. Burns claimed skipper Paul McStay's performance as "colossal", but there was still the nagging worry that the midfielder, accomplished and astute in his midfield role, wasn't scoring enough goals. HIs last strike had come against Rangers at Ibrox in August 1994 and critics were calling it his "Achilles Heel".
The skipper wasn't on the scoresheet, either, three days later as his team won 3-1 over Raith Rovers at Starks Park; Phil O'Donnell, John Collins and Pierre van Hooijdonk netting as the Parkhead men extended their unbeaten league run to 16 games while edging to within five points of Rangers.
For the second successive occasion, Celtic gave Aberdeen a goal of a start at Pittodrie and came back to beat them. Billy Dodds fired the Dons ahead early on, but, inside five second-half minutes, Collins had levelled matters and Van Hooijdonk, scoring for the third consecutive outing, hit the winner.
The Dutchman was on a roll and he was on target once more in a hard-earned 2-1 success over Hearts at Tynecastle on January 17. Substitute Andy Walker got the other and Burns said: "We were relentless. The game was there to be won and we went for it."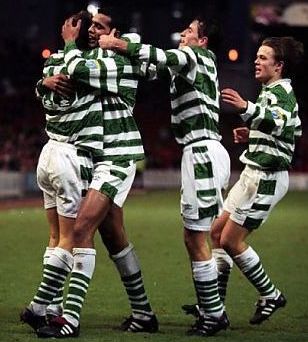 JOY BHOYS…John Collins is congratulated by Pierre van Hooijdonk, Phil O'Donnell and Simon Donnelly after equalising against Aberdeen in the Hoops' 2-1 win at Pittodrie.
Three days later, Celtic were presented with the ideal opportunity to clamber back to the top spot they occupied all too briefly back in September before Rangers won at Parkhead.
Walter Smith's men had played only two games since their scoreless 'success' in the New Year fixture – and had won them fairly comfortably by the same scoreline – 4-0 – against Falkirk and Raith Rovers. There were few indications they would source a banana skin when they squared up to Hearts at Ibrox on January 20.
Allan Johnston managed to do what Celtic couldn't do in four-and-a-half hours' of football at Parkhead that season and that was to stick the ball past Andy Goram. And the Tynecastle striker – nicknamed "Magic" – enjoyed the sensation so much he repeated it two more times.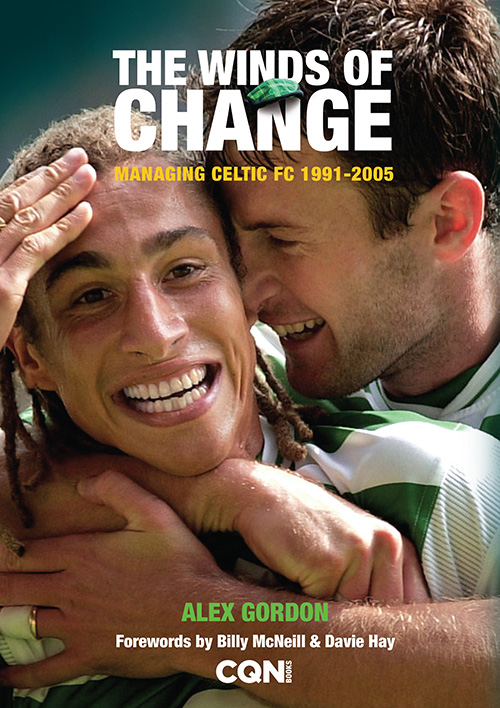 An agitated Walter Smith, squirming in his seat in the stand, could hardly believe his eyes as his team caved in after losing the opening goal in the sixth minute. Former Celtic winger John Colquhoun set it up with a nice ball across from the left and Johnston tucked it in at Goram's right-hand post with the keeper anticipating a shot across goal to the opposite corner.
Rangers huffed and puffed, but were devastated just after the hour mark when Johnston was allowed to saunter through the middle of their defence, lure Goram from his line and then coolly lob the ball over his frantically-waving gloved right hand into the net. Only seven minutes remained when the Ibrox back lot were posted missing once again.
A simple ball sliced them open right down the middle and Johnston sped onto it, drew a shell-shocked Goram, sidestepped him with ease and rolled the ball over the line. That was the cue for the disgruntled home fans to head for the exits.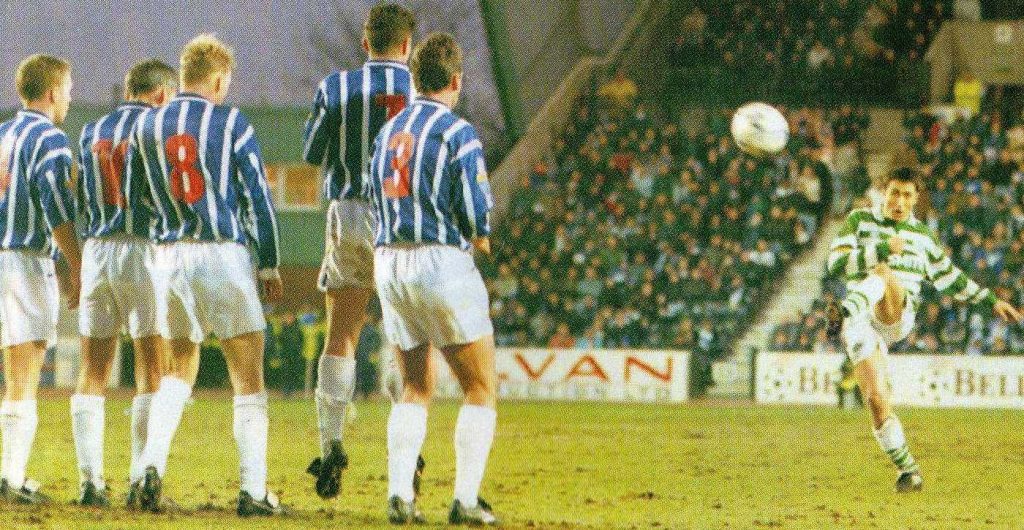 TAKING THE FREEWAY…John Collins tries to break the Kilmarnock barrier, but his deadball effort is just off target in the scoreless stalemate at Rugby Park.
Undoubtedly, Burns would have been aware of what was happening in Govan, but, implausibly, the invite to take over at the pinnacle was scorned in a wanton goalless draw against Kilmarnock at Rugby Park. The summit was snubbed, but the Celtic manager clearly wasn't too disturbed that his side was still a point adrift of Rangers when they should have held a point advantage with precisely a third of the season left to go.
He said: "Four games ago, we were eight points behind and now it's only one. Over the piece, it's very positive for us and we have to be pleased. It was a hell of a good game. Very few sides come here and dominate in the way we did. We made, and missed, a lot of chances, but we got a point and it is a significant one. There were so many good things to come out of the match. We're well pleased."
After a 2-1 win home win over Hibs, Celtic threw away another two points against Falkirk, already doomed to relegation, at Brockville. It was disturbing that a team, with so much to play for, could falter so miserably against a mediocre side that would win only six of its 36 league games during a campaign to forget.
In fact, they could only manage six draws during that run and one came against a strong Celtic team with McStay, Collins, Van Hooijdonk and Thom among its number. The stalemate left the Parkhead men trailing Rangers by three points with 10 games still to be played.
The draws at Rugby Park and Brockville would come back to haunt Tommy Burns and Celtic.
* TOMORROW: Don't miss the EXCLUSIVE eleventh dramatic instalment of The Tommy Burns Story – only in your champion CQN.
Click Here for Comments >