BRENDAN RODGERS walks in the shadow of Jock Stein.
The Irishman, and all before him since the end of a golden era for the club in 1978, are well aware of the traditions and ethos of Celtic.
The legendary Stein shook Parkhead, from top to bottom, out of a state of near-terminal lethargy to construct a team capable of conquering Europe on May 25 1967, just two years and two months after his arrival.
Those halcyon days are gone now, embedded forever in glorious history, and if you believe any Celtic manager will emulate Jock's achievements I can only say I envy you your optimism.
THE FACE OF DEFEAT…Brendan Rodgers can't disguise his disappointment after another Champions League loss.
However, there is no sin in attempting to copy the iconic team boss who never claimed to be infallible, but, as the record books prove, got it right more often than not.
You, I and the cat know all about Jock's insistence on Celtic playing entertaining, attractive football. He was never satisfied with a substantial, uncatchable lead at half-time with 45 minutes' worth of potential pleasure awaiting the supporters.
"Remember at all times that those guys on the terracing have worked all week to earn money to come here and support Celtic," he would say with regularity until it was drummed into his players. "Get out there and don't let them down."
The present incumbent of the Parkhead dug-out may well be singing from the same hymn sheet. Billy McNeill, Davie Hay, Liam Brady, Tommy Burns, Martin O'Neill, Gordon Strachan, Neil Lennon and Ange Postecoglou continued in much the same vein.
Before Celtic's Champions League double-header against Atletico Madrid, we all knew the two opponents who posed most menace, Antoine Griezmann and Alvaro Morata. From princes to paupers, we all realised these were the two guys who could wreck Celtic's hopes of success in Glasgow and the Spanish capital.
When the smoke of battle cleared at the completion of two encounters against the Spaniards, Celtic had conceded eight goals with Griezmann and Morata claiming three apiece. We couldn't say we weren't warned.
THE BEGINNING OF THE END…Joe Hart is left helpless as Alvaro Morata scores the crucial second goal.
They are a double-act of exquisite quality with price tags to match their talents. Alas, both were allowed to run amok with minimum interference in the Metropolitano Stadium. Misplaced headers from Callum McGregor and Alistair Johnston provided opportunities for Griezmann who emphasised his gratitude by whipping two efforts behind Joe Hart.
Morata provided evidence of his all-round ability with a tap-in for the second goal and a rasping drive from the edge of the box that thundered high into the top right-hand corner of the net for No.5.
Up against 10 men, Griezmann, in particular, enjoyed the freedom of the city as the opposition adopted a petrified appearance. His raking diagonal pass from the right provided Jose Marie Giminez the ideal angle to knock the ball down for Morata to tuck the first-half stoppage-time second goal into the net from all of six yards.
The game as a contest was kaput there and then. And we all knew it.
If Rodgers had attempted to map out a masterplan to keep either of these players in check it didn't quite work. It was clear to all that no such spoiling or safety tactic had been evolved by the manager.
We, as a club, prefer to brighten the landscape with technicolour strokes and intricate passing movements. It's not Celtic's way to man-mark the opposition.
Or is it?
Jock Stein took his players to Prague on April 25 1967 with the team 3-1 ahead from the first leg and a mere 90 minutes from a place in the European Cup Final the following month.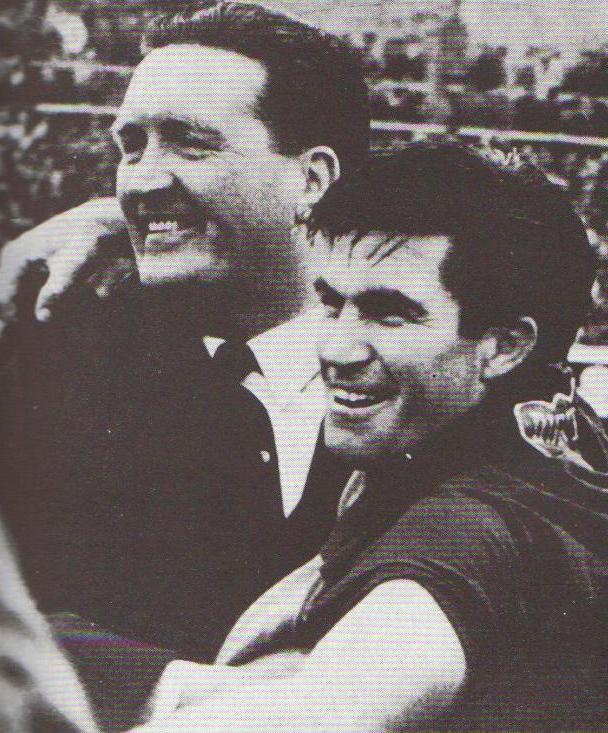 SMILES BETTER…Jock Stein and Bertie Auld celebrate Celtic's goalless draw in Prague in April 1967 on their way to conquering Europe. 
The orchestrator-in-chief for Dukla was Czechoslovakia's international gem, Josef Masopust, winner of the European Footballer of the Year honour in 1962. The midfielder was 36 when he played against Celtic and was past his prime, but he was still a performer who possessed great skill and an eye for a laserbeam pass.
Big Jock was an acknowledged admirer of Masopust, but there was no way he was going to sit on a bench on the touchline of the Julieska Stadium that day in the Czech capital and watch a master at work while dismantling his team and extinguishing Celtic's aspirations.
Willie Wallace, who had scored two goals in the game in Glasgow, was deployed to follow the opposition's most creative player everywhere he went. And the Celt, who had played regularly in midfield earlier in his career at Hearts, kept to the script.
When I was putting together the tribute book, 'The Lisbon Lions: The 40th Anniversary Celebration' which was published in 2007, I interviewed all eight existing victorious players who performed in the Portuguese sunshine at the compleyion of that unforgettable campaign.
Wallace told me: "I could hardly believe what Jock was asking me to do. It was out of the ordinary for the manager. He had decided a strategy for Celtic to play defence in depth with Stevie Chalmers told he was on his own and to let Dukla know he was around.
"Celtic with one man up front? Jimmy Johnstone and Bobby Lennox playing as support acts to full-backs Jim Craig and Tommy Gemmell? No-one would have believed it. But Jock hammered it into us this was the way we had to play against the Czechs.
"I stuck to Masopust throughout the game. He must have been sick of the sight of me. At full-time, I went to shake hands with him. He refused. At his age, it was more than likely his last chance to ever get the opportunity to play in a European Cup Final. I almost felt sorry for him.
"Later on in the dressing room, he came in and apologised for his unsportsmanlike behaviour. We shook hands and I couldn't help but admire him. However, for 90 minutes I had a job to do and that was to make sure his contribution to the game was next to nil."
HOOP HOOP HOORAY…Enrico Annoni is first to congratulate Paul Lambert after the midfielder had thumped in Celtic's second goal in the 2-0 win over Rangers in January 1998. Henrik Larsson and Marc Reiper join in.
Move the dial forward to January 1998 as Wim Jansen prepared his team for a crucial derby against a Rangers side in determined pursuit of their historic tenth successive title. The Dutchman had taken over from Tommy Burns the previous summer and possibly didn't share his predecessor's belief that Celtic must be open, carefree and cavalier-like while they went about their business.
Wim was slightly more pragmatic. In his first meeting against Walter Smith's men at Ibrox on November 8 1997, the Hoops had gone down 1-0 with Brian Laudrup lording it over the opposition as was the norm back then. The second game had ended in a 1-1 draw and it was back to Parkhead on January 2 in the New Year for the third duel between Glasgow's age-old foes.
It was imperative Celtic won if Rangers were going to be derailed. Wim took Enrico Annoni aside. The defender had been bought by Burns for a bargain £300,000 from AS Roma the previous year. With his shaven bullet head, he arrived in Glasgow with the nickname Tarzan.
Under Burns, he had been tasked with adding to steel to the backline, but it didn't take long before he became a bit-part player. The emphasis was still on bright, easy-on-the-eye patterns and Jackie McNamara and Tommy Boyd were seen as more suitable for the full-back berths. Alan Stubbs was the pivotal figure in the rearguard and often had the likes of Malky Mackay or John Hughes for company.
Against Rangers on this vitally important evening, Annoni was told to mark Laudrup. The Italian stuck to his task with a verve and gusto that had the Danish performer whining long and loud about his treatment.
Hugh Dallas was the referee and had to accept that Annoni appeared to relish the challenge of snuffing out any threat from the so-called Great Dane, but it was being done within the laws of the game.
Craig Burley and Paul Lambert scored the goals that gave the hosts a 2-0 win, Annoni had done his job, Laudrup continued to moan and, at the end of the season, Celtic had claimed their first Championship in a decade.
Yes, we all love the beautiful game, the beguiling and entrancing memories it bestows upon us all, but sometimes you have to get down and dirty to get over the line.
As we all to know to our cost after witnessing so many performers schooled in the dark arts, the end can often justify the means.
Brendan might have to sacrifice his principles before Celtic take on Lazio and Feyenoord in the final two Champions League Group E campaign.
It worked for Big Jock and Wee Wim.
ALEX GORDON
Click Here for Comments >