CELTIC clinched their second successive title in the original nine-in-a-row sequence of triumph fifty-five years ago today on May 6 1967.
And Jock Stein's side did it with a certain amount of style – they won it at Ibrox, home of bitter rivals Rangers.
In another CQN EXCLUSIVE, author Alex Gordon opens the files on his fifteenth Celtic tribute book, '50 Flags Plus One', to reveal the dramatic and thrilling crescendo to the nerve-shredding campaign of season 1966/67, the term where the Hoops won everything in sight.
Please enjoy.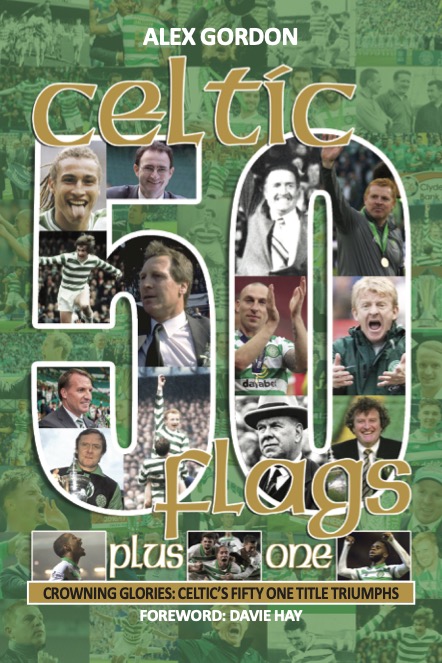 CELTIC, watched by Inter Milan's cunning manager Helenio Herrera, travelled to rain-lashed Ibrox Stadium on May 6 1967 with a game in hand over their rivals and in the knowledge a draw would be good to enough to be crowned champions of Scotland for a second successive season.
Tommy Gemmell, talking to his long-time friend Alex Gordon, takes up the story: "The performance from Wee Jinky that afternoon was simply unbelievable. Helenio Herrera's first act when he left his seat in the stand afterwards must have been to change his trousers!
"The pitch was an absolute sea of mud and there was our five feet nothing outside-right terrorising the Rangers defence. That surface plus the fact the heavens opened up from start to finish made it difficult for even big guys such as myself, Jim Craig and Billy McNeill, all six-footers, to wade through the quagmire.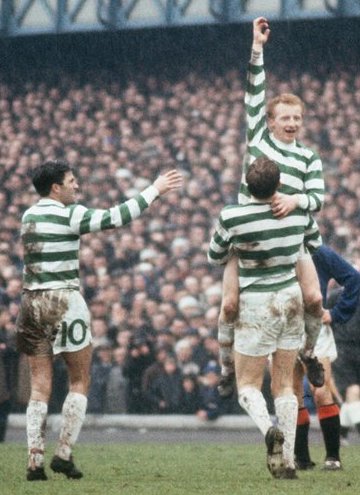 TITLE LIFT-OFF…Jimmy Johnstone is carried high by Tommy Gemmell as Bertie Auld prepares to join the celebrations after the winger's second goal at Ibrox in May 1967.
"It was exhausting stuff, I can tell you. Old Firm games were always difficult enough, but Rangers, who were a very good team back then, were doubly determined that we would not win the league on their ground.
"To emphasise the enormity of the task we faced, you only have to note that our old foes had also won through to the Final of the European Cup-Winners' Cup and would face Bayern Munich in Nuremberg only a week after we had played Inter Milan.
"Imagine that – both the major European trophies could have ended up in Glasgow in 1967. The Ibrox lads lost 1-0, but they took an excellent Bayern team to extra-time before they were beaten.
"So all guns were blazing when we turned up that day. The league was their last hope of domestic success because, after beating us 1-0 in the Scottish Cup Final replay the previous year, they had crashed 1-0 at the first hurdle to Berwick Rangers.
MUDDY MARVEL…Jimmy Johnstone turns away after scoring his first goal with Rangers defenders John Greig (No.6), Kai Johansen and Ronnie McKinnon getting that sinking feeling.
"After that game, I recall the Ibrox chairman John Lawrence saying: 'There are individuals who will never play for this club again'. Front players Jim Forrest and George McLean, in fact, never turned out for Rangers again. A bit harsh you might think, but, once again, it just showed how determined Rangers were to topple Celtic.
"Failure wasn't an option for a club who had got used to being the nation's top side. They might have thought they were on their way to avenging the earlier league and League Cup defeats that season when Sandy Jardine lashed an unstoppable shot high past Ronnie Simpson.
"Their advantage was nullified minutes later when Bobby Lennox struck the post and Wee Jinky skipped through the rain and glaur to prod the rebound past Norrie Martin.
NUMBER ONE…Jimmy Johnstone pounces to score with Rangers defender Kai Johansen too late to prevent the winger knocking the ball home.
NUMBER TWO…Jimmy Johnstone thunders an unstoppable 25-yard drive high past the stretching Norrie Marton for one of the all-time memorable goals from the wee winger.
"Into the second-half and the conditions continued to be miserable, the rain still teeming down. And, yet in this impossible situation, Wee Jinky conjured up a magical moment that is still as vivid today as it was back then.
"Our wee winger weaved his way in from the right. Their left-back Davie Provan seemed quite happy to see our player meander across the pitch as opposed to attacking him down the flank. Jinky was on his 'weaker' left foot and the defence didn't come out to meet him.
"They must have wondered who he was going to pass to. Then the Wee Man took aim from about twenty-five yards and sent a scorching left-foot drive high past Martin into the roof of the net. I have absolutely no idea where he summoned up that energy or power from.
"It was extraordinary. The wee chap was soaked through, his jersey was flapping outside his shorts, his socks were round about his ankles and he still managed to dredge up such a fabulous feat of strength.
"Herrera must have felt sick!
"Rangers got a late equaliser through Roger Hynd, but the game remained at 2-2 and we celebrated the title on the ground of our oldest enemy.
"Could it get any better? Well, as a matter of fact, it could!"
* DON'T miss the big-name EXCLUSIVES – only in your champion CQN.
Click Here for Comments >