IF you reckon today's referees are dodgy, spare a thought for the Celtic players who encountered an individual by the moniker of R.D. Henderson, from Dundee, who was in charge of a league game against St Mirren at Parkhead on November 5 1966.
Bobby Murdoch was a good friend of mine and I thoroughly enjoyed spending time in the company of this most unassuming of Lisbon Lions.
Celtic meant the world to Bobby. It's not a cliche, Bobby really was the fan who got to play for his boyhood favourites. Tommy Burns coined the phrase decades later, but the masterly midfielder, possessor of the caress of a ballet dancer and the shot from a cannon, was the real deal.
HOOP HOOP HOORAY…Bobby Murdoch poses in the strip of his beloved Celtic.
On this particular afternoon back in the wonderful sixties when Jock Stein's Celtic stirred from almost a decade of lethargy, Bobby was given the honour of leading out the team with Billy McNeill sitting this one out with a rare injury.
Bobby's barrel chest was extended to its fullest extent as he emerged from the tunnel, carrying the ball with his team-mates following behind him.
So far, so good. It all went horribly wrong when the aforementioned Mr RD Henderson (Dundee) sent off the stand-in Hoops onfield leader. Oh, and the match official also disallowed two Celtic goals that day, as well.
Here is an extract from my book, 'That Season In Paradise', which was published by CQN in 2016.
Please enjoy.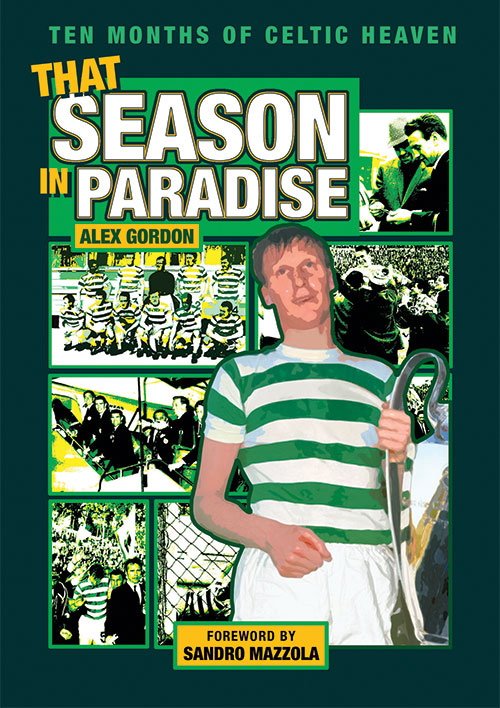 JOE McBRIDE bulged the net behind Saints keeper Denis Connaghan after Bertie Auld had set up the opportunity. However, the referee ruled it out, indicating offside against the striker. No-one in the 24,000 crowd was unduly concerned at that stage.
Shortly afterwards, Jimmy Johnstone was next to put the ball in the opposition's net and, once again, the celebrations were cut short when the match official awarded a free-kick to the visitors.
Then Bobby Lennox, with his customary burst of exhilarating pace, got through to drive a shot at goal. The ball clipped the keeper's outstretched leg, spun lazily in the air on its way towards the net before its seemingly-inevitable progress was halted by desperate defender Cameron Murray who headed clear from under the crossbar.
Connaghan also contrived to deny McBride, Lennox and Stevie Chalmers on three separate occasions and it was one of football's great puzzles the scoreline remained blank at half-time.
Two minutes after the turnaround, Tommy Gemmell took the opportunity to venture forth and he was right in line, thirty yards out, when a wayward cross broke to him. He strode forward and caught the ball perfectly with his fearsome right foot and there was little Connaghan could do on this occasion as the effort raged past him. The keeper was still in mid-air when the ball crashed behind him into the net.
ACTION MAN…Bobby Murdoch gets back to clear with team-mates George Connelly and Billy McNeill and Rangers skipper John Greig looking on. 
Unbelievably, the Paisley side equalised only eight minutes after Gemmell's blaster. Frank Treacy, who had scored his side's goals in their 8-2 thrashing in the League Cup at the same venue earlier in the season, chased a long ball, punted by a defender from deep inside his own half.
He brought it under control and the pacy forward, basically left unattended, drew Ronnie Simpson from his line and flicked the ball past the veteran.
If the Parkhead patrons found that difficult to fathom, it was nothing to their emotions when the referee saw fit to order off Bobby Murdoch.
The midfielder raced over to retrieve the ball as it went out of play. Puzzlingly, the linesman signalled a throw-in to St Mirren when it seemed clear to all in the proximity the award should have gone the way of Celtic.
Someone said something untoward and that was enough to see the official frantically wave his flag to attract the attention of the referee.
WALLOP…Bobby Murdoch hammers in a pulverising left-foot drive on Celtic's way to conquering Inter Milan and Europe in Lisbon on May 25 1967.
After a quick confab, the whistler summoned Murdoch to come over and then dramatically pointed to the dressing room. I was a friend of Murdoch for many years and, although I accept I may be a shade biased, I never found him to be in the least bit malicious or offensive.
I doubted if he would have brought the linesman's parentage into question, but whatever had happened had seen the playmaker immediately banished from taking further part in the proceedings. Celtic were fated not to win their twenty-third successive encounter that day.
During research for this book, the mystery of the Murdoch sending-off was solved – after half a century! Tucked away in his 1970 autobiography, 'All The Way With Celtic', was the answer.
He revealed: "The first time I was ever ordered off in my life was in a league match against St Mirren at Celtic Park in November 1966. I was so innocent that it hurt!
"Things were not going well for Celtic or me on this particular occasion. With the score at 1-1, we were pushing hard for the winner late in the game. The ball went out of play for a throw-in at the Jungle side of the ground and I immediately claimed it was ours. The linesman, however, flagged the other way.
SEEING DOUBLE…Rangers keeper Billy Ritchie (above) stretches in vain as a Bobby Murdoch howitzer flies past him in Celtic's 5-1 win in January 1966 and (below) it's Hearts No.1 Jim Cruickshank's turn to be clawing air as the Hoops star (extreme left) thunders in an unother unstoppable efort.
"I looked at him, shook my head and ran away to take up a defensive position.
"Claims were made by either side as the ball was retrieved. When it was picked up by a St Mirren player, the linesman was seen to have his flag raised.
"Over went the referee for a chat and his next move was to call me over and ask for my name. I couldn't believe it.
"I said: 'Why are you booking me, ref? I haven't done anything.'
"The referee, Ronnie Henderson, of Dundee, said that I had been accused of swearing at the linesman. He said: 'I can only act on what the linesman told me. The game is over as far as you are concerned. You can have an early bath.'
"I was off and I hadn't opened my mouth! My heart filled with the injustice of the situation. St Mirren inside-forward Archie Gemmill came over and said to the referee: 'You have the wrong man, ref. It wasn't him.'
HAMPDEN HERO…Bobby Murdoch is congratulated by Celtic physio Bob Rooney after Celtic's 6-1 Scottish Cup Final triumph over Hibs in May 1972. Keeper Evan Williams joins in.
"But the referee wouldn't change his decision. So, seven minutes from the end, I was off – and I was Celtic's captain for the day, too. Oh, did I feel rough!
"I told our manager that I had not committed any offence whatsoever and that I should never have been booked never mind sent off. He accepted my explanation – particularly when our centre-forward, Joe McBride, owned up: 'Bobby's right, boss. It was me who shouted at the lineman.'
"Archie Gemmill, the Paisley forward who had been marking me during the match, very sportingly said after it was all over that he was prepared to be my witness when I appeared before the SFA Referee Committee and state that it was a clear case of mistaken identity.
"After seeing a copy of the referee's report, I sent a letter to the SFA giving my side of the incident and stating that I wanted Gemmill to appear as my witness. But the SFA wouldn't have this at all. I was not allowed any witnesses. I think this is very wrong.
"When someone is prepared to come forward from an opposition side and say something on your behalf, shouldn't he surely be allowed to do so?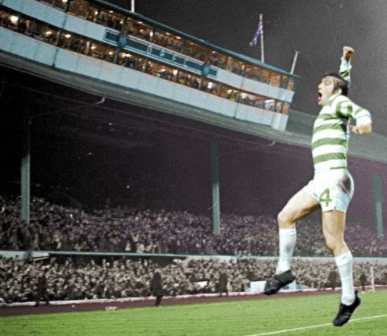 WALKING ON AIR…Bobby Murdoch celebrates after his goal on the unforgettable evening of Celtic's 2-1 European Cup semi-final victory over Leeds United at Hampden in 1970.
"Anyhow, I appeared before the SFA Referee Committee, which had Morton director Peter Scott in the chair. He asked me for my side of the story and I told him in complete detail.
"I went outside while they discussed my case and when I was recalled I was told I had been fined £30 and severely censured.
"It was very obvious they were not too sure of what had gone on and it seemed to me that the compromise was a fine. An innocent man fined. It would break your heart. But this kind of thing is all part and parcel of the game of football.
"I had no hard feelings about Joe McBride. After all, why should he volunteer to be ordered off when the chance was that my case would be dismissed because a genuine and honest mistake had been made? I was quite relieved that I was not suspended.
"Mind you, maybe I should have had a word with McBride about that £30 I had to fork up!"
Click Here for Comments >