I WAS sitting in Liam Brady's office at Celtic Park when the telephone on his desk shrilled to life.
"Just a minute, Alex," said the aimable Republic of Ireland international legend, 'I've been waiting for this call."
Positioned just a couple of feet from the Hoops manager, it was impossible not to pick up the drift of the conversation. I was not eavesdropping – honest! – and Liam would have undoubtedly known I was aware of how his chat with a certain agent was developing.
I was sports editor of the Sunday Mail at the time and I was privy to two deals that were in the pipeline – one player going out and one coming in.
Cash was tight at the club and Brady had to sell to get the required funds for the player he had his eye on.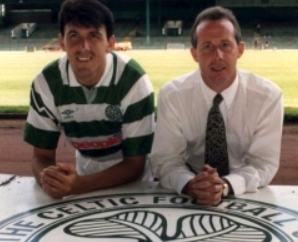 HOOPS OOPS…Liam Brady with £1.1million striker Tony Cascarino in July 1991, a deal that flopped.
On July 23 1993 Joe Miller rejoined Aberdeen and a week later Pat McGinlay arrived at Celtic from Hibs. I splashed the exclusive stories on the back pages of the paper in successive weekends.
As Brady replaced the receiver on the cradle, he smiled and said: "There you go, Alex, two scoops in one day. I'll fill in the blanks later."
I sat on the respective stories until everything was done and dusted. I was aware transfers often presented delicate situations and with most players also represented by lawyers and well as Mr.Ten Per Cent, you had to be patient in case the proposed deals veered off course.
One transfer that did go through, but just did not click was that of Tony Cascarino and, a few years after the manager had parted company with the club in October 1993, we discussed that unsuccessful switch which cost Celtic a-then record £1.1million when he joined from Aston Villa in July 1991.
Brady attempted to explain why the international hitman failed so lamentably at Parkhead. Cascarino, who won 88 caps for the Republic of Ireland, scored a mere four goals in 24 outings before a quick shift to Chelsea in February 1992 in a straight swap for Tom Boyd which proved to be an astute piece of business by the Hoops gaffer.
Reflecting on the forward's lack of success, Brady said: "Why didn't he do the business at Parkhead? I believe the unique pressure of being involved with a Glasgow team got to him.
ON THE RUN…Tony Cascarino puts in the effort with little reward.
"To understand just how stressful life can be in Glasgow as a sportsman you really have to sample it. You have to be a certain animal to cope. It took me at least a year to understand it.
"Tony just could not settle and, no matter how hard he tried, he just could not get into his stride at Celtic.
"We both had high hopes when he joined the club. But Glasgow is an intense and aggressive place – unless you are prepared for it, it can overwhelm you.
"I've got to hold up my hands and say the pressure, without doubt, got to me too. Of course it did. You've got to ride the storm and, sadly, I couldn't manage it. That was why I had to resign."
As I spoke to Brady, Cascarino was playing with Olympique Marseille, a club he joined in 1994 and remained for two years and claimed 61 goals in 84 league appearances before transferring to Nancy where he hit 44 goals in 109 games.
READ ALL ABOUT IT…the story that predicted Pat McGinlay's move from Hibs to Celtic.
With a rueful smile, Brady added: "Just look at Tony in France – he's still scoring goals! Unfortunately, he just couldn't do it for Celtic."
One final tale encapsulates Cascarino's brief stay at the club. He was involved in a dark night for the team in Switzerland when they collapsed to an extraordinary 5-1 defeat to Neuchatel Xamax in October 1991 when the 6ft 3in attacker went about his business much in the manner of an elephant with cramp and was hauled off to be replaced by Gerry Creaney.
The flop frontman was brutally honest in his assessment of his performance that evening.
He put it this way. "When I wasn't giving the ball away, I was tripping over myself. Liam pulled me off in the second-half. The fans had a real go as we walked off the pitch. Liam was incensed in the dressing room.
"His team had played shamefully. His first managerial signing was making a mockery of him. 'What the hell is going on, Tony? You were a disaster. I've never seen you play so badly'."
Cascarino uttered the immortal finale: "Yeah, I dunno. I was just crap."
No-one argued with that fairly shrewd summing-up.
Click Here for Comments >