CONJECTURE still surrounds Celtic great John Hughes and the reason he did not feature in Jock Stein's line-up for the European Cup Final against Inter Milan in Lisbon on May 25 1967.
Teams were only allowed a back-up keeper as a substitute back then and the man known as 'Big Yogi' to his legion of Hoops followers was in the stand to witness his team-mates produce glorious history by overwhelming the much-vaunted opponents of Inter Milan 2-1 in the sunshine basking the Portuguese capital on an unforgettable evening for the club.
Hughes provided the background to the biggest day in Celtic history in his acclaimed autobiography, 'Yogi Bare: The Life and Times of a Celtic Legend', which was co-authored by his friend Alex Gordon and published in 2014.
In another CQN EXCLUSIVE series, we will publish extracts to once and for all provide the answers to the Lisbon question.
Please enjoy.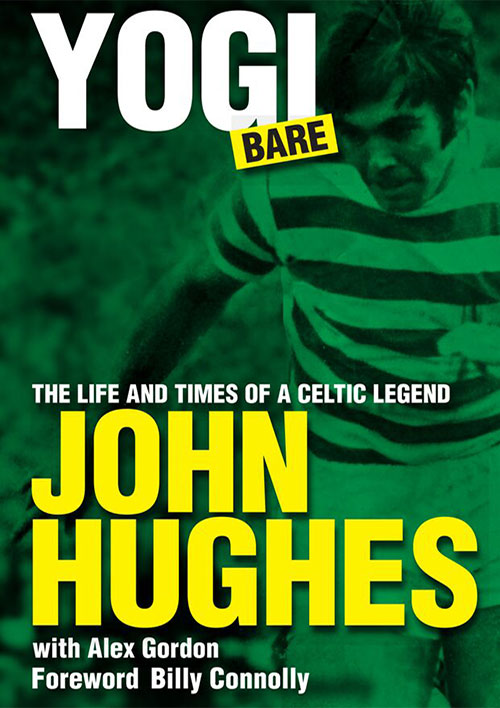 'I AM sorry, Yogi, there's no way you can play. In fact, I don't think you should even get on the airplane.'
Two simple little sentences, twenty-two words in all, and they left me feeling as though I had been hit by a wrecking ball.
The words were delivered in a typical matter-of-fact manner by Celtic club doctor John Fitzimons and, after finally digesting them, I was utterly devastated. There was no point in asking Fitz for a second opinion because, deep in my heart, I knew his prognosis was accurate.
'Sorry, Yogi,' repeated Fitz and this time there was genuine warmth and feeling in his tone. He left the room as I sat on the treatment table. For a moment, I was left alone with my thoughts. Slowly it dawned on me.
I would not be fit for selection for Celtic's biggest game in their history, the European Cup Final against Inter Milan in Lisbon on May 25 1967.
EURO STARS…Tommy Gemmell and John Hughes – the goalscoring defender took centre stage while Big Yogi sat in the stand in Lisbon on the evening Celtic conquered Europe.
My thoughts were in a swirl. How on earth could this happen? A simple kick on the ankle in the Scottish Cup semi-final against Clyde at the start of April and, almost six weeks later, a dream had been obliterated.
Don't get me wrong, I never thought for a second I would be an automatic choice to play against the Italians. With Jock Stein around, you never took anything for granted. I had played in the 3-1 triumph over Dukla Prague in the first leg of our semi-final at Parkhead, but that would have meant nothing to Jock.
Nor would it have mattered that I had performed in five of the eight ties leading up to Lisbon. So, there was every possibility, even if I had been fully fit, the manager might have gone with the selection that got a goalless draw in Prague to book the historic European spot and then go on and take their deserved place in club folklore.
RISING STAR…Jimmy Johnstone jumps for joy after scoring the opening goal in the 3-1 win over Dukla Prague in the first leg of the European Cup semi-final at Parkhead. John Hughes (extreme right) races to add his congratulations along with Stevie Chalmers, Bobby Murdoch, Bertie Auld and Willie Wallace.
So, at long last, I've got the opportunity to answer the question I have been asked so many times while dismissing some of the nonsense that has cropped up over the years.
First up, the query that has followed me around for decades. 'How did you feel when Jock Stein dropped you from the team to play Inter Milan in Lisbon?'
I wasn't dropped. I wasn't up for selection in the first place. End of story. Jock didn't have to work too hard on that decision. I couldn't have played even if my life had depended on it.
And let's nail this piece of rubbish. I've been asked if I regret owning up to the injury and that I may have been able to disguise it and play while only half-fit. Honestly, that is just so stupid. It goes beyond comprehension.
Disguise the injury? I could barely walk! And Fitz was so concerned it would flare up in the pressurised atmosphere of an aircraft cabin that his advice was to stay at home. Believe me, that was never going to happen.
ON THE RUN…John Hughes leaves Jock Stein tackling fresh air during training at Barrowfield.
I would have hobbled all the way to the Portuguese capital to cheer on the team. Remember, I wasn't just a Celtic player, I was also a Celtic supporter.
Yes, I admit I felt as though I had been stabbed in the heart when I heard those chilling words from Fitz. And, yes, I felt like an outsider when Celtic conquered Europe. I'm not going to lie about that.
I was so desperate to be involved, to be out on that lush pitch at the Nacional Stadium and to be playing my part as my team Celtic became the first British club to be acclaimed as the best in Europe.
I wanted to be in the side that followed in the wake of legends such as Real Madrid, Benfica and the two Milan clubs, AC and Inter, previous winners of the fabulous silverware, rulers of all they surveyed, masters of the beautiful game.
How much would that have meant to a guy from Coatbridge who had to be persuaded to take up football by a primary school teacher? Well, in a word, everything.
How would it have felt to have been on the pitch when the referee blew his whistle for time-up in Lisbon with the scoreline reading: Celtic 2, Inter Milan 1?
It goes beyond description.
* TOMORROW: Don't miss the EXCLUSIVE Part Two of Big Yogi and Lisbon: The Truth
Click Here for Comments >