BILLY McNEILL was my hero. When you looked around the Celtic dressing room on matchday and you saw Big Billy, stripped and ready for action, you instinctively knew you had a good chance of winning.
That was how important I rated our skipper, centre-half and on-field inspiration.
I first encountered the man who would mean so much to me as a team-mate and a human being when I signed provisional forms at Celtic from Junior club Ardeer Recreation in 1961. There are only four years of a difference between us, but Billy was already a first team regular by the time I pitched up.
Not only did he play in the top side, but he had already represented Scotland at full international level. However, there was never the hint of him looking down at eager youngsters coming in that front door at Celtic Park. Quite the reverse. Billy went out of his way to welcome everyone.
Remember, he was still a young man, too, when he accepted this responsibility. I'm fairly certain that was not his remit, but he took it on in any case. If the reserves had a midweek fixture and Billy was free there was every chance he would turn up before the game just for a blether with the boys. It meant so much to me on a personal level.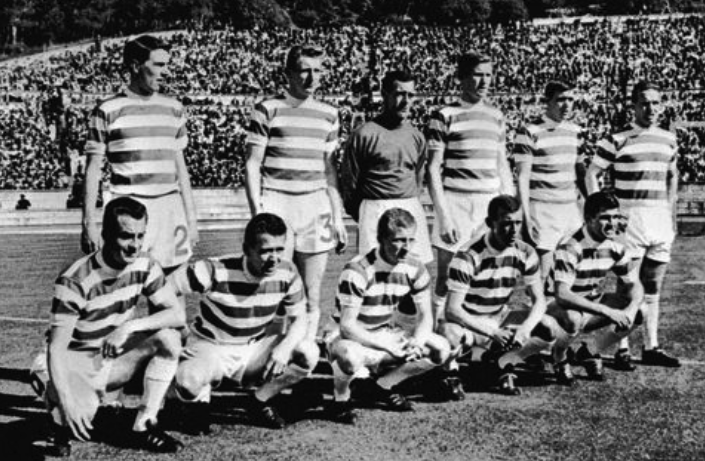 THE UNFORGETTABLE LIONS…back row (left to right); Jim Craig, Tommy Gemmell, Ronnie Simpson, Billy McNeill, Bobby Murdoch and John Clark. Front row: Stevie Chalmers, Willie Wallace, Jimmy Johnstone, Bobby Lennox and Bertie Auld.
You knew you were among friends and the club's biggest personality was going out of his way to help you settle in.
I was a foreigner at Parkhead – the only player in the Lisbon Lions who had been born outwith a thirty-yard radius of the club's ground. I was from that far-off place called Saltcoats and I was mixing with lads born in Bellshill, in Billy's case, or Glasgow, such as Ronnie Simpson, Jim Craig, Bertie Auld, Stevie Chalmers, or Uddingston, birthplace of my wee pal Jimmy Johnstone.
Tommy Gemmell was born and reared in Craigneuk while Willie Wallace was from Kirkintilloch. Bobby Murdoch hailed from Rutherglen, well within walking distance of Celtic Park. Me? I was from a place Wee Bertie was convinced no one actually lived, but just visited on their holidays.
I should have known Billy and I would click from my very first appearance in the Celtic first team against a very good Dundee side in a league game at Parkhead on Saturday, March 3 1963. We were being held 1–1 with only five minutes to go when Billy headed in the winner. It was the first time I had ever experienced his exploits in the air at first hand and I never grew tired of them.
Celtic's basic wage wasn't great back then, but the bonuses certainly helped boost it. I wasn't thinking of cash, though, as Billy rose above a posse of Dens Park players to get his head to a corner-kick and send the ball past their keeper, Pat Liney. I was so delighted to have marked my debut with a win.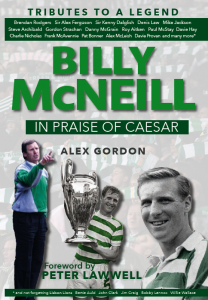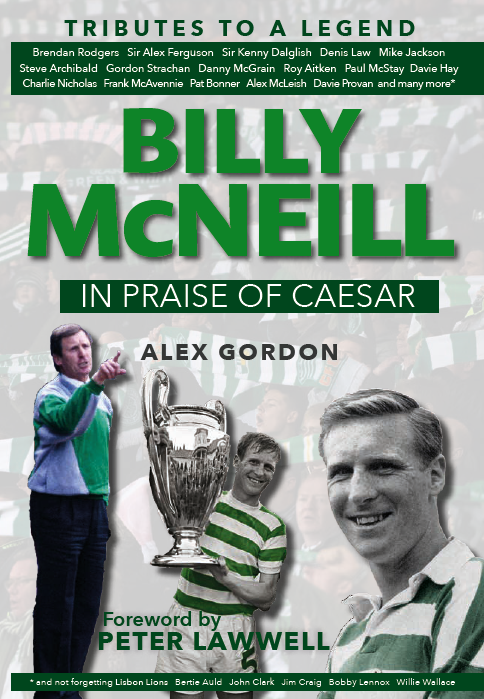 It would be just over two years later until Celtic won their first trophy in eight years. As a fan of the club, that was a lifetime, believe me. Celtic had been in the doldrums and teams such as Rangers, Kilmarnock, Hearts, Dundee and Dunfermline appeared to be way ahead of us. It was the Fifers who provided the opposition when we made our way to the Scottish Cup Final in April 1965.
Jock Stein had just arrived as manager and things were already changing. But no one could argue Dunfermline were worthy favourites to win the silverware that afternoon. They were miles ahead of us in the league and Celtic had picked up the tag as Hampden losers after failing in replays in the Final against the team from East End Park in 1961 and Rangers two years later. Many of our critics questioned our big-game mentality.
We trailed twice and came back twice with goals from Bertie Auld. And, it's well-etched in Celtic folklore now, Billy bulleted in the winner with a powerful header from a Charlie Gallagher left-wing corner-kick. Every newspaper the following day had a huge photograph of our captain's goal with a banner headline.
One paper called it 'BILLY'S BUMPER' and another labelled it 'BILLY'S BEAUTY'. The image is of Billy rising above yours truly to knock the ball into the net with the Dunfermline defence, thankfully, in a bit of disarray. Billy told me he didn't like that image.
'Why?' I asked innocently. 'You're in it,' he answered with a straight face.
Click Here for Comments >