BRENDAN RODGERS is back in charge of Celtic after an absence of over four years.
The Irishman won seven successive domestic honours during his first spell as manager after arriving in May 2016.
It was a rollercoaster two and a half years before he departed Parkhead in hasty and controversial exit.
Life was rarely dull when the charismatic gaffer was around.
In another CQN EXCLUSIVE SERIES, we will celebrate Rodgers' second homecoming by going back right to the start of his Celtic adventure.
Author Alex Gordon, who has had fifteen Celtic books published, including '50 Flags Plus One', 'CELTIC: The Awakening' and 'That Season in Paradise', opens the pages of another publication, 'The History Bhoys', to chart the progress of an extraordinary character.
Please enjoy.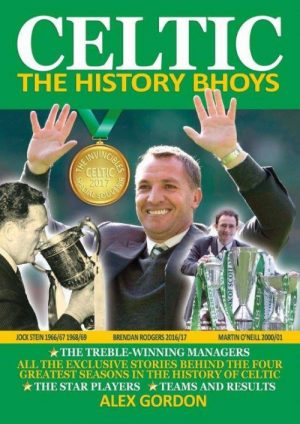 AN ESTIMATED 13,000 joyous supporters, with expectation levels soaring to new highs, went along to Celtic Park on the pivotal afternoon of May 20 2016 to welcome Brendan Rodgers, the new manager, a professional who, unlike the rookie Ronny Deila, had proved himself at the top table.
In season 2013/14, the Irishman had come so close to guiding Liverpool to their first English title since 1990. In their wisdom, though, the club's American owners decided to relieve their manager of his duties in October 2015, shortly after he had agreed a four-year extension.
A good friend of mine, a former top-class footballer, has always insisted the men who run football clubs wouldn't know the difference between a ball and a banana. Who am I to disagree?
Hasty decisions in this game have a habit of having the same effect as a boomerang. Derby County once dispensed of the services of a a bloke called Brian Clough in 1973. Six years later, he won the first of back-to-back European Cups with Nottingham Forest.
St Mirren sacked a young, progressive manager in 1978 and the Paisley club's esteemed chairman, a chap by the name of Willie Todd, insisted the departing team boss had "no managerial ability". He was discussing the merits of Sir Alex Ferguson, who was just a plain "mister" back then.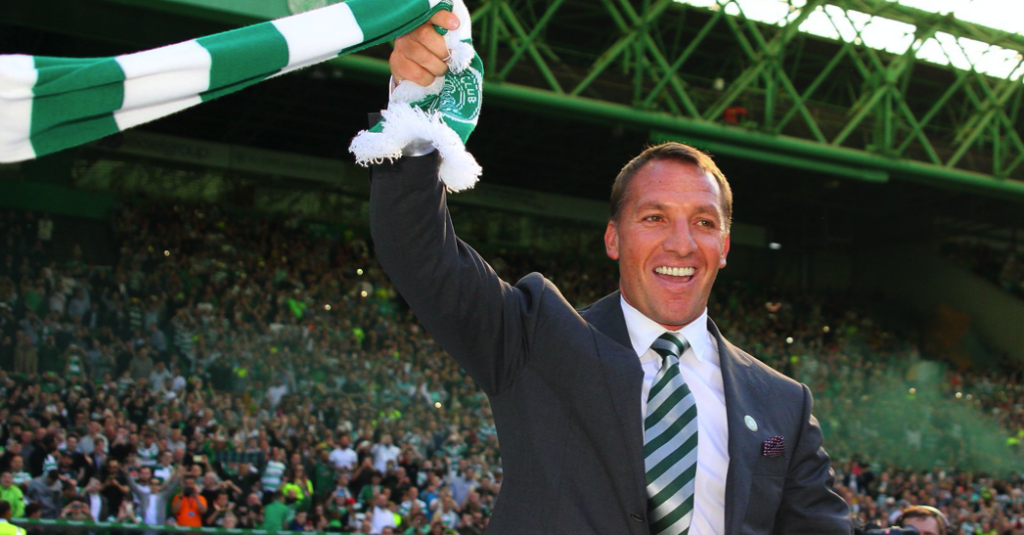 GREEN FOR GO…Brendan Rodgers enjoys the Celtic fanfare on day one.
Brendan Rodgers wasn't on soccer's version of the scrapheap for too long. Parkhead chief executive Peter Lawwell interviewed the self-confessed Celtic supporter from the seaside village of Carnlough, County Antrim in Northern Ireland, for the vacant managerial post at the champions.
He arrived in the east end of Glasgow amid a fanfare from expectant fans. Rodgers won them over immediately.
"I have been brought up with Celtic all my life, with my brothers, uncles and cousins all big supporters who still come to the games to this day, so I am fairly steeped in the tradition of Celtic and I'm obviously proud to be named as manager here."
As far as the green and white-bedecked followers were concerned, the words could have been set to music.
"I remember my first Celtic game," he continued. "It was 1984 and I was eleven years old when Celtic played Finn Harps in a friendly in Ireland. I will never forget that.
"When I was younger, because of safety concerns, my parents were reluctant to let me go over so much and it was only later on that I would come over and go to games. Whenever my father could take me, then he would do, but that was the first time I saw Celtic play live and it was a really special moment.
THE GAFFER AND THE GLITTERING PRIZE…Brendan Rodgers and the Premiership silverware which became a priority target.
"It has been surreal, really. For a team I have supported all my life, to now be the manager is a humbling experience. I am privileged to be here.
"My family have taken it very emotionally. I have had brothers and uncles crying. For some of them, it was something they maybe hoped they would see in their lifetime.
"They weren't sure if it would happen because predominately I have been based down in England and working in football there, but, for me, it was about coming to a massive club and there are too many bigger than Celtic.
"I have a great background knowledge of this club and it makes me very determined to do well here as I am following a historic line of managers including Jock Stein, Billy McNeill, Davie Hay and Tommy Burns, some outstanding Celtic legends, so I'm very honoured to be here and following in their footsteps.
"I am only the eighteenth manager in the history of the football club and you go through that list of names I grew up with all my life and to be able to take over and continue that work of the Celtic manager with the backdrop of those legends is very humbling and very emotional, but also a great privilege."
TOMORROW: Don't miss the third instalment of the remarkable Brendan Rodgers Story so far.
Click Here for Comments >