BILLY McNEILL was a firm believer in the "fairytale aspects" of Celtic.
The Hoops legend revelled in discussing the humble origins of the club, its extraordinary worldwide appeal, the marvellous achievements of the players, the gifted individuals who graced the green-and-white hoops and the wonderful, unbeatable support.
McNeill, the Greatest-Ever Celt, passed away in April 2019 at the age of 79, but he never lost his love of all things Celtic, the institution that came to life 136 years ago in St Mary's Church Hall in the Glasgow district of Calton on November 6, 1887.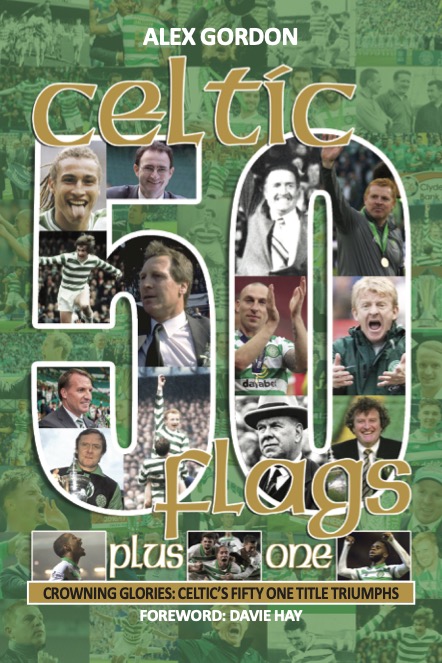 READ ALL ABOUT IT…Alex Gordon's fifteenth Celtic book, '50 Flags Plus One'.
Author Alex Gordon recalls McNeill's return to Parkhead as Jock Stein's successor in 1978 in his fifteenth Celtic book, '50 Flags Plus One', and the remarkable transformation in the club's fortunes as the former inspirational centre-half as he guided the team to the club's thirty-first championship – and the first of four crowns for the iconic Celt.
However, it wasn't all plain sailing for McNeill following his return to Paradise. After some bad results, he admitted: "Look, I realised what I was letting myself in for. Big Jock had laid it out, warts and all, from day one. I knew what to expect.
"The fourth league game of the season was against Rangers and was at our place. No-one needed to tell me how much these games meant to everyone connected with the club. Actually, looking back, it was quite strange because they had a new manager, too, in John Greig who had taken over from Jock Wallace.
"We seemed to be mirroring each other in our career paths. He had played for Rangers as a teenager, had captained the club, had won a European medal, had known the good times and the bad times and had taken over as manager maybe a lot earlier than he might have expected.
THREE CHEERS…Tom McAdam (No.9) is congratulated after scoring the final goal in the 3-1 win over Rangers in September 1978. Tommy Burns, Roy Aitken, Joe Craig and Andy Lynch join in.
"Whereas he came straight to management from playing, I had had a spell away from Celtic and had a full season as boss at Aberdeen. It wasn't a case of me playing with the guys one minute and then becoming their gaffer the next. I think that helped."
The Saturday of September 9, 1978 was ushered in by bright morning sunshine, a perfect day for a sporting occasion. Rangers arrived at Parkhead as champions and were slight favourites with the bookies. Over 60,000 were in the ground to see if Billy McNeill's team could achieve what Stein's side couldn't in five games the previous season; beat their oldest foes. McNeill delivered the goods with a double from Tom McAdam and one from George McCluskey in a 3-1 victory.
"That was a big win for me," recalled McNeill. "Actually, I sensed the support wanted me to do well. I knew they were on my side and I had to prove worthy of that backing. There had always been an affinity with me and the fans as a player.
"It was reassuring it was still there as a manager. As a matter of fact, I had realised that the previous season when I returned for the first time as manager of Aberdeen. I wondered how they would receive me in the opposite dug-out from Jock Stein.
"You've no idea how I felt when they started singing my name. That was a truly amazing experience."
It got even better for McNeill on the Monday evening of May 21 1979 when 10-man Celtic, with Johnny Doyle dismissed early in the second-half, lifted the flag in front of a capacity 52,000 crowd at Parkhead.
In one of the most unforgettable evenings in the club's proud history, Celtic fought back from a goal down to win 4-2 with strikes from Roy Aitken, George McCluskey and Murdo MacLeod – and an own goal from Colin Jackson – to deservedly lift the crown on McNeill's return to the club that was always closest to his heart.
MacLeod, who thumped in the fourth goal with a thunderous drive in the fading moments, observed: "After an unforgettable evening, Billy McNeill had won his first honour as Celtic manager.
"Well, he was always going to mark the occasion with a bit a drama, wasn't he?"
Click Here for Comments >