BEFORE the date of May 25 1967 bore any significance to anyone of a Celtic persuasion, there was the business of playing the club's first-ever tie in the European Champions' Cup against FC Zurich at Parkhead on the evening of Wednesday September 28 1966. The players had become used to Jock Stein producing the magnetic tactics board by this time, but, more often than not, the manager ignored the device when he was dealing with domestic games. He reckoned he was going over old ground discussing the merits of opponents' systems and one thing Stein detested with a passion was having to repeat himself.
John Clark recalled, 'When the Boss was talking tactics, I found I had to listen intently. He would speak fairly quickly in a lot of detail and if you didn't catch what he had said first time around there was no chance of him backtracking. It was always the individual's fault for not paying attention, according to Big Jock. So, we were normally a fairly hushed group of players when the magnetic board was produced.'
Tommy Gemmell said, 'As I've mentioned countless times, Big Jock was scrupulous in his preparations. When he got the tactics board out we knew we would have to sit through half-an-hour or so of instructions as he moved the little magnetic dots around. He simplified everything for us as usual, and, as you would expect, he had done his homework on our opponents. Their biggest name was their player/coach Laszlo Kubala, who had been a player for Barcelona at the height of his ability. However, to be honest, the Hungarian was now forty-one years old and his best days were in the past. We knew, though, they had had six players in the Switzerland squad for the World Cup Finals in England that summer and, as champions of their country, they would be no mugs.
'So, by the time the kick-off came around to our first leg in Glasgow we were fairly well primed as to what to expect from our first opponents in Europe's blue riband competition. Or so we thought. What Big Jock hadn't legislated for were the Swiss being a team of cloggers. They set out to kick us off the park that night and Wee Jinky, in particular, got some heavy treatment. To be honest, we didn't see it coming and Jock hadn't anticipated it, either. There were some nations that would produce so-called nasty pieces of work, players and teams who concentrated on the physical side of the game. No-one predicted FC Zurich from Switzerland being one of those teams.'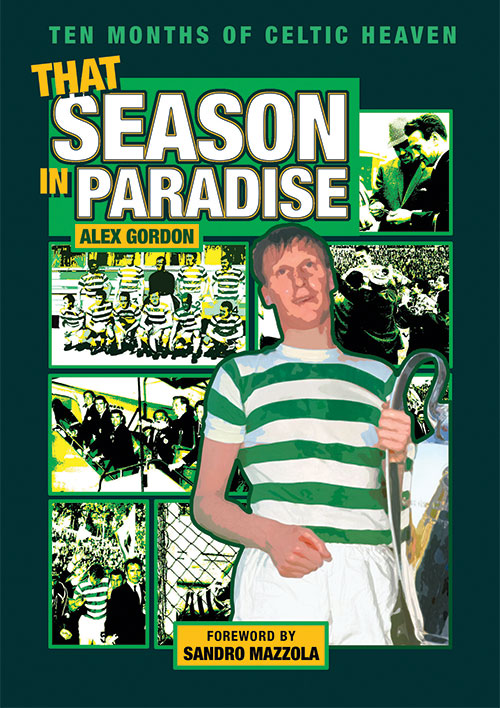 Kubala, a clever and astute forward who scored 194 goals in 256 appearances for Barcelona between 1951 and 1961, had transformed the Swiss team after taking over earlier in the year. They were quite brutal in their treatment of opposing players which was in direct contrast to the way Kubala performed as a footballer. Danish referee Frede Hansen allowed a lot of challenges to go unpunished and there is little doubt the Celtic players were knocked out of their stride by the unexpected approach by the Swiss.
The wiles and promptings of Bobby Murdoch and Bertie Auld in the middle of the park were being suffocated, Joe McBride and Stevie Chalmers were getting little joy in the centre of the attack against a defence that employed a sweeper, still a relatively new ploy outside Italy at the time, and Jimmy Johnstone and John Hughes were making no progress on the flanks against tenacious full-backs who stuck to their task with grim ferocity. As the contest unfolded, the 47,604 audience realised competing in the upper echelons of European football was a lot different from performing in the domestic game. It may even have been worse because Ronnie Simpson was forced into action to produce a stunning stop shortly after kick-off.
It was still goalless after the hour mark and the crowd was beginning to get more than just a little bit anxious. The Swiss players swarmed around the pitch as they nullified the threats of the opponents clearly pinpointed by their player/coach Kubala, sitting only yards away from Stein on the trackside. Someone, though, must have overlooked the pulverising power Tommy Gemmell possessed in both feet, mainly his right. The clock ticked towards the sixty-fourth minute when John Clark, tidy and efficient as ever, halted a rare Swiss forway into attack and passed a neat ball out to Gemmell, playing at right-back that evening with Willie O'Neil on the left.
The defender with the cavalier attitude, a few yards inside enemy territory, nodded the ball forward and must have been surprised – and delighted – there wasn't a posse of opponents immediately surrounding him as he galloped into attack. The Zurich defenders made their biggest mistake of the evening and backed off as Gemmell continued his surge forward. Celtic fans, with a reasonable certainty of what was about to transpire next, held their collective breath in anticipation. The adventurous Celt took a swift look up, got his eye-to-ball co-ordination absolutely spot on, and swung his mighty right boot at the spherical object that simply took off from twenty-five yards and blazed its way into the keeper's top left hand corner of the net. Steffen Iten hardly moved a muscle as the missile zeroed in on its target.
Celtic Park bounced with the combination of joy and relief as the fans welcomed their team's first-ever goal in the top-flight competition and, a mere five minutes later, they were hugging each other again as Joe McBride doubled the advantage. Clark, once more with his precision-like anticipation, broke up a Swiss raid and passed a short ball to Gemmell who knocked it inside to McBride. The striker, who had been shackled up until that point, sensed danger. He played a swift one-two with Auld, who wrong-footed the Swiss defenders with an astute back-heel to his team-mate. McBride, from the edge of the eighteen-yard box, took a swipe at the ball and it took the merest of touches off a lunging defender as it swept beyond the bewildered Iten. Cue pandemonium in Paradise.
————————————————–
This is an edited extract from Alex Gordon's 'That Season In Paradise', the latest Celtic book from CQN. The entire historic 1966/67 campaign is highlighted in glorious detail, every game scrutinised as Jock Stein's unforgettable team conquered Europe and won every domestic honour, the League Championship, the Scottish Cup, the League Cup and the Glasgow Cup.
The European Cup adventure kicked off with a 2-0 victory over Swiss champions FC Zurich and continued all the way to Lisbon. It was ten months of Celtic heaven, a breathtaking rollercoaster ride towards football's Hall of Fame.
'That Season In Paradise' is available to order now at 
CQNbookstore.com
 and will be on sale at the Celtic superstore before tomorrow night's Champions League encounter against Manchester City. Don't miss out on the legend and relive the glory!
This is a very special Celtic book about the most special of Celtic seasons.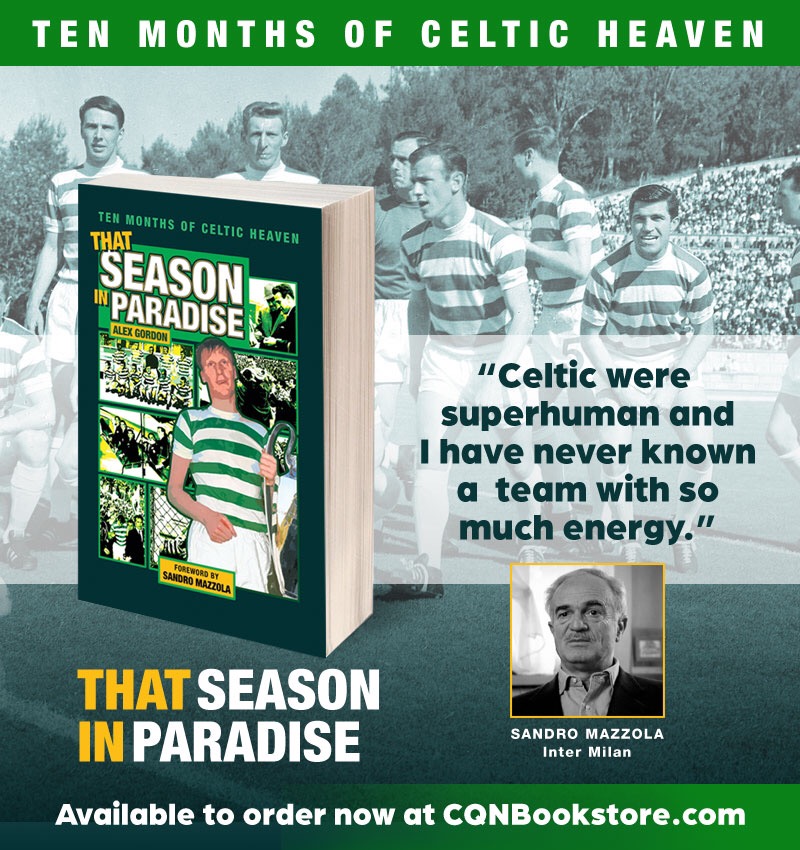 Click Here for Comments >