THE rollercoaster 11-season Celtic career of John 'Yogi' Hughes came to an end 50 years ago.
One of the club's highest-ever goalscorers with 189 strikes was on his way out four days after Jock Stein put him on as a substitute in the 5-0 win over Airdrie at Broomfield on September 25 1971.
Four days later, the fans' favourite had his last hurrah at Parkhead when he played in the 3-0 European Cup victory over BK 1903 Copenhagen to help the team through to the next round on a 4-2 aggregate scoreline.
Yogi was devastated to realise he was no longer wanted at his boyhood favourites. 
In another CQN EXCLUSIVE, the enormously popular ex-Hoops star reveals all to author Alex Gordon in his best-selling life story, 'YOGI BARE: The Life and Times of a Celtic Legend'. Here is the concluding article in our three-part series.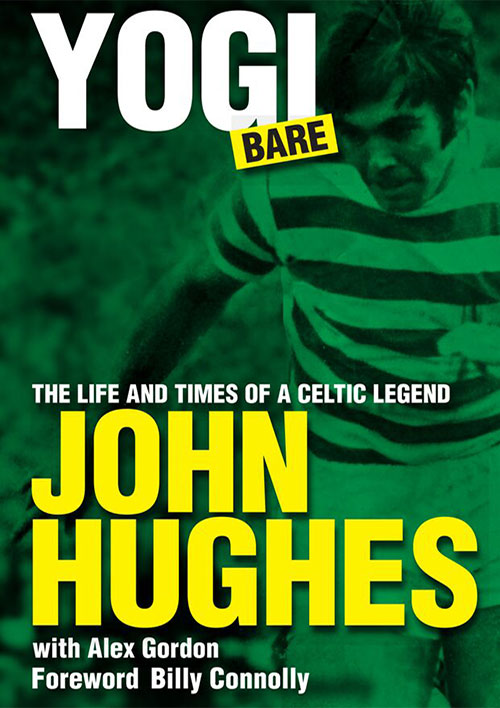 I SCORED one of the most crucial goals in Celtic history when I dived full-length in front of Jack Charlton to twist my head and flick an effort past Leeds United keeper Gary Sprake in that unforgettable European Cup semi-final second leg at Hampden in 1970.
The Elland Road side had tied the game 1-1 on aggregate with a whizzbang effort from my wee mate Billy Bremner. That must have given them a powerful surge in confidence, but my goal took the wind out of their sails and, of course, Bobby Murdoch made sure we were in the Final with a quickfire second. Surely, the importance of that goal emphasised what I could offer when the ball was in the air in the opponents' penalty area. Jock Stein still didn't want to know, though.
He was content when a rare headed goal came along because he was confident the likes of Bobby Lennox, Stevie Chalmers, Willie Wallace and Joe McBride would contribute more than enough in their direct fashion with the ball at their feet. And, of course, we had Billy McNeill for set-plays. Big Billy was magnificent in the air, just about unbeatable, so that contingency was catered for by our skipper.
HEADS I WIN…John Hughes leaps in front of Leeds defender Jack Charlton to flash an effort into the net to make it 1-1 at Hampden. Jimmy Johnstone gets a close-up view.
HEADS YOU LOSE…Jack Charlton is a beaten man as John Hughes (behind Jimmy Johnstone) runs away to celebrate his rare headed goal. Keeper Gary Sprake and Paul Madeley wonder what's hit them.
Please don't get me wrong. This is not a Big Yogi versus Big Jack chapter in my life story. I just want the supporters to be aware of the facts. For a start, I think he did me an enormous favour by pushing me out from centre-forward to the left wing. I was happy enough in the central role, but Jock thought I could be more effective when I was taking passes on the half-turn.
I would be off and running within seconds of the pass arriving at my feet. In the main striker's role, though, I would often have my back to goal. Controlling the ball in those circumstances would add vital seconds onto the manoeuvre. A centre-half could be breathing down my neck, forcing me to push the ball back for a midfielder. At outside-left, though, I could skin a right-back if he got too close. And once I was away, there was no stopping me.
Jinky used to like going back to beat the defender again. And then again. The steam used to come out of Big Jock's ears as he sat in the dug-out. Jinky, of course, was an entertainer and he responded to the crowds, who, rightly, adored him and urged him to go through his full repertoire. Jock didn't see it that way. He wanted the Wee Man to hit the byline and get crosses into the box. It took awhile for Jinky to understand the wisdom of his boss's train of thoughts.
YOGI IN FULL FLOW…John Hughes leaves Leeds defender Norman Hunter in his slipstream.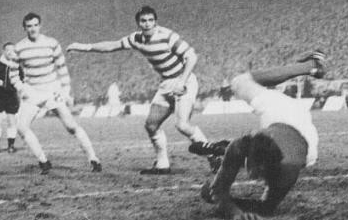 IN THE NET…John Hughes and George Connelly watch as Bobby Murdoch's low drive whips past substitute keeper David Harvey for the memorable European Cup semi-final winner.
Until then, he would simply put on a show, skipping past tackles as only he could. That's not the way I performed. Once I was away from the bloke it was up to him to chase me and try to catch me. I was fast and had good ball control, so that was highly unlikely most of the time. It was Jock who noticed that in my play, so, of course, I will be forever grateful for that. But I still can't help wondering how many goals I would have had in my collection today if I had been allowed to work on my heading ability.
I'm sure it would have been an entirely different situation if I had signed for an English club long before I did. I used to watch a lot of English football on the television and it looked as though their style of play suited a big forward looking for the ball in the air. Liverpool had Tony Hateley, dad of former Rangers player Mark. I hope I'm not being too judgemental here, but I think it would be fair to say that Tony was just a little cumbersome on the deck. He did most of his good work in the air and he was actively encouraged to perform in this manner.
West Ham had Geoff Hurst, who, to be fair, was a more skilled performer on the deck than he ever got credit for. Leeds United had Mick Jones, Spurs had Martin Chivers and West Brom had Jeff Astle. Then there was the Welsh pair of Wyn Davies, of Newcastle, and Ron Davies, of Southampton. They weren't related and the only thing they had in common in a football sense was that they were both terrific aerial artists. The old-fashioned Newcastle centre-forward was actually known as 'Wyn The Leap'.
YOGI ON THE RAMPAGE…John Hughes races past grounded Rangers pair Ronnie McKinnon and Colin Jackson.
To a lot of critics that may sound like 'Route One' tactics, the ball missing out the midfield players as a defender launches it straight down the pitch into the other team's penalty area. Yes, I've seen some teams simply adopt this so-called strategy, but, when it's done properly, it has its merits. Why not mix it up? Come at teams from all angles with a range of weaponry? Utilise the full skills of your team? I don't see anything wrong with that way of thinking.
The punters crave goals and they'll take them any way they can get them. And, after all these years, I fully realise I could have had those Celtic fans cheering a lot more times than my career total of eleven short of two hundred. Upon reflection, I must have been pretty good with the ball at my feet!
PARADISE LOST…the last image of John Hughes on the pitch at Celtic Park. Yogi is pictured at the back as Jimmy Johnstone, Lou Macari and Jim Craig swap jerseys with BK Copenhagen players after a 3-0 win on September 29 1971. 
Being a one-time publican, I am well aware that sour grapes always provide the most bitter wines. I certainly don't want to come over as bitter as regards Jock Stein. As I have already outlined, there is a lot I have to thank him for.
I've often been asked what were my feelings when Jock was nudged aside to allow Billy McNeill to take over as manager in 1978.
I'm not sure what anyone expects me to say. Was I happy that he might have received some of his own medicine? No, I can say with utmost honesty that did not enter my head. Why would it? In genuine terms, it meant nothing to me. I had been out of football for over five years, so Big Jock leaving Celtic had no bearing whatsoever in my life. Did people expect me to gloat? Sorry, that's just not my style.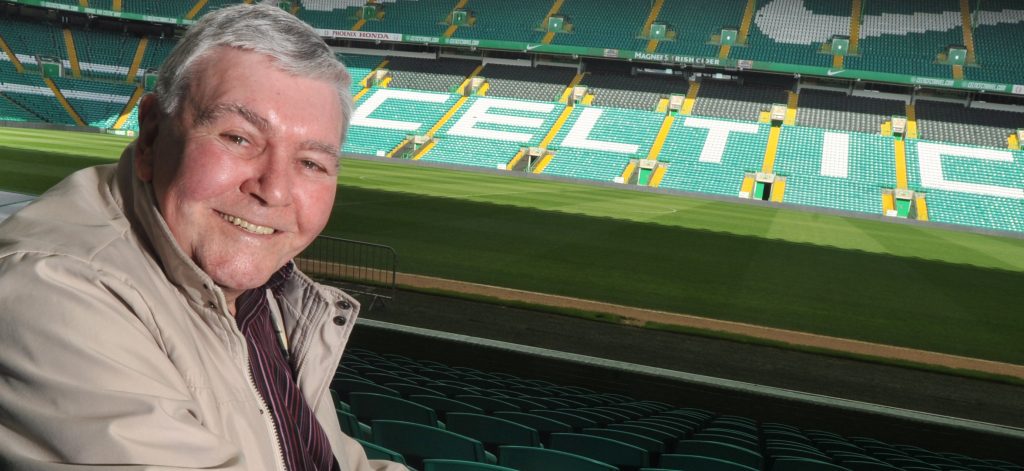 PARADISE REGAINED…Celtic legend and Celtic fan John Hughes at home in Parkhead.
I admit I didn't attend his funeral and some folk may interpret that as a lack of respect. That's not the case, either. I'm not a hypocrite. Jock Stein and I had no contact whatsoever following my departure from Celtic. We didn't speak at all, so that would have been at odds with me turning up to say farewell. He hurt me and I will never forget that, but that's the end of it.
I repeat I am not a bitter guy. Celtic Football Club, my team-mates and those wonderful supporters meant so much to me. When it ended so hastily, unexpectedly and painfully, I believe I was left in some sort of state of shock. I never saw myself as John Hughes of Crystal Palace. I was always John Hughes of Celtic. A huge chunk of my life and my passion had been taken away in what seemed an instant. That's difficult to overcome.
Let me also put the record straight here. It takes a big man to admit he has made a mistake and I've been called 'Big Man' goodness only knows how many times in my life. I have been quoted as saying Big Jock wrecked my career. After a lot of consideration and a bit of soul searching, I no longer believe that to be the case. Jock Stein did not wreck my career. However, I think he went a long way to shortening it. The injury I received in one of my first games as a Crystal Palace player meant I was forced to take a short cut to football's scrapheap before the age of thirty. However, that was all down to fate. I hope that clears up that point once and for all.
There is an old saying that goes along these lines, 'Good and true partnerships tumble out of heaven together.' It would appear Jock Stein and I became separated somewhere along the route to our different destinations.
* WATCH out for more Big Yogi EXCLUSIVES – only in your champion CQN.
Click Here for Comments >