WIM JANSEN, who celebrates his 75th birthday today, spent only one season as Celtic manager – but what a year it was.
The club's former midfielder Murdo MacLeod was the Dutchman's No.2 after he had taken over from fans' favourite Tommy Burns on July 3 1997.
Jansen, who played for Feyenord in their upset 2-1 European Cup Final victory over Jock Stein's team in Milan in 1970, kicked off season 1997/98 with TWO league defeats in consecutive games, 2-1 to Hibs at Easter Road and 2-1 agaist Dunfermline in Glasgow a week later.
Rangers were going for 10 in a row and Jansen was tasked with derailing the Ibrox club. With Henrik Larsson still an unknown quantity following his £650,000 arrival from Feyenoord and the supporters unsure of the qualities of £2million Norwegian Harald Brattbakk, no-one was betting on the Hoops achieving what some critics insisted was 'Mission Impossible'.
READ ALL ABOUT IT…Alex Gordon's latest Celtic book, '50 Flags Plus One'.
Author Alex Gordon recalls the momentous 1997/98 season in his latest Celtic book, '50 Flags Plus One', and the amazing turnaround in the club's fortunes as they marched on triumphantly to lift their thirty-sixth crown in Jansen's one and only year in Glasgow.
In an edited chapter, Alex, who is the veteran of fifteen Celtic books, writes:
JITTERS were in evidence at the season's kick-off, just as obvious as the jubilation that greeted the conclusion of a momentous season. Ten years of misery, a decade of anguish, an interminable period of suffering in football's version of Purgatory came to a shuddering halt in the east end of Glasgow on Saturday May 9 1998.
Dutchman Jansen had succeeded where the three previous inhabitants of the Parkhead hot seat – Liam Brady, Lou Macari and Tommy Burns – had proved to be deficient; the Premier league championship would be welcomed back to Paradise for the first time since 1988.
The last day of the programme was heading for a nerve-shredding crescendo and the position was clear: if Celtic, already two points ahead, beat St Johnstone by any margin they would be crowned champions of Scotland. Rangers were due to play Dundee United at Tannadice and the outcome would be rendered irrelevant if Jansen's team avoided disaster against the visiting Perth outfit.
Even Celtic's King of Cool Henrik Larsson admitted to being "a little bit nervous" as he waited in the tunnel before racing onto the pitch to a tumultuous welcome.
Inside three minutes, the composed Swede had presented Celtic with the start they could only have dreamed of on this most crucial of afternoons. A misdirected kick-out from Saints keeper Alan Main dropped to Paul Lambert on the halfway line and he wasted no time in switching the ball to the roaming Larsson on the left. Immediately, he got into his easy-going fluid stride as he took the ball towards right-back John McQuillan.
Larsson shaped to go wide and hit the bye-line, but changed direction to glide inside. The defenders backed off and the graceful frontman took a few touches before he was satisfied an opening had been presented. Without pausing, Larsson curled a spectacular effort with immaculate precision from twenty-five yards and the ball arced and plunged past the diving Main as it swept in at the left-hand post.
It was nervy and tense, but the pressure was lifted the moment substitute Harald Brattbakk rolled in the second in the 72nd minute and it was party time in the east end of Glasgow.
Jansen recently revealed he had been diagnosed with early onset dementia and Larsson recalled how a twist of fate introduced him to the man who would transform his life and make him a Celtic legend.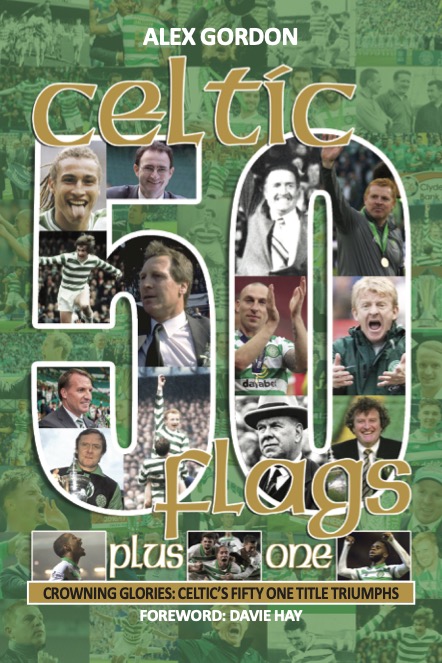 He said: "As a player, you have some matches where everything you touch is good. I had a game like that in 1993 when I played for Helsingborgs in a derby against Trelleborgs.
"That was my lucky day, because Wim Jansen was in the stands. I was up front with Mats Magnusson. He was an experienced striker of 29, had played for Benfica for years and scored a lot. I was just 22 and only recently played at the highest level in Sweden. We clicked. That day I scored two or three goals.
"Wim was actually there to watch Mats Lilienberg, the Trelleborg's striker. But he saw how I moved, both with and without the ball. And that is why he brought me to Feyenoord instead of Lilienberg."
The rest, as they say, is wonderful, cherished history.
From the CQN team, have an excellent birthday, Wim, and thanks for a coveted championship success.
Click Here for Comments >