LISBON LION Bobby Lennox, Celtic's all-time second-highest goalscorer following two spells and 20 years at the club, celebrates his 80th birthday today.
The striking speedster was born on this date in Saltcoats in 1943 – making him the Lisbon Lion born furthest from Parkhead.
Lennox joined the Hoops from Junior side Ardeer Recreation in 1961 and was the last of the 1967 European Cup-winning team to retire in 1980 when he joined the coaching staff.
The unassuming chap from Ayrshire enjoyed an avalanche of silverware success at Celtic.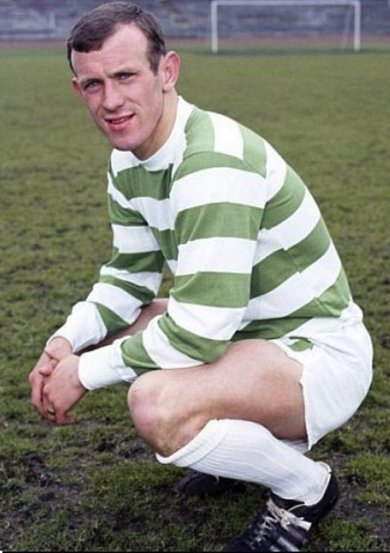 GOALDEN BHOY…Bobby Lennox terrorised defences during his two spells at Celtic.
Apart from the historic 2-1 win triumph over Inter Milan in the Portuguese capital, he picked up 11 league titles, eight Scottish Cups and five League Cups at Parkhead.
Lennox also won 10 Scotland caps and scored three goals, including one in the famous 3-2 victory over the-then world champions England at Wembley in April 1967 – a month before the unforgettable European Cup success.
Reflecting on a glittering career, the Hoops icon, speaking to Celtic book author Alex Gordon, revealed: "I scored a few good goals in my career, 273 in in 571 games, in fact, and naturally enough, one of the questions I am often asked is which is my favourite.
HAIL THE CONQUERING HERO…Bobby Lennox leaves Rangers captain John Greig grounded as he scores at Ibrox in 1966. Jimmy Johnstone is about to join the celebrations.

PICK IT OUT…Bobby Lennox whips a low shot past Rangers keeper Billy Ritchie to cap a memorable hat-trick.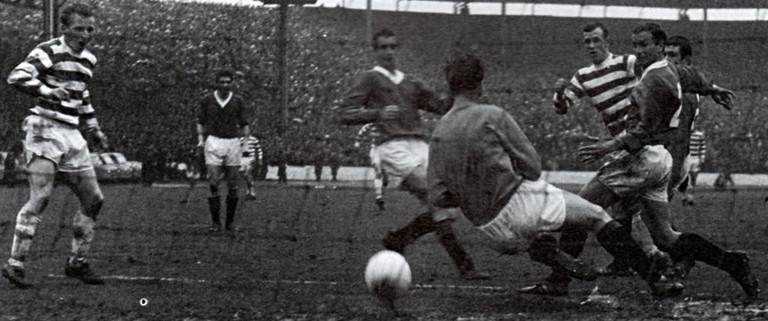 GOVAN GLEE…Bobby Lennox whips a low drive wide of Rangers keeper Norrie Martin that hit the post to be tucked away by the lurking Jimmy Johnstone. It was the first of a doule for the wee winger as Celtic clinched the title at Ibrox in May 1967.
"That's a difficult one. They were all welcome in their own way, but, searching my memory banks, there are a few that come to mind as being that little bit extra-special.
"I recall a goal against Aberdeen where I hit my shot with such force that the ball stuck up in the stanchion in the roof of the net.
"Another that means something to me came against Rangers in a Glasgow Cup-tie at Ibrox in 1966.
"The tournament might not have been the most prestigious in world football, but that didn't matter and we were all aching to get at our old rivals to make up for our Scottish Cup Final defeat against them two months earlier.
"That loss was a massive disappointment, to say the least. I played in the 2-0 semi-final triumph over Dunfermline, but was injured when the final came round on April 23.
UP IN THE AIR…an early shot of Bobby Lennon wearing the famous shamrock strip.
"With or without me, Celtic were the bookies' favourites to clinch a league and Cup double. I watched from the stand as we outplayed Rangers in the first game, but they held out for a goalless draw.
"It was a replay the following Wednesday and, once again, not too many people gave Rangers a chance. Our name just wasn't on the trophy that year, however, and a second-half goal from their right-back Kai Johansen took the Cup to Ibrox.
"That was one of those games that come along every now and again where you just know fate it is against you. I could never be called a defeatist, but I have to admit there are occasions when you instinctively know things will not run your way.
"I remember Celtic storming straight back at Rangers in that replay after Johansen's goal. If I recall correctly, Big John Hughes ran down the left wing and pitched over a peach of a cross.
"Joe McBride was first to react in a busy penalty area to thump in a ferocious header and their goalkeeper, Billy Ritchie, hadn't a clue where the ball was.
"As it happens, it struck him on the shoulder, flew upwards, came down, gently nudged the top of the crossbar, and with what looked like half Celtic team queueing up on the goal-line to knock it in, came back down again to settle on the top of the net and, as far as Rangers were concerned, out of harm's way.
WALLOP…Bobby Lennox fires in a shot at the Inter Milan goal during the unforgettable European Cup success in Lisbon in 1967.
"So, when the Glasgow Cup First Round tie came around, we were well up for it. Big Billy scored the opening goal with a low shot from an angle after Rangers failed to clear a corner-kick.
"That set the tone for the evening and I was fortunate enough to score three in an emphatic, one-sided 4-0 triumph.
"The one I recall was our second goal, my first-ever against the Ibrox side. That was memorable enough, but I am glad to say it was a real belter.
"I got the ball about 35 yards out inside on the right. I just took off, got away from John Greig and hit a left foot effort from the edge of the box.
"Billy Ritchie had the good grace not to bother even going for it as it rattled high into the roof of the net. That was a sweet goal.
"Another counter that will live with me forever wasn't quite in the classic category, but it was much, much more important as it virtually guaranteed us the League Championship for the third successive year.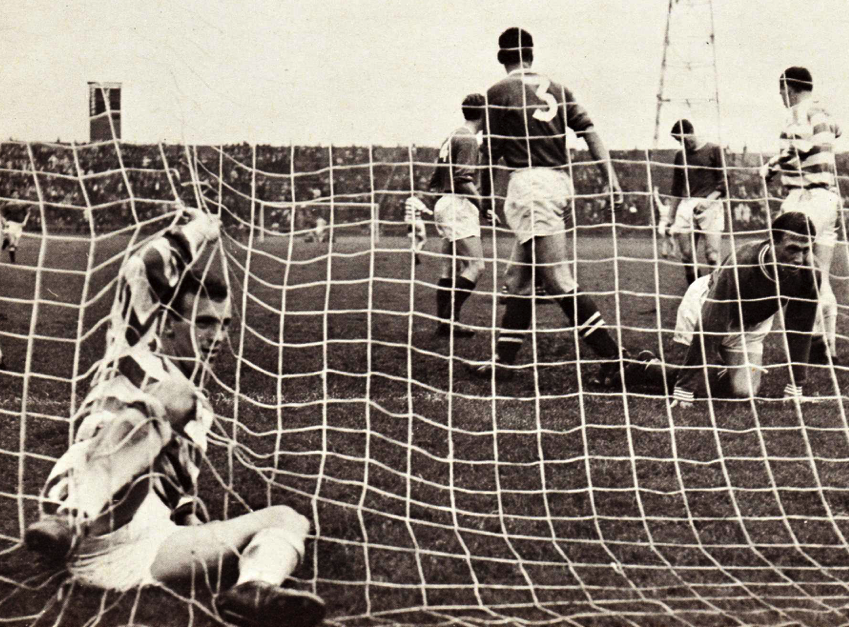 NET PROFIT..Bobby Lennox strikes again – this time against Aberdeen.
MATCHWINNER…Bobby Lennox lashes the ball past Rangers keeper Norrie Martin for the goal that clinched the 1966 League Cup.
"We were drawing 1-1 with Morton at Celtic Park in the second last game of the league season and it looked as though we were about to hand the initiative to Rangers.
"As everyone had come to expect from this Celtic team, it was never over until the referee blew for full-time. We had left ourselves in a bit of a predicament after Willie Wallace had put us ahead.
"Tony Taylor, who had been on Celtic's books as a youngster, equalised completely against the run of play and that was the way it was deadlocked with about 30 seconds to go.
"Suddenly there was a chance. A ball was floated in, the Morton defence didn't clear it properly and it dropped perfectly right at my feet.
"I didn't hesitate as I lunged forward to stab the ball beyond Andy Crawford from about six yards. Game over. Job complete. Title No.3 in the bag. Happy days."
Happy 80th birthday, Bobby, from CQN and Celtic fans throughout the world.
Click Here for Comments >