HENRIK LARSSON kicked his last competitive ball for Celtic on this date at a sun-kissed Hampden on May 22 2004.
As befitted the Super Swede, he bade farewell in spectacular fashion with a two-goal salvo in the 3-1 Scottish Cup Final triumph over Dunfermline in front of his adoring legion of fans at the national stadium.
Larsson did a well-deserved lap of honour as he acknowledged his last accolade in the sunshine on the south side of the city as he said goodbye while leaving his followers with a smile on their face.
AIR WE GO…Henrik Larsson's sublime chipped goal past the stranded Rangers keeper Stefan Klos in the memorable 'Demolition Derby' when Celtic romped to a 6-2 victory at Parkhead in August 2000.
The Magnificent 7 bowed out following, coincidentally, seven exceptional years at Parkhead after a glorious career in which he had been the hammer of Rangers with FOURTEEN goals in his contests against the Glasgow neighbours.
His wonderfully-executed lob over the bewildered Stefan Klos in the 6-2 Demolition Derby in August 2000 will always be an exquisite reminder of what Larsson brought to Celtic.
In his final campaign, 2003/2004, Celtic reclaimed the title and the £650,000 recruit from Feyenoord – surely one of the club's best-ever bits of transfer business – signed off with his double against the Fifers at a highly-charged Hampden.
Author Alex Gordon recalls the last hallelujah to Larsson in his tribute publication, '50 Flags Plus One'.
In an edited extract, Alex, author of fifteen Celtic books, made his observations of a player who had won a special place in the hearts of the club's supporters.
Please enjoy.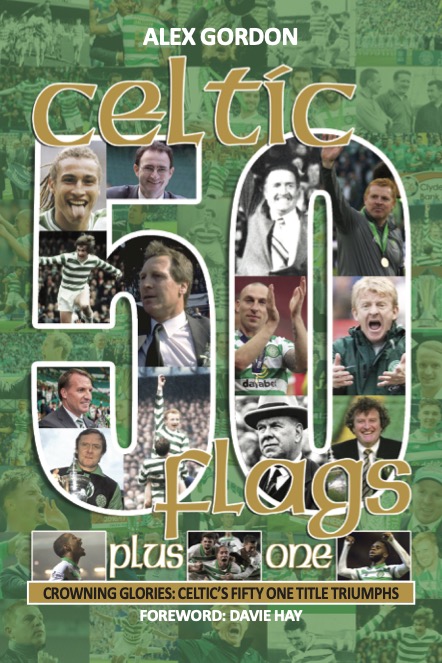 HENRIK LARSSON'S parting gift, after seven years as a Celtic player, was a two-goal salvo as Martin O'Neill watched his club claim their 32nd Scottish Cup at Hampden on May 22 in front of 50,846 fans.
The fairy tale was complete as Dunfermline were beaten 3-1 and Larsson said farewell with the glorious Glasgow sunshine embellishing the moment.
Afterwards, Martin O'Neill and his players lined up to pay tribute to Larsson. The manager said: "Both of his goals were magnificent and so important for us.
"I thought we did well in the first-half and were in control, but you still have to score and that's where Henrik made the difference."
FINAL SAY…Henrik Larsson curls the ball towards its destination behind keeper Derek Stillie to make it 1-1 with Dunfermline in the 2004 Scottish Cup showdown. The Swede scored again and Stiliyan Petrov sealed the triumph with a third.
Larsson, typically, played down his individual role, but admitted he was delighted to have finished his Celtic career on such a high note.
"Winning this Cup Final means everything. I didn't want to leave as a loser. It was great to get the two goals to end a fantastic seven years here. I never dreamt this could happen when I signed."
The Swede had been in tears the previous week when 58,364 supporters remained in place long after the final whistle had sounded on the 2-1 victory over Dundee United. The footballing aristocrat, of course, had scored both goals.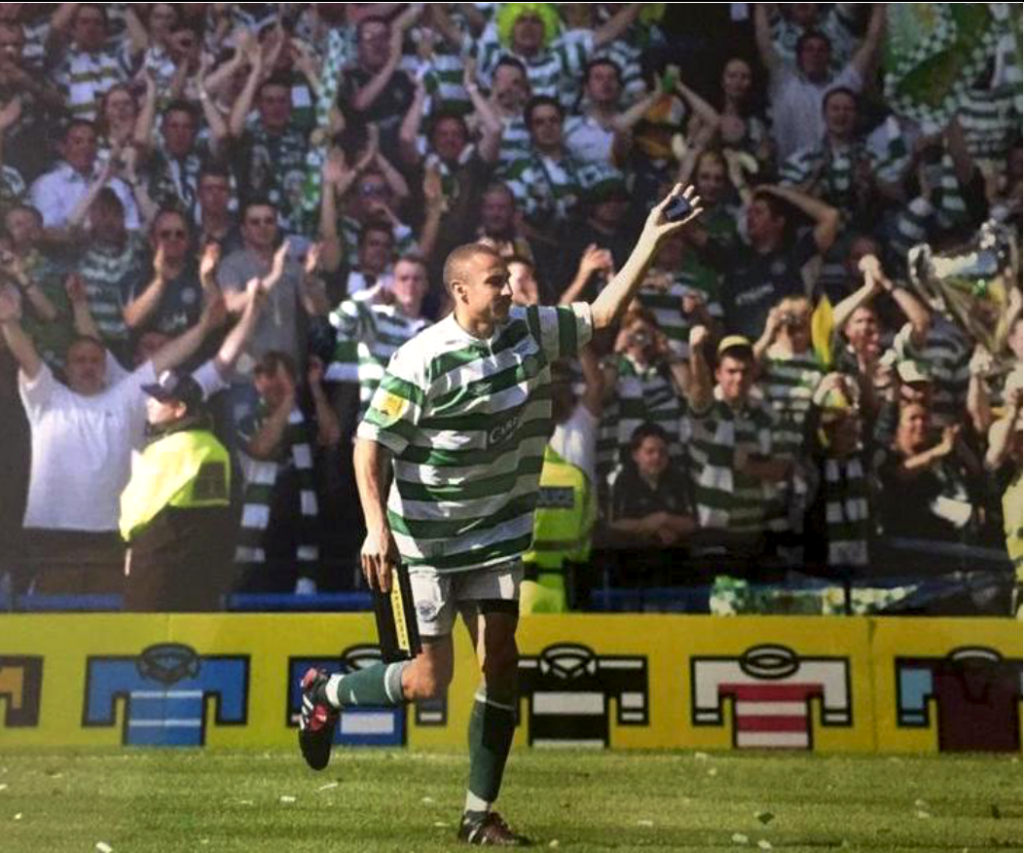 THE LAST HURRAH…Henrik Larsson says farewell to his adoring Celtic fans.
It was an emotional afternoon and Martin O'Neill summed it up best when he stated: "He says it has been a privilege being here, but the privilege is all ours."
Larsson's goals against the Tannadice outfit took his total for the season to 39, bringing the overall figure for the club to a phenomenal 240.
He signed off with the words: "It has been a pleasure to be at a club like this. The fans have been tremendous and it is great to have been part of something so special like this.
"I want to thank you all."
On May 25, 2004 – 37 years to the day Celtic had conquered Europe in Lisbon – Henrik Larsson said one last goodbye in front of a capacity crowd at Parkhead in his Testimonial Match against Sevilla.
He didn't score as his team won 1-0 – Chris Sutton did the honours – but it was still a rather special leaving party for a rather special individual.
Thanks for the memories, Henrik.
Click Here for Comments >