LIAM BRADY was named as Billy McNeill's successor as Celtic manager in June 1991.
The charismatic Irishman arrived with a dream for the club, but his vision had become blurred by the time he departed in early October 1993.
In another CQN EXCLUSIVE series, author Alex Gordon opens his book files to look back at an intriguing and compelling chapter in the club's history.
Here is another edited extract from Alex's tribute book, 'The Winds of Change', published by CQN in 2015.
Please enjoy.
THE last ball of the almost unendurable 1992/93 campaign was kicked in the midst of a jolly fanfare at Celtic Park on May 15 1993.
Prior to the kick-off to the depressingly meaningless meeting with Dundee, the home supporters were invited by the board to come in fancy dress costumes to say farewell to the old Jungle before seats were installed.
Undoubtedly, the directors would have preferred to have kept whatever spare cash they possessed under lock and key in a vault, but they had little say in the matter after the Taylor Report in 1990, following the Hillsborough Disaster the previous year, dictated that every football ground in Scotland and England must be all-seated by the start of the 1994/95 season.
On the final day, though, the Jungle was awash with gaiety. Fans arrived dressed as lions, dragons, scarecrows, clowns and there was even a very special tiger. Later it was discovered, director Michael Kelly was inside the suit. Celtic greats trotted out, including Jimmy Johnstone and the rest of the European Cup-winning side, to wave merrily at the cavorting throng.
There were pom-pom girls dancing around the centre circle and a huge inflatable pink elephant floated high above one of the goals. All very surreal for a club veering far too close to death throes. No-one seemed to care that goals from Paul McStay and Frank McAvennie gave Celtic a 2-0 win in a non-event encounter. It was a bizarre manner in which to bring down the curtain on another barren and joyless season.
ON THE RUN…Frank McAvennie in action against Dundee.
Upon reflection, there was something quite remarkable about the scoreline. It transpired this was to be Liam Brady's final league victory at Celtic Park.
Two months and a day later, I found myself sitting opposite the Celtic manager in the tranquility of the Brother Walfrid Restaurant at Parkhead as he attempted to plot his way through another minefield.
He had no money to spend and didn't mention he might be more than a shade envious that another manager across Glasgow, Walter Smith, had just paid a Scottish transfer record fee of £4million for Dundee United striker Duncan Ferguson and a 'mere' £1.2million for Gordon Durie from Spurs. Brady must have felt like the boxer in the ring with both hands tied behind his back.
However, he had been involved in a shake-up at managerial level by bringing in Joe Jordan as his assistant, ditching Mick Martin while moving Tommy Craig to the post of Youth Development Officer.
Old Scotland international warhorse Jordan, affectionately known as 'Jaws', had been sacked as manager of Hearts at the end of the season after three years in charge of the Edinburgh outfit. He summed up, 'That's life, you get on with it. Nobody's going to listen to your sad stories.'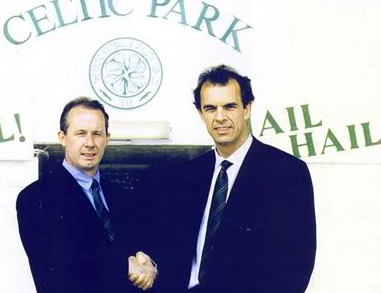 WELCOME…Liam Brady greets new assistant boss Joe Jordan at Celtic Park.
Jordan, who had never hidden his admiration of Celtic, had got to know Brady during his career in Italy with AC Milan and Verona. Although he had been a striker during his playing days, Jordan's great strength in coaching was organising defensive systems. He was the role reversal of Jock Stein, a stonewall centre-half who concentrated on offensive formations.
After a wait of almost five months, Pat McGinlay was on his way with Joe Miller moving out to accommodate his £400,000 transfer fee. Twenty-four hours after completing the deal, McGinlay wore the green and white hoops for the first time in the 1-1 pre-season stalemate with Sheffield Wednesday on July 31 and was utilised as a second-half substitute in a 1-0 defeat in another friendly against Manchester United at Old Trafford three days later.
A further – and welcome – £225,000 arrived from Bolton Wanderers who signed midfielder Stevie Fulton.
Brady was working with a threadbare squad, but was looking forward to turning things around. Moses probably found parting the Red Sea an easier task.
Celtic were sent to Fir Park for the opening fixture of the season against a Motherwell side who dodged the drop from the Premier League by only six points. Despite the boast of twelve months beforehand, this was hardly 'Brady's team'. Only two of the starting line-up – Stuart Slater and Frank McAvennie – had been brought to the club by the Irishman.
Pat McGinlay started the game on the substitutes' bench. After thirty-eight minutes, Tommy McLean's team, whose main tactic appeared to be to try to bore the opposition into submission, were two goals ahead and Celtic were floundering. Dougie Arnott and Alex Burns were the players on target and Brady must have had that old familiar sinking feeling.
FOUR-MIDABLE…Stuart Slater celebrates a goal and is about to be congratulated by Andy Payton, Tom Boyd and Paul McStay.
However, Slater threw the team a lifeline with a cracking right-foot shot just on half-time and McAvennie, following on from last season, grabbed an equaliser just after the hour mark. A crowd of 14,569 watched the action, but it was hardly champagne vintage. After only ninety minutes, it was clear this was heading for another campaign of toil.
Brady wasn't to know it, but he would only be in charge of the team for only nine more league games, a mere two of which the team would emerge triumphant. The Celtic players had to wait until the fourth match of the season before picking up a win bonus.
There were draws against Hibs (1-1) and Rangers (0-0) before they beat Partick Thistle with a solitary effort from the unlikely source of Mark McNally at Firhill. However, that was swiftly followed by a 1-0 reverse against Aberdeen in Glasgow with the burly Mixu Paatelainen again terrorising the Celtic defence while scoring the winner.
Brady's last league win as the club's manager came on September 11 in Fife where two first-half goals from Charlie Nicholas and two after the turnaround from Andy Payton gave the club an emphatic 4-1 triumph over Raith Rovers. The following week a strike from Gerry Creaney nullified a goal from Billy McKinlay as Celtic settled for a dismal 1-1 stalemate against Dundee United at Parkhead. The entertainment level never got anywhere close to the colourful display in Brady's managerial debut against the same opponents back in August 1991.
Massive disappointment was awaiting the Irishman and Celtic in midweek as the club prepared for the League Cup semi-final against Rangers, played at Ibrox with Hampden out of commission due to refurbishment. The clubs agree to toss a coin to decide the venue, either Parkhead or Ibrox. With Brady out of the country on club business, Joe Jordan stepped in to flip a coin with Walter Smith.
UP FOR THE CUP…Liam Brady in training as he prepares for the League Cup semi-final.
The Celtic assistant called it right and thought the club had won a home tie. It was explained he had only earned the right to call first in the real thing. This time, unfortunately, he got it wrong and Rangers, without any input, were suddenly awarded a home tie.
Celtic, though, would have half of the tickets for a near-50,000 sell-out and, for the first time in history, the Rangers players would come out the tunnel to be confronted with a sea of green and white with the visiting support commandeering the Govan stand. I decided to give the Press Box a miss that evening and Liam Brady organised two tickets to be collected at the Ibrox reception.
I received some strange looks in a cramped and exceptionally busy area when I was asked for the name on the envelope. The Celtic manager had told me the tickets would be in his name. I answered, 'Liam Brady' and the place, packed with Rangers fans, went exceptionally quiet. I took my seat in the centre of the stand and the atmosphere, as ever, was electrifying.
I knew exactly how much this game meant to Brady. He had seen Celtic lose two semi-finals the previous season and he was utterly determined not to suffer a third failure. If he could push the club to the Final, he believed he could source the springboard to success. First, though, he would have to dismiss Rangers.
Celtic had reached the last four by overcoming Stirling Albion (2-0), Arbroath (9-1) and Airdrie (1-0). The goal storm at Gayfield, with Frank McAvennie and Andy Payton both hitting hat-tricks, was the worst result in Arbroath's history.
Ironically, they were managed at the time by Celtic legend Danny McGrain, who quit the job the following season after 14 months in charge.
* TOMORROW: Don't miss the next riveting instalment of the Liam Brady story – only in your champion CQN.
Click Here for Comments >