LEIGH GRIFFITHS has opened up on the "massive mistake and massive regret" that brought an end to his Celtic career.
The 32-year-old striker, who won 14 honours and scored 123 goals for the Hoops, is considering calling it a day after being without a club for five months.
Griffiths was dismissed by the champions at the turn of the year after being returned to Parkhead by Dundee from his original season-long loan agreement.
The Celtic hierarchy scrapped his contract which still had six months to run.
Reports emerged last summer that the club and police authorities were investigating claims the player had sent inappropriate online messages to two schoolgirls.
GOODBYE, PARADISE…Leigh Griffiths in his final appearance in the pre-season match against West Ham at Parkhead on July 24 2021.
After a full assessment, it was decided by the investigators there had been no criminality, but Griffiths acknowledges it was the error that led to him being shown the door at the Glasgow giants after seven and a half years following his £1.2million move from Wolves.
The one-time Scotland international hitman admitted: "I think that was probably the lowest point for me. I hold my hands up, I regret what I did.
"It went to the right people behind the scenes, from Celtic, the authorities, the law, and I have proved that there was no wrongdoing. But, for me, it is still a massive mistake and a massive regret."
Griffiths, who won seven league titles, three Scottish Cups and four League Cups at Parkhead, made the frank admission in an interview with BBC Scotland.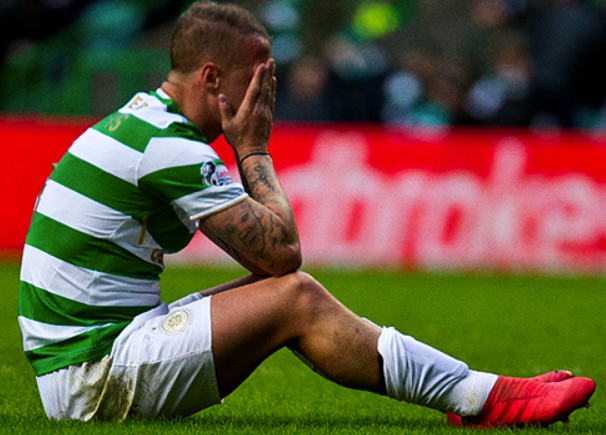 DOWN AND HEADING OUT…Leigh Griffiths rues a missed chance.
He said: "The longer it goes on I think: 'Is football for me anymore?'.
"I've been without a club for five months now and, although Davie [Martindale, Livingston manager] has said I can come in and train with them, he has said there is no deal on the table.
"I'm still not seeing managers pick up the phone, which means do they want me at their club or is it time to call it a day? That is something I'm still considering at the minute.
"As a free agent, you've not got a budget, you've not got a price-tag on your head, everything is still negotiable."
In the last couple of years, there have been question marks over his fitness and the situation saw a falling-out with ex-boss Neil Lennon who dumped him from his pre-season travelling squad to France as he prepared for what the Hoops hoped would be a historic campaign with the club looking for their tenth successive title.
NEAR THE END…a frustrated Leigh Griffiths sits in the stand after being substituted in the 3-0 Scottish Cup win over Falkirk on April 3 2021.
Griffiths' career went into steep decline after that furore with the Northern Irishman which became a very public spat.
Lennon's successor Ange Postecoglou offered the forward a 12-month extension on his contract which was about to expire.
However, Griffiths made just a 45-minute appearance during the July 24th friendly against West Ham at Parkhead where he was given a mixed reception by the Covid-reduced crowd.
That outing came just a few days after the controversy concerning police came to light and signalled the end was in sight for the former fans' favourite.
He went through the motions at Dens Park and then during a short stint at third-tier Falkirk. He turned out twice and scored two goals for Australian lower league side Mandurah FC in the summer.
Griffiths continued: "It was the most peaceful three weeks I've had in football.
FINAL FAREWELL…Ange Postecoglou with Leigh Griffiths as the player makes his last appearance as a Celtic player at Parkhead in July last year.
"Even yesterday, I got abuse when I was training at Livingston. People just standing at the top of the hill wanting to stand and abuse me.
"I can't do anything. I can't go out to the shops. That's the narrative, that's the stigma you have when you're playing with one side of the Old Firm.
"Don't get me wrong, there are plus sides, as well. Celtic fans still come up to me and say they miss me, which is always nice to hear. There's always that flip of the coin."
Griffiths, who has also played for Livingston and had a lengthy loan at boyhood favourites Hibs, added: "I've got an 11-year old son who keeps asking me when I'm going to be back playing football again and it's a difficult one to answer.
"I just say I'm training as hard as I can and hopefully a club comes calling soon."
* Full Leigh Griffiths interview is on Sunday Sportscene at 7.15pm on the BBC Scotland channel and iPlayer.
* DON'T miss the unbeatable match report and best action images from Livingston v Celtic this afternoon – only in your champion CQN.
Click Here for Comments >