DAVIE HAY took over as Celtic manager 37 years ago and was involved in a rollercoaster four seasons in the Hoops hot-seat.
CQN has been looking back at those eventful campaigns in which the former Scotland international won the most dramatic title race in living memory and added a Scottish Cup during a turbulent period for the club.
Here is the eigthth and concluding instalment from Davie Hay's excellent autobiography, 'The Quiet Assassin', co-authored by his long-time friend Alex Gordon – in another CQN EXCLUSIVE series.
I REALISED my four-year stint as Celtic manager was over. Once I had taken it all in I asked the chairman, Jack McGinn, about compensation. 
He told me the board hadn't worked that out yet, but he would get in touch. I reaffirmed that I would not resign and I left Parkhead in a bit of a daze. Remember, this is the same board of directors who allowed me to spend a record £450,000 on a player just one week beforehand while also giving me a wage increase from £33,000-per-year to £40,000 during the season.
Those decisions suggested they had not lost faith in me. None of it made a lot of sense.
I drove home and broke the news to my wife Catherine and she was clearly distraught. We talked things over with daughters Allison and Caroline and I think we were all emotionally drained. I was in the public eye and I was out of work.
At first, I didn't want to leave the house. In those sort of circumstances, you don't want to meet anyone because there is nothing more to be said. You care, too, about the children and what is being said at school. My sacking was completely unexpected and, even now, I don't think too many of that particular board of directors could be proud of the way it was handled.
After discussing the events with Catherine, she asked, 'Who's going to get your job?' It was the same question I had posed to Jack McGinn. 'I don't know,' I replied. Later on that evening, I was watching the news on television and it was then and only then that I discovered Billy McNeill would be returning to Celtic as manager.
AT HOME…Davie Hay outside the home dug-out at Celtic Park.
I stared at the screen in disbelief. I was out, Billy was in and it all seemed to be done in a matter of hours. Everything seemed to be handled so badly and I think I deserved to be treated in a fairer manner. I had nothing against my old team-mate Billy. He was unemployed after being dismissed by Aston Villa and was available. Actually, I have to admit that I maybe played an unwitting role in being removed from my job and being replaced by Billy.
At the end of the season my good friend Peter Rafferty, the president of the Celtic Supporters' Affiliation, had arranged for a twentieth anniversary celebration of the Lisbon Lions at the Normandy Hotel in Renfrew. Billy, as captain of that wonderful team, was invited, of course. I was absent, though.
Previously, I had agreed to go to London for the same weekend before I knew anything about the Lions' anniversary. I went with Catherine to see Michael Crawford in the hit musical 'Phantom of the Opera' in the west end. The following evening we visited a nightclub called Silks and mixed with the likes of Joan Collins and Co. All was well with the world.
I don't know if the topic of returning to Celtic was ever brought up with Billy at the Lisbon Lions anniversary. If it had been in anyone's mind at the club it would surely have been too good an opportunity to pass up. Afterwards it emerged that Billy had met Jack McGinn at a supermarket car park in Clydebank to discuss the possibility of  becoming manager of the team again.
It was all very hurtful, but I didn't blame Billy. Far from it. If I had been in an identical situation I'm not too sure that I wouldn't have done the same. The lure of Celtic is fairly powerful. Who knows?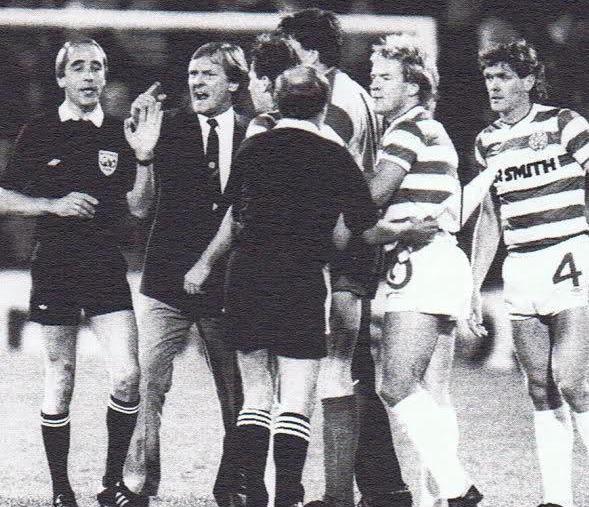 REF RANT…Davie Hay is clearly unhappy with match official Bob Valentine in a game aganst Aberdeen.
I had to wait a few months before I eventually received my compensation cheque from Celtic. If I remember correctly, it was around £50,000 before tax. As far as the money went, there wasn't enough cash printed to take away the pain I felt of being fired by the club that was imbedded in my soul. I even received a message from Cardinal Winning, a well-known Celtic supporter. It simply said, 'Time is a great healer.' I realise now that the sentiment is 100 per cent correct, but try telling that to me back then.
I went at least six months before I could even start to push the memory of that wretched afternoon to the back of my mind. I realise it will never be completely wiped from my memory banks. However, as time goes by, you learn to cope with the hurt. There is an old saying that states you should 'spit out the bitter pill'. I've done that.
And I also left a lasting legacy – I introduced the players' lounge! Amazingly, the club did not have a place inside the ground where players' families and friends could meet before and after games. Catherine was allowed in because she was the manager's wife, but the players' wives, girlfriends, children, relatives and pals had to wait outside in the car park beforehand, irrespective of the weather. There was nowhere else for them to go.
At Chelsea, they had a fairly swish players' lounge and it seemed an awful lot more civilised and sophisticated than having folk mulling around outside while the players got showered and changed. Sometimes you had to hold them back to have what is euphamistically known as 'a quiet word'. Our chief scout John Kelman had a fair-sized office, but, obviously, it wasn't used at the weekend. I utilised it on Saturdays and John got his office back on Monday. Why had no-one thought of this before?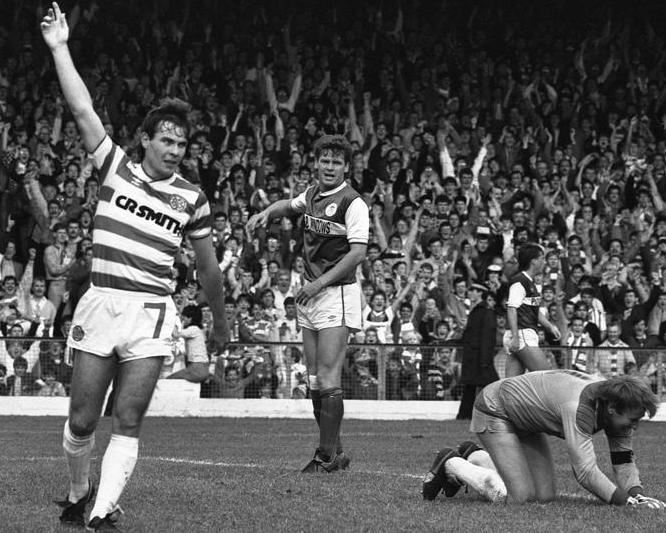 HANDS UP IF YOU'RE LEAVING CELTIC…Brian McClair after scoring against Hibs keeper Alan Rough.
I watched events unfold at Celtic that summer just like any fan. The club, champions of their country a mere twelve months beforehand, appeared to be imploding. Mo Johnston went to French outfit Nantes for a bargain £350,000, Brian McClair agreed an £850,000 tribunal deal with Manchester United, Alan McInally moved to Aston Villa for around £250,000 and a similar fee took Murdo MacLeod to Borussia Dortmund.
Davie Provan was forced to retire far too soon and there was a sentimental parting of the ways for Danny McGrain, who, at thirty-seven-years-old, had been given a free transfer and went to Hamilton. It looked as though the club was starting afresh.
By the way, I don't think I am the first manager to be shown the door at Celtic. I came across an old newspaper clipping not so long ago.
It read, 'I can only assume the chairman and his board of directors felt that a change of managership might bring a change in the team's fortunes. I want to wish my successor every possible good fortune. At the same time, I must confess I was deeply hurt over the whole thing. No hint of a change had been given to me as I prepared to leave for a fortnight's holiday.
'You can imagine my feelings when, a few days later, I picked up a newspaper and read that I was likely to lose my job. It was obviously not just a rumour and when I returned I called on the chairman who asked me to hand in my resignation. I did so, of course, but the whole affair has caused me much unjustified embarrassment.'
Sound familiar? The words belong to Jimmy McStay, the Celtic manager who was replaced by Jimmy McGrory in July 1945.
Forty-two years later I could have penned something similar.
Click Here for Comments >