MARTIN O' NEILL has admitted he "can't get his head around" the fact Neil Lennon's appointment as Celtic manager was met with criticism in some quarters.
The former Hoops boss was stunned to learn there had been some flak when his ex-skipper's return on a full-time basis was not met with universal approval.
Lennon, of course, made a dramatic comeback to the champions' hot seat following the sudden departure of Brendan Rodgers in February only 24 hours before a crucial Premiership encounter against Hearts at Tynecastle and four days ahead of a Scottish Cup quarter-final against Hibs at Easter Road.
The new Leicester City gaffer had lost at both Edinburgh venues earlier in the season, but his interim replacement steered the team to two vital victories on the club's way to the historic treble treble.
O'Neill, speaking to the Evening Times, said: "This idea that he was cheap or the board were negligent in not looking elsewhere seems exceptionally unfair.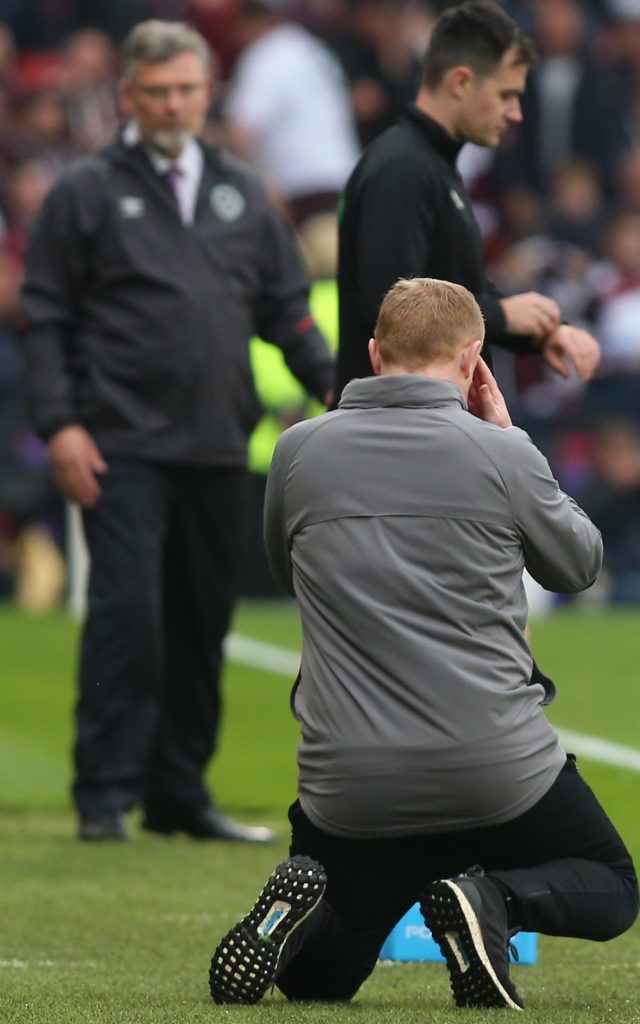 END GAME…Neil Lennon sinks to his knees at the final whistle of the Scottish Cup win with Hearts boss Craig Levein looking on.
"When I heard that there was some criticism towards Neil getting the job I would have to say that it truly took me aback. I am not sure why that would be the case. I really can't get my head around it at all.
"If the opportunity allows, I watch Celtic games on television and I am not sure that the season had been entirely fluent for the duration of the campaign, for one reason or another.
"So, it was not a given that he would walk in there and get it right. I think you have to be really appreciative of the kind of pressure he was under in those months – all the while as he was trying to win a treble, which is no mean feat.
"I sometimes wonder in this day and age whether there is an opinion that is as widespread as things are reported.
"When I watched the Scottish Cup Final, I heard his name sung loudly and clearly. It didn't seem to me that there was an issue there, so I do have cause to ponder at times whether the echo chamber of social media nowadays creates something that is not necessarily there."
Lennon welcomed a slimmed-down squad back to Lennoxtown yesterday as the preparations for the new campaign got underway with the club discovering their early Champions League opponents for the first two rounds of the qualifiers later today.
THE CUP THAT CHEERS…Neil Lennon with the silverware.
O'Neill was also quick to point out some of the results Lennon can boast in Europe remain impressive. By contrast, Rodgers' side were on the receiving end of seven-goal embarrassments against Barcelona and Paris Saint-Germain while the French giants won 5-0 in Glasgow to hand the Hoops their biggest-ever defeat at Parkhead in their European history.
The former Republic of Ireland supremo, now in charge at Championship side Nottingham Forest, said: "I think his record is excellent and people overlook that.
"Sometimes there is a danger that when you are so woven into a club that people can lose a little bit of appreciation for what it is you do.
"If memory serves me right, this was a man who took Celtic into the Last 16 of the Champions League, a man who orchestrated one of the great European results at Celtic Park with a win over a Barcelona side that were widely regarded as one of the best teams ever at that point.
"So, there is a tactical acumen there with Neil. He can adapt. He can organise."
O'Neill added: "I am not too sure how many people would have wanted that job in the circumstances that it was offered; going into a pretty shocked dressing room with a treble treble in the offing.
"You need to be a certain character and have a certain personality to be able to go and do that."
Click Here for Comments >