IT took a goal two minutes from time by Kyogo Furuhashi fom preventing Celtic kicking off 2023 with a defeat at Ibrox.
The Hoops were trailing 2-1 and had failed to spark against Michael Beale's side after taking an early lead through a superb solo effort from Daizen Maeda.
However, two quickfire strikes – a leveller from Ryan Kent and a penalty-kick from James Tavernier – early in the second-half turned the game on its head. As the minutes ticked down, it looked as though the champions' advantage at the Premiership pinnacle would be cut to six.
However, Japanese hitman Kyogo pounced in the 88th minute to clip a clever effort wide of the scrambling Allan McGregor and his frantic defenders and the Hoops maintained their nine-point lead.
THAT'S MY BHOY…late-goal saviour Kyogo Furuhashi is congratulated by debutant Alsitair Johnston in the 2-2 draw at Ibrox.
Ange Postecoglou didn't appear to be overly concerned at the below-par performance as he defended his players and insisted: "They are human beings. They are not robots.
"It was a big game, a big occasion. We started so well, but Greg Taylor going off injured didn't help us. The balance of the team was out of whack, but there was still, even within that context, just giving the ball away cheaply which we don't normally do. But they are not going to be perfect all the time.
"The beauty of it is they still found a way because at 2-1 it would have been easy, with the crowd the way it was and the way the game was going for us, to resign ourselves to our fate, and say it is not our day.
"But this group of players never do that and they didn't on this occasion. It's the way this group is, the way we have created the environment. There isn't anything like a lost cause. You go till the final whistle and nothing changes.
"Even in our comfortable victories, you'll still see us being really aggressive till the last minute. The players are conditioned to think that way and play that way
"It's easy for me to talk about it, but in today's environment, and the way the game was, it would have been almost natural to say: 'Jeez, it's not going to be our day'.
"But this group of players just refuse to do that."
A NEW YEAR, SAME OLD POSE…Ange Postecoglou focuses on the Ibrox touchline with backroom boy Harry Kewell and substitute Oliver Abildgaard watching the action.
Postecoglou, who handed a debut to Canada World Cup right-back Alistair Johnston, added: "Great game for football, mate. I thought it was a cracking game for everyone.
"All eyes are on this game, not just in Scotland, but all around the world and I thought both teams were at it. It was a proper derby. Everything is pleasing. It's a difficult place to come to.
"We knew they'd throw everything at us because of the importance in the context of the league. I thought for the most part we handled it okay."
The game, of course, couldn't pass without controversy and there was a 64th-minute flashpoint when a shot from Carl Starfelt was pushed away by Connor Goldson with BOTH hands, but referee John Beaton waved play on and VAR assistant Willie Collum, looking at multi screens in a studio across the city, didn't intervene.
It baffled many onlookers that the onfield official was not even instructed to at least have another view of the incident on the touchline TV monitor.
Postecoglou said: "It's a penalty. I've seen some people do all sorts of mental gymnastics trying to show why it's not a penalty which probably suggests it is, just trying to find a reason it's not. If it wasn't, it would be a simple explanation.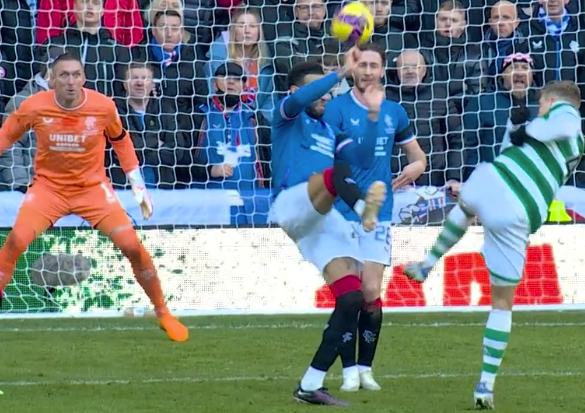 YOU NEED HANDS…centre-back Connor Goldson beats away a shot from Carl Starfelt with both hands – but no penalty-kick is awarded.
"It's just really confusing now for players in the box to know what they can or can't do, because it seems it changes depending on who is in charge of the decision-making process.
"There has been zero consistency and these things normally even themselves out.
"But with the introduction of VAR and the decisions that have gone against us, there's ZERO chance that's going to even out by the end of the season."
Postecoglou continued: "It's just remarkable, we've had at least three major decisions go against us.
"We can say it just comes down to interpretation or whatever people want to say, but I guarantee you if that game finished 2-2 and it was Rangers were denied that decision, the talk would be about how that was a title-defining decision.
"The fact that it wasn't because we still have a reasonable result, as we have in all the other games like at Tynecastle when the decisions went against us, doesn't mean we should ignore it.
"That could be a team that gets relegated on a decision like that.
"It's a penalty in my mind. Before we even started introducing VAR, it's always been a penalty.
"There were only two saves in the game; one by Joe and one by Connor, that's it."
MUTUAL ADMIRATION SOCIETY…Ange Postecoglou returns the acclaim of the Celtic fans at Parkhead.
Celtic didn't quite top gear, either, in the next game, a 2-0 win over Kilmarnock at Parkhead with a strike from Filipe Jota and a deflection from centre-back Ash Taylor.
The Greek-Australian gaffer observed: "We couldn't really get any rhythm in the game.
"We had a lot of the ball, but there was a lot of stop-starting and we made some poor choices in the final third. However, the pleasing thing was that we stayed disciplined and got a good goal just before half-time.
"In the second-half, I thought we were really good. We took the game to them and scored a nice goal.
"It's fair to say that we should have had three or four more, but I thought our football was much better.
"Every opponent comes with a plan and you've got to respect that. They made things difficult, but I thought we made things difficult for ourselves for a lot of it, just by making some poor choices.
"However, they stuck to their task, but, as I said, I thought in the second-half we took control of the game and it was a good performance."
A week later, the teams met again in the League Cup semi-final a storm-lashed Hampden – and once again it ended in an identical scoreline, this time with Daizen Maeda and Giorgos Giakoumakis on target.
No-one realised it at the time, but it was the Greek international hitman's final strike for the Hoops before he moved to the MLS with Atlanta United in the opening days of February.
THE LAST HURRAH…Giorgos Giakoumakis races away after tucking Celtic's second goal behind Killie keeper Sam Walker at Hampden. The Greek at least signed off with a strike for the Hoops.
The victory sealed a grand finale with Beale's Govan outfit on February 26 and a beaming Postecoglou said: "The conditions made it tough for it to be too open and free-flowing, but fair credit to the lads, they found a way again.
"They had to battle, but that's okay, we can battle with the best of them and I thought they did that on this occasion.
"In these kind of competitions you don't expect the opposition to lay down at any point. We expected a tough game and that's what we got.
"But, as I said, the key to that is that we overcome that and the boys did that.
"We want to be a team that's relentless in our pursuit of success. It's demanded at this football club and again the boys delivered when it mattered.
"The conditions, the pitch, it wasn't great for us to play our football, it made it really difficult, but, as I said, we spoke about that before the game, and if we need to battle this out, we'll battle it out.
"What's important that once the game's done and dusted, were in the Final."
The manager was still smiling four days later after an emphatic  4-0 league win over St Mirren in Glasgow with Kyogo collecting a double and Liel Abada and David Turnbull adding the others.
FINAL SHOWDOWN…Ange Postecoglou welcomes a Glasgow derby in the League Cup showpiece.
Postecoglou singled out the Japanese striker – now on 18 goals for the campaign – and said: "Kyogo's obviously been on fire for quite a while.
"It's just his movement, the quality of his finishing is always there. I was really pleased with the quality of our goals.
"Two were trademark Kyogo goals, a set-piece and Dave's great strike, so they were all good goals."
The Hoops eased through their Scottish Cup opener against Morton at the weekend with Kyogo, who had celebrated his 28th birthday the previous day, again thumping in a double. Aaron Mooy also hit a pair, including a penalty-kick, and Turnbull once more joined in with a long-range drive.
Kyogo took to Instagram after his latest double salvo to say: "Another game, another win."
He didn't forget his colleagues, either, as he added: "Thanks to my team for the nice birthday surprise."
The words were accompanied by a snap of a cake.
The victorious sequence was uninterrupted after the midweek visit to Tannadice where Filipe Jota and Mooy, with another spot-kick, were the marksmen to make sure the title kings maintained their nine-point lead at the top of the table.
AIR WE GO…Kyogo Furuhashi celebrates his 28th birthday a day late with a double in the 5-0 win over Morton.
A beaming Postecoglou, celebrating his fiftieth league win as Hoops gaffer, said: "Aaron and Jota were really good.
"They provided that quality in the front third that was probably just the only thing missing in the first-half.
"It was a great ball in and Jota was where he should be and he scored a great goal. I was pleased for us and I thought, after that, we kicked on."
Postecoglou added: "There were difficult conditions and an opposition who were pretty disciplined and working hard to try and stop us, but we maintained our discipline in playing our football.
"We were probably just missing a little bit of a cutting edge in the final third in the first-half, but we got a couple of goals in the second-half and could have had a couple more.
"I thought the players handled it really well.
"We didn't lose our composure and even though we hadn't scored, we were certainly finding ways through and it was just a matter of maintaining that and maybe just being a bit more alert inside the box.
"I thought that's what happened in the second-half."
The bid for the eleventh crown in 12 years was set to continue with a game against Livingston at Parkhead on the first day of February.
Could any team derail Celtic from their determined quest?
RESULTS
January 2, 2023: Rangers 2 CELTIC 2
Maeda, Kyogo
January 7: CELTIC 2 Kilmarnock 0
Jota, Taylor (og)
January 14: CELTIC 2 Kilmarnock 0
Maeda, Giakoumakis
January 18: CELTIC 4 St Mirren 0
Kyogo (2), Abada, Turnbull
January 21: CELTIC 5 Morton 0
Mooy (2, 1pen), Kyogo (2), Turnbull
January 29: Dundee United 0 CELTIC 2
Jota, Mooy (pen)
* TOMORROW: Don't miss the twenty-first thrilling instalment of CQN's EXCLUSIVE tribute to Ange Postecoglou.
Click Here for Comments >