ANGE POSTECOGLOU and Celtic's Champions League adventure came to a halt in October after two defeats to RB Leipzig and a draw with Shakhtar Donetsk.
It was a glorious failure from the Hoops whose gallant attempt to play attacking, expansive football against three excellent teams – including holders Real Madrid – was not rewarded.
On the domestic front, though, there were six wins out of six – and the manager's introduction to VAR which would dominate headlines as the season continued.
The month got off to an excellent start when Kyogo Furuhashi and Reo Hatate netted the goals that overcame a stuffy Motherwell 2-1 at Parkhead.
The victory was marred, however, when skipper Callum McGregor was red-carded after a last-man challenge on Ross Tierney near the end.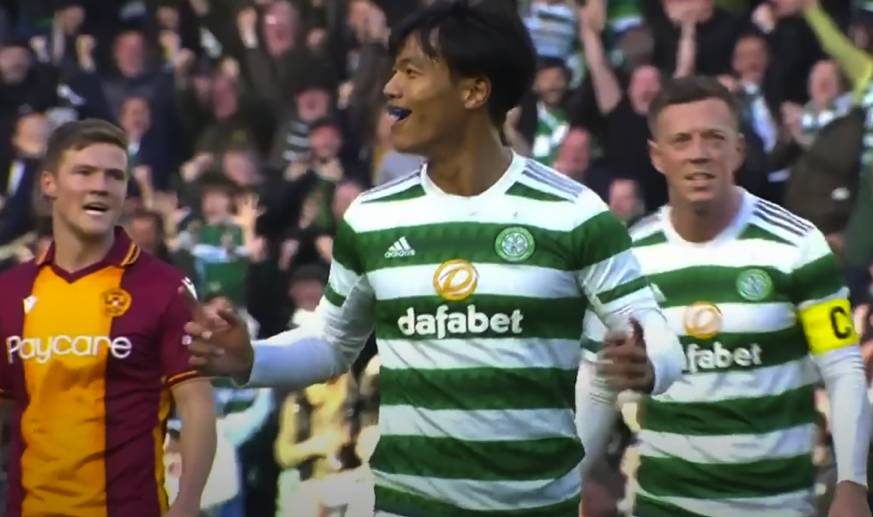 DIDN'T HE DO WELL…Reo Hatate, watched by Callum McGregor, celebrates his wonder strike against Motherwell.
Hatate got the winner with an explosive drive in the 64th minute and Postecoglou exclaimed: "It was a great goal. We created chances, but we just weren't as clinical or sharp as we should have been to take them and put the game away.
"But, all in all, it was important to win. It's a funny old game – we created enough chances to win it comfortably, but a couple of self-inflicted wounds kept them in the game.
"But it was great character shown by the boys to see the game out and it was an important three points."
Postecoglou experienced the flip side of football four days later when he witnessed his team lose 3-1 in the Red Bull Arena in a confrontation that also saw the influential McGregor limp out of the action with a knee injury in the first-half.
The boss and the captain were not to know it at the time, but the reaction to a shuddering challenge would keep the Scotland international on the sidelines until after the World Cup break when, ironically, he marked his return with the winning goal against Aberdeen at Pittodrie on December 17.
In total, McGregor was forced to miss 11 games at home and abroad.
Reflecting on the loss against the Bundesliga outfit, Postecoglou said: "Disappointed, obviously, with the outcome. I thought we were well in the game.
HEADING FOR A FALL…captain Callum McGregor in the sickening collision against RB Leipzig that sidelined him for 11 games.
"Even first-half, although one goal down, I thought we had created some good chances.
"It was a question of hanging in there and we got a good goal. After we scored, we went into our shell a little bit in terms of our possession and we got negative with our passing, started passing back too often.
"We were disappointed at the second goal because that was a crucial one and that changed the course of the game.
"I said they were a good counter-attacking team, that's what they play on and they have some quality players who will hurt you.
"The second goal was self-inflicted and had nothing to do with the nature of the game.
"As I said, we were just too negative with our passing. We kept going back to Joe for no reason, under no pressure.
"We invited them to sort of get on top of us. You give them a second goal, you're away from home and it makes it a difficult task."
EURO STAR…Filipe Jota accepts the acclaim of the travelling support after his strike in the Red Bull Arena.
The Filipe Jota goal shortly after the turnaround combined the aggression and quick movement Postecoglou demands from his players when Reo Hatate picked up possession, fed a superb ball through to Kyogo Furuhashi and he swept a pass across the box to Jota who didn't break stride as he whipped a first-time left-foot drive into the net.
The Hoops chief added: "There's no reason why we can't keep doing that. Look, I get it. A lot of it is just experience at this level, guys believing they belong, guys believing they can achieve success at this level.
"It's not easy to translate that into people when they are out there. But there's a lesson out there for us tonight.
"We know when we are aggressive we can cause anyone problems, but when we're not it's going to be very hard for us to be successful."
Honest Joe Hart held his hands up and accepted the blame for his howler that gifted the hosts their second goal.
The score was balanced at 1-1 in the 64th minute when the experienced 75 times-capped England international No.1 inexplicably and uncharacteristically presented the ball to dangerman Dominik Szoboszial.
He slid the ball into the tracks of Andre Silva who raced through the centre of the startled Hoops rearguard to tuck the gift beyond the 35-year-old netminder.
BLUNDER BHOY…Joe Hart is wayward with a ball out of defence. 
OOPS…Andre Silva accepts the gift from the Celtic keeper to net RB Leipzig's second goal in their 3-1 win.
Hart refused to hide from his blunder and admitted: "I'm at fault for the second goal, no doubt about it.
"But that's the way the manager wants us to play so that's the way we play.
"Sometimes it's going to hurt us, but, ultimately, most of the time, as we proved tonight we got through the press and gave ourselves a real opportunity to score goals.
"They were pressing with three and I wasn't quite sure whether to go to the centre-half or Greg. I decided to go for Greg and I missed. That's the simple facts, but it's high level football and something I love playing and you make a mistake and you get punished."
A stoppage-time goal from Giorgos Giakoumakis gave the champions a 2-1 win over St Johnstone in Perth before it was back to Europe the following midweek – and another defeat against RB Leipzig.
Daizen Maeda, Kyogo and Giakoumakis all contrived to pass up good opportunities while Matt O'Riley and Greg Taylor struck the woodwork within five seconds of each other in the first-half.
Timo Werner showed them how it was done with a bullet header in the 75th minute and substitute Emil Forsberg completed the misery six minutes from time.
Postecoglou observed: "I was disappointed for our fans and disappointed for the lads.
"The effort was there, the endeavour was there, but a bit like our campaign, it's a tale of missed opportunities for us and it's difficult.
"It's the highest level of club football and you want to get to that point really quickly, but there is a process involved.
DISAPPOINTED…Ange Postecoglou can't hide his feelings after the loss in Germany.
"At this level, goals change games. We hit the post twice in the same sequence and if one of those goes in, you're 1-0 up and then it's a different context in the game, it puts pressure on them and it gives us a lift.
"So, that's the fine margins, unfortunately.
"I thought the players did everything I asked them and, like I said, the endeavour was there, the effort was certainly there and we just couldn't get over the line. And at this level, you pay a cruel price for that."
The vibes in the east end of Glasgow were a lot more upbeat four days later when the Hoops romped to a 6-1 triumph over Hibs and evergreen winger James Forrest notched his 100th goal while firing in a super hat-trick.
Postecoglou said: "Obviously, a special shout-out to James who has now scored 100 goals for this football club and it's an outstanding achievement.
"I'm super pleased for him."
HISTORY BHOY…James Forrest celebrates his hat-trick – and 100th Celtic goal – in the 6-1 rout of Hibs.
The holders were back on League Cup duty on October 20 against Motherwell at Fir Park where Centurian Forrest started on the bench and a double from Liel Abada and singles from Reo Hatate and Kyogo gave the team a 4-0 win to set up a semi-final against Kilmarnock at Hampden in January 2023.
Asked if it was tough to leave out players, the Hoops boss smiled: "I don't tell them, I just avoid them, mate.
"I just put the team up and walk away."They all appreciate and understand that if we are going to be successful, playing this kind of football, everyone's got their role.
"We still have seven games to go in this stretch before the break and it's not a matter of me just giving guys a game because I feel sorry for them. I'm putting guys in there because I think we can maintain those levels."
Postecoglou had resisted the temptation to get overly excited about the introduction of VAR to Scottish football and the manager couldn't prevent himself from cracking up at the media conference ahead of the October 22 match against Hearts at Tynecastle when the Hoops would first encounter the new Video Assisted Referee technology.
The introduction of VAR had been a talking point throughout the week, but the Hoops gaffer said: "I've never seen so much excitement. I'm totally ambivalent about it.
YOU'RE HAVING A LAUGH…Ange Postecoglou's reaction to the introduction of VAR.
"It's not like it's an exciting new signing. This stuff doesn't rock my boat and I doubt anyone is buying a ticket to watch VAR. Hopefully, they're there to watch the football.
"VAR is only there if the referees miss something, so, hopefully, they don't miss anything major and the game plays.
"It's not the starring attraction, so if we don't see it [being used]I will be the happiest man in Scotland."
Asked if the video technology would change how he coaches, Postecoglou playfully buried his head on his desk.
He recovered to smile and say: "No, listen, I've been here 16 months now. How many times have I mentioned referees after a game?
"I know it's a favourite subject up here and after a game it's the main talking point, but it just does not interest me in the slightest.
"The best referees are the ones we don't notice because the game is more important and I'm sure the referees prefer it that way, as well.
"But, no, I'm not excited, it's not going to change my coaching. It's not going to change how I talk to the players."
YOU'RE JOKING…a bemused Ange Postecoglou can't believe the referee and VAR have refused Celtic a penalty-kick at Tynecastle.
The following day, Postecoglou was left looking on disbelievingly after encountering the new system as Celtic manager after the 4-3 victory over Hearts at Tynecastle. The Parkhead men refused to succumb to a barrage of bewildering decisions to claim three points with goals from Forrest, Giakoumakis, Maeda and Taylor.
A bemused gaffer witnessed the home side being awarded two penalty-kicks, a spot-kick retake after a save from Joe Hart and the visitors denied a penalty following a clear handball from home defender Michael Smith when he cut out a Forrest cross.
Nick Walsh had been the man in charge of the action with his colleague Steven McLean leading the technology team.
The Greek-Australian said: "Cracking game, what do I know? VAR, starring role, three points.
"Credit to the lads, it's not easy coming here, their crowd is up and about, the conditions the way they are, it's always going to be a 50/50 game and with the whole circus around VAR it becomes anything but the football.
"For us, within that context just to stick to try and play our football and finding a way to win is credit to the lads.
"As I said before the game, I would much prefer if it wasn't involved at all, but I thought we had a clear-cut handball, but what do I know, mate?
"It's a lot of standing about, a lot of theatre, like I said I just wish they'd get decisions early and sort of intervene when they have to. It is what it is, I'm probably on the outside on this one."
ONE IN THE EYE…Ange Postecoglou discusses new technology.
Asked about his side's belief and resolve, Postecoglou added: "Again? I don't know how many times I've been asked about that since came here last year.
"When we need it it's there Brilliant for Greg Taylor. He came on and gave us some energy. Obviously, it was an important time for us, great for him to get a goal."
Three days later the European odyssey came to a premature halt with a 1-1 draw against Shakhtar Donetsk at Parkhead. The stalemate saw the Hoops still waiting for their first Champions League win after three defeats and two draws, a sequence which anchored them to the foot of Group F with two points from a possible 15.
Now next month's encounter with Real Madrid in the Bernabeu means nothing with only pride at stake.
Giakoumakis netted for the Hoops against the Ukrainians and Postecoglou insisted: "This football club deserves to be at this level.
"We haven't been here for five years and you can't miss being at this level for five years and then come in and make an impact, we know that.
HEAD IN HANDS…Ange Postecoglou realises the European journey is coming to an end.
"So, our role and our main responsibility is to keep coming back to this competition every year and growing every year, and making sure that, as a football club, we stand amongst the big clubs of Europe – and that takes a little bit of time.
"We've got to make sure we win the league again and get back to this level and, hopefully, we make progress and make more of an impact."
Postecoglou added: "You know that it requires massive effort every time and that's why victories at this level are not easy to come by, and for us as a football club, that's what we aspire to be.
"We want to be a Champions League football club that is there every year and is making an impact and that's our task now.
"It's fine margins, but I can't ask any more from the players. They've given everything this whole campaign.
"There's some learnings there and areas where we've fallen short, but, overall, we've tried to set out going a certain way and I think we've done that."
WELCOME BACK…Filipe Jota celebrates his goal in Celtic's 3-0 win at Livingston.
The following weekend, Filipe Jota made up for lost time when scored Celtic's final goal in the 3-0 victory at Livingston – only EIGHT minutes after being introduced as a substitute.
The Portuguese pin-up player had missed five games after coming off at half-time in the 2-1 win over St Johnstone in Perth earlier in the month.
But Jota was unleashed by Postecoglou in place of Sead Haksabanovic with the champions already leading 2-0 through goals from Kyogo and Taylor, marking his 100th appearance with his second goal in eight days.
The 23-year-old comeback Bhoy said: "Very good to be back with the lads and I just hope that we can finish this first stage of the season on top.
"We are a very good group and support each other. And the family is a big factor, as well, in our lives, so I'm just grateful to have the perfect people and the right people beside me.
"Every time there's a struggle, I'm just ready to bounce back and that's what I've tried to do."
The champions went about their business in West Lothian with a verve and vicgour as they overcame stubborn opponents to restore their four-point advantage at the Premiership pinnacle.
RESULTS
October 1: CELTIC 2 Motherwell 1
Kyogo, Hatate
October 5: RB Leipzig 3 CELTIC 1
Jota
October 8: St Johnstone 1 CELTIC 2
Considine (og), Giakoumakis
October 11: CELTIC 0 RB Leipzig 2
October 15: CELTIC 6 Hibs 1
Forrest (3), Giakoumakis (2), Maeda
October 19: Motherwell 0 CELTIC 4
Abada (2), Hatate, Kyogo
October 22: Hearts 3 CELTIC 4
Forrest, Giakoumakis, Maeda, Taylor
October 25: CELTIC 1 Shakhtar Donetsk 1
Giakoumakis
October 30: Livingston 0 CELTIC 3
Kyogo, Taylor, Jota
* TOMORROW: Don't miss the eighteenth thrilling instalment of CQN's EXCLUSIVE tribute to Ange Postecoglou.
Click Here for Comments >