CELTIC came so close to their second European trophy when they played Jose Mourinho's Porto in the UEFA Cup Final in Seville 20 years ago this week.
It was fated Martin O'Neill's team of All-Stars, with Henrik Larsson leading the way, would suffer a glorious failure when their 10 men, minues red-carded Bobo Balde, lost 3-2 in extra-time.
Author Alex Gordon vividly captures the setting of a colourful episode in the club's glorious history.
In Part Four of another CQN EXCLUSIVE, Alex takes an in-depth look of the momentous European run in his tribute publication, 'The Winds of Change', published by CQN in 2015.
Please enjoy a walk down memory lane.
SINGER Gerry Marsden led 59,759 fans in a highly-charged version of 'You'll Never Walk Alone' before kick-off as Celtic prepared for their UEFA Cup quarter-final first leg against Liverpool at Parkhead.
And, in 100 SECONDS, Henrik Larsson, returning ahead of schedule after being out for five weeks with a broken jaw, put Celtic ahead with the roof threatening to be lifted somewhere in the direction of George Cross as the decibel level reached a deafening intensity.
John Hartson mishit a ball across goal, Alan Thompson turned it into the goalmouth and the eager Larsson was lightning swift as he diverted an effort beyond Jerzy Dudek. However, the Anfield side quickly recovered, regrouped and settled into a game of containment.
Having weathered the early storm, with Hartson also clipping the bar with a fierce drive, Gerard Houllier's side stealthily moved forward and left-back John Arne Riise raced away before setting up Emile Heskey at an angle in the box.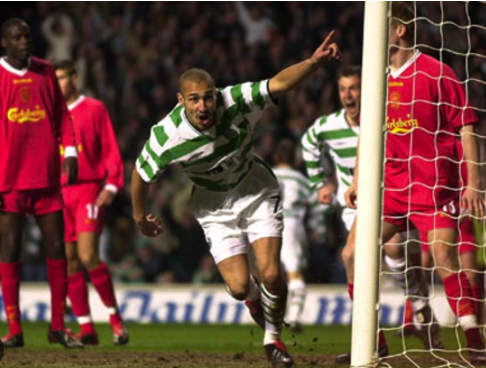 GREEN AND WHITE LIGHTNING…Henrik Larsson celebrates his quickfire opening goal against stunned Liverpool.
The striker's finish was meticulous as he rolled it wide of Rab Douglas at the far post. Dudek was the busier of the two goalkeepers throughout the remainder of the tie as there were no alterations to the scoreline.
The evening was somewhat marred by the filthy actions of Liverpool's disgusting El-Hadji Diouff who spat at Celtic fans as he went to collect the ball for a throw-in. His needless act would have been deemed even more despicable if there had ever been any shred of evidence the Senegalese actually possessed even the most infinitesimal quantity of grey matter.
Liverpool were favourites to finish the job at Anfield, but Neil Lennon well remembers the speech that Martin O'Neill delivered to his players in the dressing room just before kick-off.
'Everyone, but everyone, had predicted our demise, but at that point Martin showed his mettle. He gave us an unforgettable talk. Personally, I didn't think we needed much motivation as we were all sure of ourselves and positive that we would compete and get a result. Yet Martin's words inspired us to even greater heights of determination.
SEEING RED…Neil Lennon and Steven Gerrard exchange [points of view while Paul Lambert looks on during the second leg at Anfield.
'He looked around the dressing room and pointed out young Shaun Maloney. "This is a European quarter-final and this boy is only 19, but he might never get this opportunity again."
'He looked around the older guys and added, "You guys in your thirties probably won't get the opportunity again to prove a point, to prove to England and Europe that you deserve respect and that you are worthy of a place in the semi-finals."
'He made his points tellingly in his usual manner and did so in two or three minutes, yet by the time he had finished, we were ready to go out there and run through brick walls if we needed to.'
The Anfield side, with Steven Gerrard the main man in the middle of the park and with the 'Litte and Large' striking team of Michael Owen and Heskey leading the attack, didn't make much headway in the opening minutes although Dietmar Hamann let Rab Douglas know he was on the pitch with a rasping drive that carried just over the crossbar.
Dudek made a glorious save from a Henrik Larsson free-kick, John Hartson twice missed the target with headers and, at the other end, Rab Douglas made a breathtaking stop from a vicious effort from Gerrard.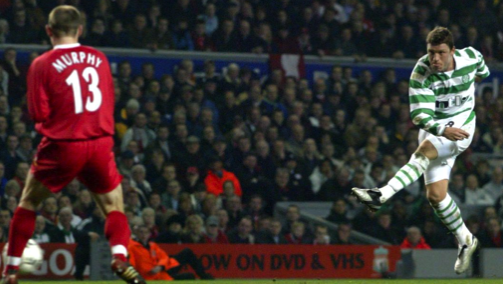 FREEWAY TO SUCCESS…Alan Thompson thumps in a deadball effort to put Celtic ahead at Anfield. Danny Murphy gets a close-up view.
However, as the game flowed towards half-time, Celtic were beginning to grow in confidence. On the verge of the interval, defender Djimi Traore tugged at Larsson's shirt and German referee Michael Merk awarded the free-kick 25 yards out.
Everything now depended on the educated left foot of Alan Thompson and, also, no little cunning from the perceptive midfielder. As the wall of red line up in front of him, the Englishman decided to vary his deadball routine.
Goalkeeper Dudek stood crouched on his line, no doubt having already studied videos of his opponent's technique on such occasions. Larsson ran over the ball and Thompson left the Pole standing open-mouthed in anguish and horror as he speared a low drive underneath the leaping wall, the ball going under the feet of Gerrard, as it reached its destination at the left-hand post.
Near the end, Hartson scored the goal of a lifetime. He played a swift combination with Larsson and moved off to his right, eluding a challenge from Hamann. The Welsh heavyweight hardly glimpsed at Dudek before he summoned up awesome power into the crucial moment of impact and his pulverising 25-yard drive raged over the keeper's left shoulder as it screeched towards the top corner of his net.
UNSTOPPABLE…John Hartson, watched by Jackie McNamara, crashes in Celtic's second goal against Liverpool on a memorable evening on Merseyside.
HOOP HOOP HOORAY…John Hartson celebrates his mighty effort.
O'Neill was breathless at the end. He remarked, 'That was an extraordinary result. It was hard for us early on, but I just told the players to hang on. They deserve all the credit in the world.'
However, without getting carried away, the Irishman added, 'Certainly, we have a chance of going through to win the competition, but all the teams left in are capable of beating us.'
Celtic, Boavista, Porto and Lazio went into the semi-final draw. The Parkhead side were paired with Boavista, Portuguese opponents they had beaten 3-1 on aggregate in the European Cup-Winners' Cup in season 1975/76, while Jose Mourinho's side were due to face the Serie A outfit.
Porto made short work of disposing of their opponents, winning 4-1 at home and drawing 0-0 in Italy.
It was a bit more problematic for O'Neill in their bid to reach the UEFA Cup Final. The first game, yet again, would be at home and a difficult task became even more daunting when the unfortunate Joos Valgaeren diverted a cross from Joaquim Martilenho past Rab Douglas three minutes after the break.
Celtic's reply was instantaneous. A cross from Lennon was knocked into Larsson's path and he drilled the ball home from eight yards for his 26th European goal for the club and his 37th for the season. However, the Swede passed up an outstanding opportunity to send the Parkhead side to Portugal a fortnight later with a lead.
HERO AND VILLAIN…Henrik Larsson, scorer of Celtic's goal in the 1-1 draw with Boavista, rues a missed penalty-kick.
Fifteen minutes from time, Belgian referee Frank de Bleeckere awarded them a penalty-kick after a shot from Thompson was handled by panicking Portuguese defender Eder. Larsson lined up the kick and thumped it low to Ricardo's right, but the keeper's guess was accurate and he got across his line to beat the ball to safety.
O'Neill was upbeat afterwards. 'All I know is that we have to score over there and I think we will. We are still well in this game, there is no doubt about that.
'After we had drawn with Liverpool here, there was an air of despondency in the dressing room and around the stadium. But we resolved that problem and we can do it again, I'm sure.'
There were only 12 minutes left in the second game with Boavista content to keep the ball, safe in the knowledge Valgaeren's own goal would be enough to get them through to an all-Portuguese UEFA Cup Final.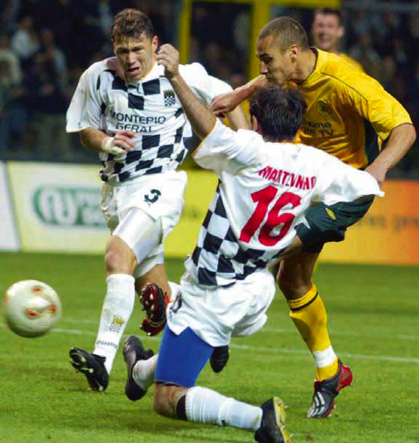 THE FINAL SAY…Henrik Larsson swoops to claim Celtic's late winner in Portugal. Next stop, Seville!
It had been a fairly dour affair, but no-one with a Celtic connection was too upset when, almost inevitably, Larsson struck yet again. The Swede attempted a one-two in the packed penalty box and his pass hit Filipe Anunciacao and rebounded back to him.
This time his predatory instinct revealed itself and he clinically stabbed the ball past the astonished Ricardo.
The ball was over the line and nothing the desperate Boavista players could do in the remaining minutes would prevent Celtic from reaching their first European Final in 33 years. The travelling fans enveloped the Do Besso stadium in the midst of pure euphoria, emotion and elation at full-time.
Larsson agreed there was a little bit of good fortune at his goal. 'I tried to slip the ball to John Hartson, but, thankfully, the defender slide-tackled and the ball came back to me.
'I didn't get much on it and it certainly didn't go in the right direction, but it doesn't matter, we got one in the end.'
SWEDE DREAMS…Henrik Larsson takes off in celebration after his late strike against Boavista.
A relieved O'Neill commented, 'Over the two games, we deserve it. They were so negative with their diving and time-wasting and eventually it came back to haunt them.
'I'm delighted for everyone at the club, the players and the supporters.
'I've always said it's about those who pay and those who play. We know it will be difficult against Porto, but there is no reason we can't win it.'
And, so, to Seville and a never-to-be-forgotten spectacle.
* TOMORROW: Don't miss The Road to Seville Part Five 
Click Here for Comments >