CQN today concludes its EXCLUSIVE series to salute Celtic's Greatest-Ever skipper Billy McNeill.
Author Alex Gordon, who has had fifteen Celtic books published, including 'Caesar and The Assassin' and 'Lisbon Lions: The 40th Anniversary Celebration', interviewed many of the club legend's team-mates and opponents for his tribute tome, 'In Praise of Caesar', which was published in 2018.
CQN brings the curtain down on its publication of edited memories. Today second time-around manager Brendan Rodgers has his say.
Please enjoy.
IT IS with the greatest regret I never saw Billy McNeill play. I was two years old when Billy retired as a player following Celtic's 3–1 Scottish Cup Final victory over Airdrie in 1975.
It must be said Billy McNeill is an absolute icon, a man who has been a supreme ambassador for Celtic. He is one of the great figures who has inspired Celtic to become what it is today.
I met Billy for the first time on the Wednesday evening of February 1 2017 when we played Aberdeen in a Premiership game at Celtic Park. I was told he would be at the ground and, naturally, I was eager to meet him.
I made certain I didn't miss the opportunity. I was aware of his condition, but I have to say he was in good spirits. There was a twinkle in his eye, too.
We won 1–0 and possibly it was written in the stars that a centre-back, Dedryck Boyata, should get the only goal of the evening with a header. Billy McNeill would have approved, I'm sure.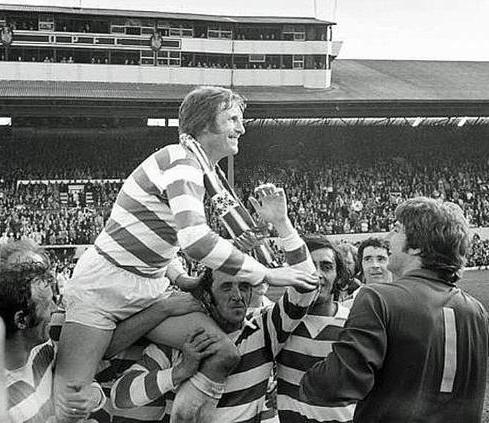 FINAL HURRAH…Billy McNeill is lifted shoulder high by his delighted Celtic team-mates after his last game for the club, the 3-1 Scottish Cup triumph over Airdrie at Hampden in 1975.
In my childhood, Billy McNeill was the name that was always mentioned. If you look at him as the player, he inspired not just people at Celtic Football Club, but many a player around Britain, being the first captain of a British team to pick up the European Cup.
Many players at that time would have wanted to have done that. You only get truly inspired seeing someone you know or are close to actually do it.
When Billy stood up in Lisbon and held aloft the trophy, I'm sure for many players in Britain it gave them a great source of inspiration to do that and from that moment Liverpool won the European Cup five times and other teams and managers won it, too.
Billy McNeill and his team-mates, expertly guided by Jock Stein, were the trail-blazers, they knocked down the barriers and showed the rest of UK it could be done.
When I first came to the club, I said my duty as the manager was to fill the stand. One of the stands was named after the Lisbon Lions and Billy was their leader, so our objective, as players and coaching staff, was to inspire this team to entertain in order to get the stands back full again as a mark of respect to those great figures of our past.
The Celtic way has always been about enjoyment, fighting for the shirt, defending the culture of your club. So, every time you pull on your Celtic shirt, you have to play with confidence, play with aggression, tenacity, be optimistic that you can win every game and you've got to have enthusiasm before you even think about tactics.
When Celtic won that European Cup in Lisbon, many respected onlookers said it was a victory for football. Who could argue? Billy, of course, kept that tradition going when he was in charge before, during and after the centenary season which was a landmark year in the club's history and must have put him under awesome pressure while expectation levels would have been extraordinarily high.
GLITTERING PRIZE…Billy McNeill with the ultimate honour, the European Cup in Lisbon in 1967.
It is to his eternal credit he entered that crucial campaign with an attacking, adventurous outlook; he would stand or fall by playing the sort of football that is associated with Celtic.
Like Billy McNeill and other Celtic managers in the past, I understand what the club is all about and that gives you an extra edge when you are standing on the touchline on matchday. You are passionately involved in the team, you are eager and determined to see them put in a display that will earn a win in the proper manner for the supporters.
I was fortunate enough to witness the team going sixty-nine successive domestic games undefeated following my arrival. I was told that sequence beat the previous best of sixty-two which had been held by Willie Maley's Celtic team from November 1915 to April 1917.
It was a little surreal to discover I had been involved in making fresh Celtic history.
It is simply a pleasure and an honour to be involved with such a great club. I know how Billy McNeill and others felt in being entrusted with the position and the hopes and ambitions of so many people worldwide.
It will never be underestimated what Billy McNeill brought to Celtic Football Club.
* DON'T miss the big-name EXCLUSIVES – only in your champion CQN.
Click Here for Comments >