CQN continue our EXCLUSIVE extracts from Alex Gordon's tribute book, 'The Lisbon Lions: The 40th Anniversary', to emphasise the spirit that prevailed in the Celtic squad as they brought their European Cup adventure to a glorious conclusion in the Portuguese capital on May 25 1967.
Author Alex today turns the spotlight on the club's iconic manager.
JOCK STEIN had his back turned to the pitch when West German referee Kurt Tschenscher put the whistle to his lips and blew for full-time to bring to a halt the most epic encounter in Celtic's history. Celtic were triumphant. Celtic had conquered Europe; the first British club to do so.
Stein turned slowly and brought up his fist in acclaim. "Yes!" he shouted to no-one in particular.
The Celtic bench, thirty yards away, had already joined the cavorting players on the field of the Estadio Nacional and were whooping it up with the best of them. There is a famous photograph of the Celtic bench leaping around on the touchline seconds after full-time. There is assistant manager Sean Fallon, substitute goalkeeper John Fallon and backroom boys Neilly Mochan, Bob Rooney and Jimmy Steele catapulting to their feet in salute.
There is no sign of the man who masterminded it all, though.
With time ticking down, Jock Stein had decided to go walkabout. He strolled down the touchline while the action took place only yards away. Celtic were on the brink of an historic breakthrough, minutes away from becoming only the fifth team to win the European Cup. But Jock Stein, for once, couldn't bear to look. Those last remaining seconds must have been agonising for the Celtic gaffer. His hard work, toil, graft and genius were all fully rewarded as soon as that whistle sounded.
THE GLITTERING PRIZE…Jock Stein and the European Cup.
Back in Glasgow the following evening, the Celtic manager was cornered live on television as his beaming players paraded the newly-won European Cup to the adoring thousands at Celtic Park who turned out to welcome back their heroes. The commentator pushed the microphone towards Stein and said: "I am told the secret is that Celtic are one big happy family and you keep it that way."
Stein thought for a moment and replied: "Actually, there is a better secret than that – we are a good football team."
Surely, the manager was playing down the achievements of a team that now ruled Europe. Celtic weren't merely a good football team – they were a magnificent football team who echoed the thoughts, methods and ambitions of their equally outstanding manager.
When Stein swept into Celtic Park in March 1965 he was paid the highest compliment by Hal Stewart, who was the flamboyant chairman of Morton. He told Big Jock: "You're a real upstart. There we were, going about our business and getting away with it. Now you are at Celtic and we all have to buck up our ideas and start working at the game."
Tongue-in-cheek? Possibly, but you just knew Stein was the phenomenon who drove forward not only Celtic, but also Scottish football, forward into a new era, achieving goals that were believed to be simply outrageous in earlier times.
THE ONE WHO GOT AWAY…John Hughes gives Big Jock the slip.
Billy McNeill was his onfield general and he knew the man better than most. Okay, what was his secret? McNeill would reply: "He would always tell you to play to your strengths and disguise your weaknesses.
"He insisted you helped out a colleague who may not have been having the best of days. He told you it may be your turn in the next game to need assistance. He kept it simple. Big Jock never asked anyone to do something he didn't believe they had the skills to cope with. We had a real mixture of players at Celtic Park and he was the man who fused all those talents together."
An ankle injury forced Stein out of the playing side of the game in 1956 and he was appointed coach of the reserve team. Celtic overlooked what he was achieving at this level and they allowed him to move onto relegation-threatened Dunfermline. He saved them from the drop and guided them to a Scottish Cup triumph in 1961, beating, of all clubs, Celtic 2-0 in a replay.
He took over as Hibs manager in April 1964 before Celtic, in disarray, sent out the SOS in 1965. He answered that call. Things were never to be the same again at Celtic Park.
The European Cup, 10 league championships, eight Scottish Cups and six League Cups were to cascade through the frontdoor at Celtic Park as Big Jock revolutionised the game in this country.
Victory in Lisbon in 1967 was of paramount importance for Stein as he pointed out immediately afterwards: "Even some of the Italian Press have been congratulating us. They were delighted we won. It is the trend for clubs to follow successful teams, who are winning things by playing defensive football.
"We hope our success will make the game better throughout Europe. We would like to think people will now follow our example."
He left his beloved Celtic in 1978. After a short spell at Leeds United, he became manager of the Scotland international side. Jock Stein died on September 10, 1985 following a 1-1 World Cup qualifying draw with Wales at Ninian Park in Cardiff. He suffered a massive heart attack and died 30 minutes after the game.
BERTIE AND THE BOSS…Jock Stein and Bertie Auld after the goalless draw against Dukla in Prague.
Jim Craig recalled: "As we were all aware, Big Jock was the possessor of a fairly ferocious temperament. He could let fly with the best of them if he wasn't happy with what you were contributing or what he was witnessing. I recall one game when I was on the substitutes' bench and sitting directly behind Big Jock in the dug-out.
"It would be fair to say he wasn't too enamoured with what was going on out on the pitch. In fact, he was going ballistic. He was shouting and yelling at everyone and, clearly, it was going to be an interesting half-time tactics talk. I sat there and thought: 'Thank God I'm not going to be on the receiving end of a Big Jock rant'.
"It was goalless at half-time and the manager couldn't wait to get into the dressing room. John Fitzsimmons, the club doctor, came in, too, as he always did. There would be the usual knock or two for him to work on. Not this day, though. Jock simply turned to him and ordered him out. The doctor hesitated and Jock, by this time working up a good head of steam, roared: "Get out!" I didn't realise our club doctor could move so fast!
"What Jock had to say to the players was going to be done in private. The players were all lined up in numerical order: No.1 goalkeeper Ronnie Simpson; No.2 the right-back and so on. Jock looked at Ronnie: "Call yourself a goalkeeper?" Then he moved onto the right-back. "What on earth are you playing at?" Left-back: "Did you just take up football today?" He went right through the line-up, pulling their performances apart.
"I sat there in the background with my cup of tea, minding my own business. Jock finished with whoever was playing outside-left that day. Then there was a silence. A minute passed and I was aware he was looking at me. There is just so long you can keep your head down and avoid eye contact. Slowly, I looked up and wondered what withering blast was coming my way.
"'And you, Cairney,'" he said, "'just how bad are you that you can't even get in this team!'"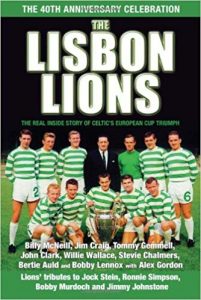 Bertie Auld added: "Jock Stein revolutionised things at Celtic Park and I was lucky enough to get in on the ground floor. I was 17-years-old when I signed for Celtic back in March, 1955 – just around the time Big Jock had picked up the injury that would end his playing career.
"He would have been in his early thirties when he was forced to give up, but, thankfully, someone at the club had the foresight to appoint him coach to the reserve team. And that's where it all started.
"I loved being in his company when he talked football. Other first team guys such as Bobby Evans, Bertie Peacock and Bobby Collins would meet at a place called Ferraris in Glasgow's Sauchiehall Street and would chat about all things football. Jock would hold court and, even back then, it was obvious he knew what he was talking about.
"It was great being involved in the inner sanctum and, remember, Evans, Peacock and Collins were international players. When they talked, you listened.
"But no-one made a bigger impression than Jock Stein."
TOMORROW: The Spirit of 67: The facts and figures.
ALL GOOD THINGS COME TO THOSE WHO WAIT…
CQN would like to thank our readers for their patience in the interruption to the launch of Alex Gordon's latest Celtic book, 'Fifty Flags', which was due to be published in March.
Unfortunately, production of the tome, which thoroughly examines the glorious half-century of seasons in which the Parkhead men were crowned Scotland champions, came to an unfortunate halt due to the coronavirus pandemic lockdown.
The support for 'Fifty Flags' has been overwhelming and author Alex said: "The response to the book has been utterly astonishing and I can only say how totally grateful I am to CQN readers for their backing. I can only hope it will be worth the wait.
"We are depending on the printers letting us know when the run will commence and we are in their hands at the moment. It will be published this year and CQN will keep the readers up to date. Thanks for your patience, folks. It's much appreciated. 
"Main thing, though, in these testing times is to take care and stay safe. See you all when we get the green light."
Click Here for Comments >