BEAMING Brendan Rodgers hailed substitute Leigh Griffiths' free-kick winner as "a moment of magic" in Celtic's 1-0 triumph over Ross County in Dingwall.
The Scotland striker came off the subs' bench in the 65th minute to replace Callum McGregor to clinch three points with his sublime 78th-minute deadball effort.
Rodgers said: "It was a brilliant goal and anything their keeper had to do today, he dealt with it really well.
"But the free-kick must have been nearly 30 yards and to get it up and over with that speed and into the corner was amazing.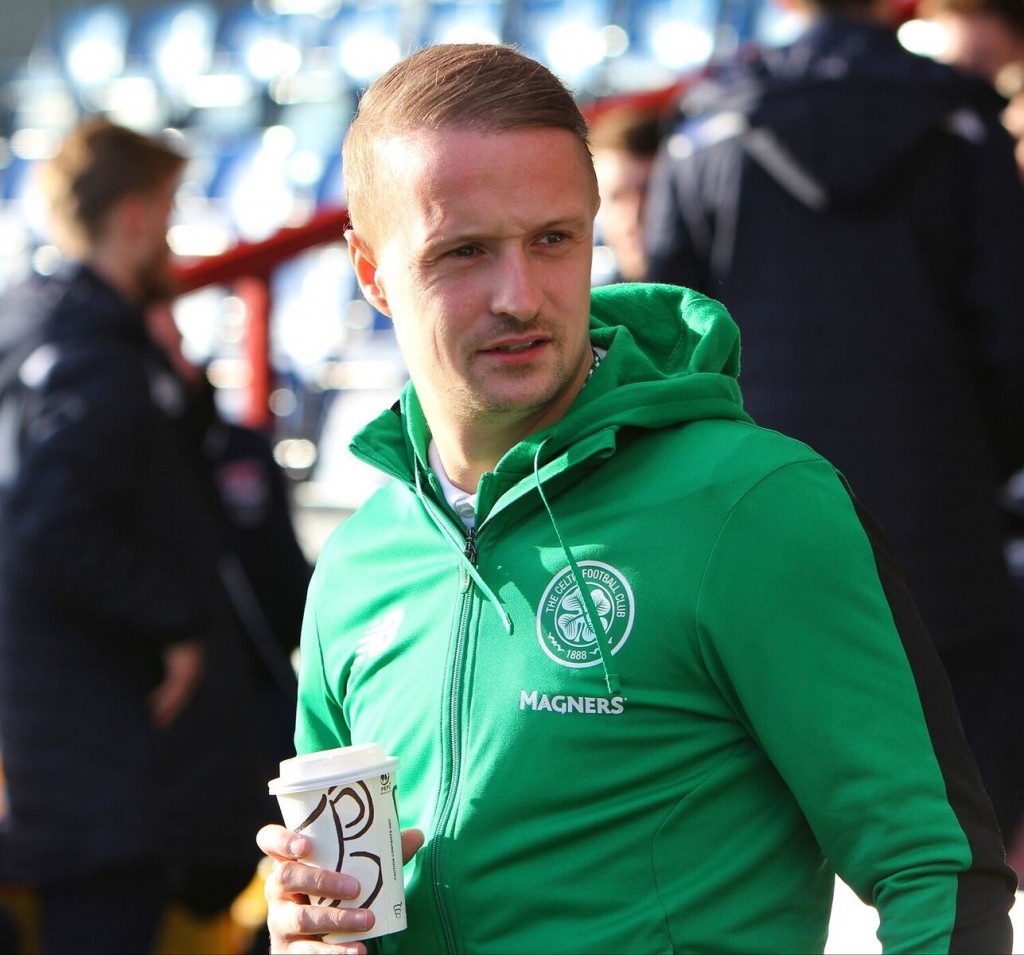 "It was a moment of magic, really.
"And it was going to take something like that.
"You are never going to be at your fluent best all the time, but mentally we are very strong.
"Okay we can't play perfect football and it was tough on that pitch.
"It is the first time we have been up here this season and the pitch hasn't been as long as that and bobbly as that. So, it was never going to be fluent for that reason.
"But you still have to keep digging in, ensure you are defensively strong and not give anything away. So, when the moment comes along, you can take it and see the game through.
"It's a brilliant victory for us and clean sheet."
County gaffer Owen Coyle said: "It was going to take a bit of magic to beat us and we all have to concede that he is more than capable of doing that.
"He is a wonderful player and when you have that quality not even starting games, that is why they are a fantastic side and play the football they do and are carrying all before them domestically."
Celtic's 1-0 win over Ross County helped them establish a six-point lead over Aberdeen at the top of the Premiership and extended their unbeaten run. The Bhoys are yet to taste defeat against a domestic rival since Brendan Rodgers took over and you have to go back to May 2016 for the last time they lost a domestic game. They are streets ahead of anyone else in Scotland, which makes the upcoming game against PSG all the more interesting.
Last season Celtic broke all sorts of records for their unbeaten exploits, but losing 7-0 to Barcelona was a low point and taking a pasting is not the sort of record they are after. This season has followed a similar pattern as they have been supremely dominant domestically, but were thrashed 5-0 by PSG in the Champions League. Energy rich PSG are now favourites to win the Champions League – check out a review of BetOnline for the best odds on the market and you will see they are ahead of Man City and Real Madrid and look a good option to go all the way.
Another heavy loss would spell doom and gloom about the state of Scottish football. Victory at the Parc des Princes would see scenes of pure jubilation. Even a draw would be a fantastic result. A narrow, battling defeat would not be the end of the world. Just not another thrashing. PSG was magisterial as they beat Celtic in the reverse fixture, attacking with pace, potency and invention every time they got the ball. They have spent outrageous sums to put together an attacking triumvirate of Neymar, Kyliann Mbappe and Edinson Cavani, and they all clicked on that night. They went on to beat the mighty Bayern Munich 3-0 and deserve their status as Champions League favourites, particularly as holders Real Madrid are wobbling.
"They are favourites to win the competition and rightly so," said Leigh Griffiths, who banged in a 30-yard free kick to secure victory over Ross County. "They have been on fire."
Nobody expects Celtic to get a result this week, so they can play without pressure, go out there and take the game to PSG. Unai Emery's men have won all four Champions League games thus far, scoring 17 goals and keeping four clean sheets, which is outrageously good form.
If they get an early goal against the Bhoys, the floodgates could open and that would spell disaster for Brendan Rodgers' side.
Last season they rallied after the heavy Barcelona defeat and secured some positive results, including a draw with Man City, who are now leading the EPL and second favourites in this competition.
Again this season the Hoops have recovered, securing a strong win against Anderlecht and emerging with credit from defeats at the hands of German champions Bayern Munich. They should be able to secure third place in the group and drop down to the Europa League, where they will have a much better chance of competing.
But another heavy defeat against PSG could spark a lack of confidence that would threaten to derail their European campaign. This Celtic team has long eclipsed the Lisbon Lions' domestic record, but if they want to be mentioned in the same breath as those legends they need to turn it on in Europe.
The game has obviously moved on and oligarchs have stacked the cards against teams like Celtic, but if they can make it into the Europa League they could have a chance, and they will be playing for pride as much as anything against PSG.
"We know how hard it is going to be but that is why we are in this competition, we want to go and compete against the best and if we get beat, we get beat and we will take it on the chin," said Griffiths. "But we look to try and get a result."
NEW CQN PODCAST, KEVIN MILES IN SESSION, SENSATIONAL!
A Celtic State of Mind presents its 24th instalment of insightful discussion into the culture of Celtic Football Club, the city of Glasgow, and fans of the reigning invincible Scottish champions.
In the first 'A Celtic State of Mind: In Session' show, Paul John Dykes and Kevin Graham are joined by former Yashin frontman, Kevin Miles.
Kevin is supporting the Celtic Foundation's Christmas Campaign by releasing a charity single, 'Celtic, My Heart and My Soul', and he joined The CQN Podcast at The Tolbooth Studio in Stirling to play an exclusive acoustic rendition of his magnificent ballad.
As well as playing a further three tracks, Kevin also speaks of his passion for Celtic Football Club, and explains why he wanted to support the Foundation this year.
The CQN Podcast has gone from strength-to-strength over the last few months, and there are many more guests lined up in the months ahead from the world of sport, music, film, art, broadcasting, literature and politics.
Connect with A Celtic State of Mind @PaulDykes, @anorthernprose and @CQNMagazine and subscribe to the podcast via iTunes or through your podcast player.
Lustig your the one you still turn me on pic.twitter.com/vtttIdWvmB

— paul the tim (@paulthetim) November 18, 2017
Click Here for Comments >