TOMMY GEMMELL bade a final farewell five years ago today as his funeral cortege left Celtic Park en route for Daldowie Crematorium.
The unforgettable Lisbon Lion had passed away the previous week at the age of 73.
The Celtic Family turned out to say a last goodbye to a fabulous character who had played such an immense part in the history of the club.
Author Alex Gordon, Tommy's friend of 48 years, delivered the eulogy. Here is that tribute in full to a player who will live forever in Celtic folklore.
TOMMY GEMMELL – EULOGY
Hello, ladies, gentlemen and friends of Tommy Gemmell.
Mary has asked me to say a few words about her husband Tommy. And she has made me promise to trim it to under an hour.
I'll do my best.
Okay, where to start when you are talking about a genuine Celtic legend, a unique footballer and human being who made the beautiful game even more attractive by his awesome presence?
Well-deserved tributes have been paid over the past eight days to a man who will be remembered for all time in Celtic folklore.
Tommy Gemmell touched the hearts of so many and he gave us all an avalanche of outstanding memories to treasure and cherish.
Only a few weeks ago, at his bedside in the Glasgow care facility that had become home for almost three months, I asked him what it was like to make so many people smile.
How did it feel knowing his goal in Lisbon would still be being replayed in one hundred years' time? And one hundred years after that?
"Ach, I'm happy if I made other people happy," he said without a trace of mock modesty. He added: "Mind you, I enjoyed it, too."
Life was never dull around Tommy Gemmell. He was a generous, big-hearted personality who was one of the most humble guys I ever had the honour to meet and call a friend.
He was an ordinary bloke who did extraordinary things.
CRASH…Tommy Gemmell lashes in the equaliser on Celtic's way to conquering Europe with their 2-1 triumph over Inter Milan in Lisbon in 1967.
Tommy Gemmell is the only British player to score in two European Cup Finals AND a World Club Championship Final. That feat will never be equalled.
I was still at school when I first clapped eyes on this remarkable character in 1963. I've been a Celtic supporter as far back as I can remember and I used to attend all the games in the old Jungle at Celtic Park with my dad and two uncles.
The first left-back I can remember at Celtic was a sturdy, no-nonsense fellow by the name of Jim Kennedy.
He was a proper full-back with his shorts pulled up to his armpits, concrete-reinforced shinpads and boots that must have weighed about four stone each.
It didn't matter that he was as mobile as Frankenstein's monster because he rarely ventured into the other team's half.
He was a defender and he was there to defend. I recall his main strength was his ability to lob the opposing outside-right about 50 yards with devastating accuracy.
In Jim Kennedy's own words: "I was purely a defender and tended to get a nosebleed if I went over the halfway line."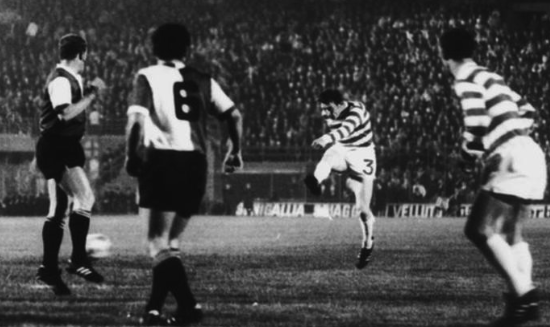 BANG…Tommy Gemmell thumps in the opening goal against Feyenoord in the 1970 European Cup Final in Milan. Alas, there were no celebrations on this occasion. 
And then in came this young whippersnapper by the name of Tommy Gemmell. He was 19 years old at the time and didn't look like any full-back I had ever seen. No sign of bulky shinpads, no boots made in John Brown's shipyard.
He was blond, tall, lithe and stylish.
And he could run like an Olympic athlete. Bewilderingly, he would spend a fair percentage of the game in enemy territory and he possessed the kick like an angry mule as he routinely terrified opposing goalkeepers.
He was a swashbuckling character who performed with a swagger.
Tommy Gemmell was here to stay.
For me, it was adoration at first sight.
WALLOP…Tommy Gemmell leaves Rangers keeper Erik Sorensen helpless with a ferocious penalty-kick at Ibrox.
Of course, what I – and thousands of other Celtic fans didn't realise at the time – was the fact Tommy was going against strict orders from Sean Fallon, who was Jimmy McGrory's assistant manager, who threatened to drop him if he continued to cross the halfway line.
Tommy, being Tommy, chose to ignore those instructions.
And we can all be eternally grateful for that. If he had listened to the assistant manager, Celtic Football Club might not have a certain celebration to look forward to on May 25.
Tommy Gemmell scored 63 goals for Celtic. Even including 31 penalty-kicks, that is a stupendous record for a full-back.
We should make no mistake, Tommy revolutionised that position.
And he took on that task on his own. Jock Stein, of course, became Celtic manager in March 1965 and, as we all recognised, he encouraged attacking football.
That suited Tommy Gemmell, but it must be noted Big Jock told him his main role in the team was to defend and heaven help him if he was marked absent when crosses were allowed to come into the Celtic box.
THE BIG SHOT…Tommy Gemmell in Paradise.
But there was just no way you could curb the adventurous spirit or the eye-catching antics of this amazing footballer.
Tommy Gemmell was a cavalier in green and white hoops as he relentlessly hurtled up and down the right and left wings.
Soon opponents were putting out wingers to man-mark the Celtic full-back. Incredible.
So, we know all about the goals, the gongs and the glory of Tommy Gemmell's remarkable career at club and country level.
What about the man?
I could never have dreamed how things would pan out for Tommy Gemmell and that wee boy in the Jungle. Truly, as they say, you couldn't make it up. Fact is often stranger than fiction.
I first interviewed Tommy in 1969 for a football magazine when I was 17 and working as a sports sub-editor on the Daily Record newspaper.
To me, and many others, he wasn't just the best left-back at Celtic or in Scotland, he was the best left-back in the world.
If Tommy had been born in Rio de Janiero and not Craigneuk, he would have been a global sensation.
I recall that interview vividly. I was a nervous wreck when I dialled his phone number. "Hello,' said the voice at the other end.
"Hello," I responded. I managed to blurt out: "I'm looking for Mr Gemmell."
"You've found him," came the friendly reply. "And my name's Tommy. What can I do for you?"
I explained who I was and that I was looking for an interview for a football magazine. I asked: "May I steal five minutes of your time?"
There was a laugh at the other end of the line. "No, you may not steal five minutes of my time. Take as long as you want, son."
That conversation lasted 48 years, on and off.
HAT-TRICK…Tommy Gemmell sports some natty headwear outside Celtic Park.
Tommy Gemmell transformed from hero to friend in a heartbeat that day.
He put a rookie interviewer at ease and I never forgot that simple act of kindness.
He was always there when I needed him, nothing was too much bother for this guy. Eventually, we met in person and we kept the friendship going.
This generous man – and I use the word 'generous' in all its many aspects – gave up his time to spend hours being interviewed by me and the sports reporters of various other newspapers and magazines.
We all knew he was an intelligent, witty character and the stories just about wrote themselves. Tommy Gemmell never asked for a penny for his time.
There were other individuals in the sport without a scintilla of Tommy Gemmell's ability whose first question would be if you asked them for an interview was "How much?"
There was a well-known character who was known to the Press as FIFA.
And I'm not talking about world football's governing body.
You spoke to this guy and it was a case of "a fee for this" and "a fee for that."
That was not Tommy Gemmell's style.
As a human being, Tommy insisted there were two classes: First and none. Guess which category fitted Tommy.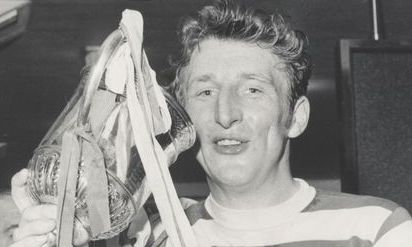 THE CUP THAT CHEERS…Tommy Gemmell sips from the Scottish Cup after the landslide 4-0 win over Rangers in 1969.
Tommy Gemmell, of course, played his football as he lived his life, with a smile on his face. And he lived life to the full, believe me.
I left the Sunday Mail, where I had been sports editor, in 1994 and acquired a sports news agency called 7 Day Press. I moved the company to West Nile Street in Glasgow city centre.
Around the same time, the financial advisers where Tommy worked shifted across the city to…West Nile Street. Suddenly, my big pal and I were neighbours.
The Iron Horse pub was directly opposite my office and a short free-kick from Tommy's. Needless to say, it became headquarters. Two or three times a week, I would receive a phone call from Tommy: "HQ, five minutes."
Who could turn down that request?
This went on for for the best part of 20 years. Just an hour or so in each other's company, a lot of the time on our own – well, as much as you can be on your own in a pub in the heart of Glasgow.
Tommy Gemmell was, of course, still an instantly recognisable figure.
I want to meet the genius who invented mobile camera phones.
I've taken more snaps that David Bailey and Lord Lichfield combined.
Complete strangers would burst into our company, it didn't matter that we were having a private conversation, and embrace Tommy like a long lost brother.
And Tommy always had time for those fans. They would hand me their phone and order me to take a picture.
Tommy would pose with his new best friend and have a natter before another satisfied punter left, looking at his phone and a memento that would no doubt be kept forever.
Again, that was so typical of the man. He loved Celtic Football Club, but, equally, he loved Celtic fans.
DOUBLE-ACT…Tommy Gemmell and his close friend Bertie Auld return from training at Barrowfield.
Eleven months ago – on April 8, to be precise – Tommy made his last appearance at a supporters' function.
Ironically, it was the Dunblane Tommy Gemmell Celtic Supporters' Club and they were celebrating their 20th anniversary at Stirling Rugby Club.
In truth, he wasn't in the greatest of health. He could quite easily have politely declined the invitation. However, he made up his mind he was going to make an effort and go to the function.
"'I don't want to let anyone down," he said. My wife Gerda and I drove to Dunblane to pick him up that Friday night. He didn't look well at all, but he was absolutely determined he would attend the function. There was no changing his mind.
Tommy saw out most of the evening before we drove him home again. We took him to his ground floor flat. Normally, he would ask us in for what he termed a snifter.
But, on this evening, he turned and said: "Do you mind if I go straight to bed? I'm a wee bit tired."
He looked shattered, out on his feet, but there was no way Tommy Gemmell was going to let down the people he always insisted were the greatest fans in the world.
On our days in the Iron Horse pub, Tommy's tipple was dry white wine, but he always finished with a brandy and port.
Somewhere along the line we would have blotting paper – Tommy's euphemism for food – but when we were winding down to go back to our respective workplaces, he would order up a brandy and port – "Gentleman's measure, please".
For the uninitiated in the ways of pub culture, a "Gentleman's measure" is a double.
However, I have this feeling if Tommy had still been around in May he might have fancied a treble.
HISTORY BHOYS…Tommy Gemmell lines up with skipper Billy McNeill and keeper Ronnie Simpson before the most significant result in Celtic's lifetime, the 2-1 European Cup Final triumph over Inter Milan in a glorious evening in Lisbon on May 25 1967.
Even heroes have heroes and Tommy's favourite sportsman of all-time was Muhammad Ali, for many people, rightly proclaimed as 'The Greatest'.
Muhammad Ali was the world heavyweight boxing champion by the time he visited Scotland in August 1965.
It was arranged for Ali to visit Celtic Park and then Ibrox and, of course, the press was out in force. Ali posed for all sorts of pictures, even hammed it up in a kilt and Tommy was like a kid when I talked to him years later about his meeting with his hero.
Tommy told me: "He was an awesome presence. You saw him on the telly, but you never really appreciated the size of the guy or his fabulous physique. The dimensions of his hands were like sides of ham. And, of course, he was such an immaculately-honed sportsman with incredible good looks.
"Apart from that, he was just an ordinary fella."
As Ali prepared to leave Celtic Park to go and meet the Rangers players, Tommy told him to look out for Willie Henderson, the club's fabulous wee outside-right who also became a lifelong friend of Tommy.
Willie Henderson is a boxing aficionado. Tommy, in fact, made the point Willie actually looked like a boxer on account of his squashed nose.
Anyway, Muhammad Ali and his entourage arrived in Govan and went through the same routines with the Rangers players, posing for photographs and so on.
Willie, as expected, took the opportunity to introduce himself to the world's greatest-ever boxer. They shook hands and Ali looked at Willie's nose.
"You a footballer?" he asked.
"Aye," answered Willie.
Ali took another glance at the Rangers player's flattened hooter.
"Man, I'm sure glad I'm a boxer," he said.
Of course, Muhammad Ali passed away in June last year at the age of 74, a year older than Tommy. Can you imagine the chat these two guys could be having today as they discuss their sporting achievements?
NET PROFITS…the Lisbon goal heroes Stevie Chalmers and Tommy Gemmell (with friend).
The affection in which Tommy Gemmell held Willie Henderson is obvious today. Willie, who doesn't drive, made frequent visits to his big pal in Dunblane and, latterly, Glasgow.
I love the story Tommy told me about Willie turning on a Rangers team-mate when they were at a footballing function.
He was chatting to Tommy when an Ibrox colleague said: "What are you talking to him for? He does nothing but kick you when you're out on the football park."
Willie bristled. "He's never kicked me in his life. Tripped me up, tugged my jersey and pulled me down.
"But he's never kicked me!"
Speaking of wonderful wee touchline magicians, we couldn't possibly miss a mention of Jimmy Johnstone.
Tommy Gemmell loved his fellow-Lisbon Lions and what they achieved for Celtic, in particular, and the world of football, in general.
He could spend hours extolling the virtues of Ronnie Simpson, Jim Craig, Bobby Murdoch, Billy McNeill, John Clark, Willie Wallace, Stevie Chalmers, Bertie Auld and Bobby Lennox.
It must be said he was also a big fan of Davie Hay.
IT TAKES TWO…Tommy Gemmell gives a lift to Jimmy Johnstone after Celtic's goalless draw against Dukla Prague in the Czechoslovakian capital in April 1967 to seal a 3-1 aggregate victory. Next stop Lisbon!
But there is no doubt that wee Jinky Johnstone had a special place in the heart of Tommy Gemmell. They were football's odd couple with Tommy standing at 6ft 2in and Jinky at just 5ft 4in.
They first met even before they joined Celtic as they both attended Burnbank Technical College in Lanarkshire.
Tommy had thoughts of becoming an electrician and Jinky was training to become a welder. Thankfully, their career paths took a dramatically different course.
Tommy and Jinky both signed for Celtic in the winter of 1961 and became the best of buddies throughout their lives.
Tommy had a host of tales about Jinky, who, of course, was voted the Greatest-Ever Celtic Player by the supporters.
We all knew what he got up to on the field, but his off-the-field antics were just as entertaining.
Tommy told me the story of Jinky turning up at Celtic Park one day with a brand new Jaguar car. The wee man was as proud as Punch.
"Tam, come and have a smell at these seats. They're real leather – that's no' rubber. Classy wheels, eh? A cigar lighter, too." And so on.
Tommy agreed to let Jinky pick him after training the following day and they would head up to Crief for a relaxing spot of fishing.
They were heading to one of Tommy's favourite spots and he was giving his wee mate directions.
At one point, they came to a roundabout.
"Which way, Tam?" asked Jinky.
"Straight through, Wee Man," answered Tommy.
And with that, Jinky drove up onto the roundabout, through flower beds and all sorts of plants and down the other side.
"What the hell was that?" screamed Tommy.
"Well, you said straight through," answered Jinky.
BRING ON ENGLAND…Tommy Gemmell stolls onto the Wembley pitch on the day Scotland overcame the world champions 3-2 in April 1967.
Tommy Gemmell will always be remembered as the guy who sent West German midfielder Helmut Haller into orbit when Scotland were playing in a World Cup qualifier in Hamburg in 1969.
The Scots were losing 3-2 in a crucial game that would go a long way to determining their hopes of playing in Mexico the following year.
With a minute to go, Tommy was charging through into his favourite position about 25 yards out and lining up a shot with his mighty right boot.
Haller snaked out a foot and blatantly tripped Tommy.
Tommy went down in a heap and was furious when the Swiss referee didn't award the expected free-kick. His mood didn't get any better when he saw Haller laughing.
The red mist came down and Tommy chased after the West German and attempted to put him over the stand.
Helmut Haller died in October 2012. I telephoned Tommy to get his reaction. Quick as a flash, he said: "I hope they're not going to blame me."
I won't dwell on Tommy Gemmell's latter years. My wife and I travelled through to Dunblane to go for lunch once a week for almost six years. It was always a pleasure to spend time in this bloke's company.
We spoke on the phone virtually every day.
Of course, the chat always got around to Celtic. Tommy wasn't able to get to as many games at Celtic Park as he would have liked, but he still retained a special interest in the club.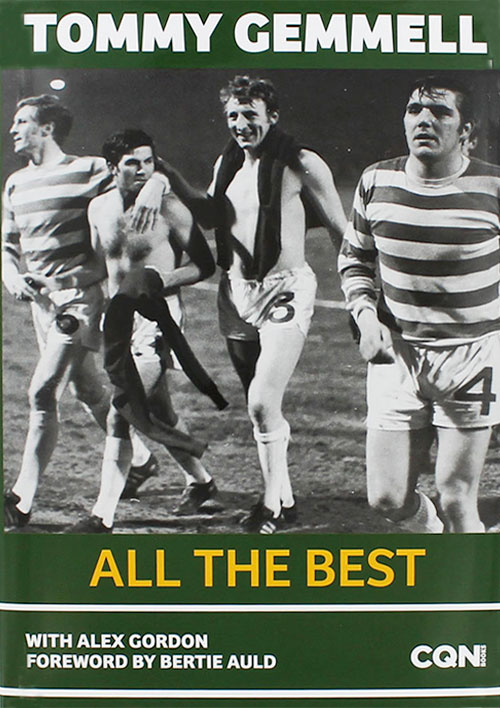 He would see the action on TV and read the reports. He always paid particular attention to the left-backs over the years. He rated the players who went that extra mile and realised that attack was the best form of defence.
Tommy liked Andy Lynch, who, of course, had started his career as an outside-left with Hearts.
He enjoyed the exciting forays of Emilio Izaguirre and I can tell you he had the highest regard for Kieran Tierney.
Genuinely, he spoke in glowing terms about the young man and I suppose if anyone could spot a left-back it would be Tommy Gemmell.
In the past six months or so, Tommy's health was faltering. He was becoming increasingly frail, but I never once heard him moan about the situation.
One of his favourite sayings was: "Why should a living man ever complain?"
I didn't think there was anything left for Tommy Gemmell to do to prove he was such an inspiration.
I was in awe of the courage, strength and character of the man.
One of his favourite actors was John Wayne.
Even Hollywood at its most far-fetched could never have captured the spirit and fortitude of Tommy Gemmell as he spent virtually the last three months of his incredible life bed-bound.
FAREWELL, OLD FRIEND…Rangers great Willie Henderson, Lisbon Lion Bobby Lennox and author Alex Gordon with Tommy's coffin at Daldowie.
On December 7 last year, Tommy moved from Dunblane to the 3 Bridges care facility in the south side of Glasgow, ironically not far from Hampden Park.
He had fought and overcome so many obstacles as a footballer and a man, but this was one fight even the great Tommy Gemmell could not win.
Last Thursday morning around 1.30, Tommy passed away. His wife Mary, who had been at his bedside for practically an entire week, phoned me a few minutes later.
"Tommy's gone," she said. Those were the words we dreaded, but realised were inevitable.
You may believe you are well prepared for the news, but the words still hit you with the force of a wrecking ball.
At that moment, the world lost a good man, Celtic lost a favourite son, football lost a legend and my wife Gerda and I lost an exceptional friend.
More importantly, Mary lost a wonderful husband she called "the love of my life".
Tommy Gemmell, after a decade of unparalleled success at Parkhead, was transferred to Nottingham Forest in December 1971. He was 28. And, of course, he didn't want to leave Celtic.
It was only a matter of time before he returned to Paradise. And he managed that this morning.
Rest In Peace, old chum.
Alex Gordon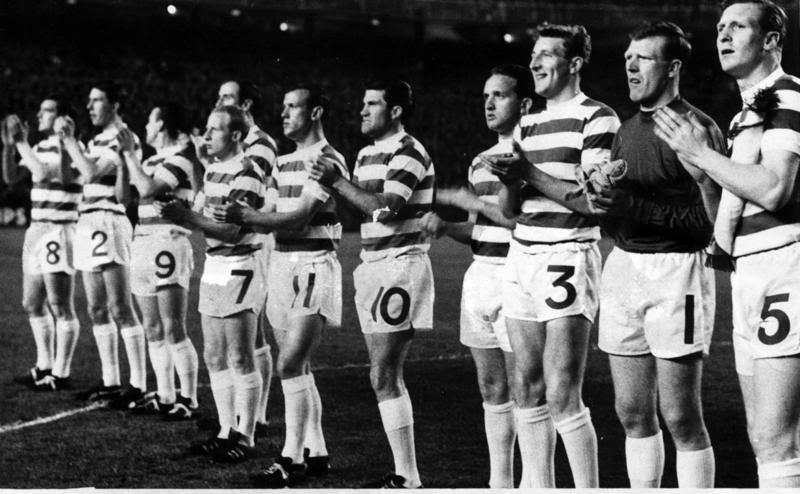 Click Here for Comments >