EXACTLY 58 years ago today, Johnny Divers accepted a pass from Joe McBride and drilled a shot behind Dundee United keeper Donald Mackay.
It was the 15th minute of the opening league game of the 1965/66 season on August 25 1965 and it paved the way for a 4-0 victory at Tannadice.
The strike from Divers is also in the history books as the first goal of Celtic's magnificent nine in a row achievement as Jock Stein's men swept to their first championship in 12 long, agonising years.
TITLE CLINCHER…Bobby Lennox scores the only goal of the game against Motherwell at Fir Park on May 7 1966 to claim Celtic's first championship in 12 years. Stevie Chalmers is about to join the celebrations.
The feat was matched, of course, between 2012 and 2020, but, back in the mid-sixties, the resurgence of the Parkhead club under the astute management of their legendary boss was nothing short of phenomenal.
After Divers, who collected 110 goals in his Hoops career, had hit the breakthrough counter, the prolific McBride added a second seven minutes after the turnaround. Right-back Ian Young slotted in a penalty-kick in the 56th minute and Tommy Gemmell thundered in a fourth nine minutes later.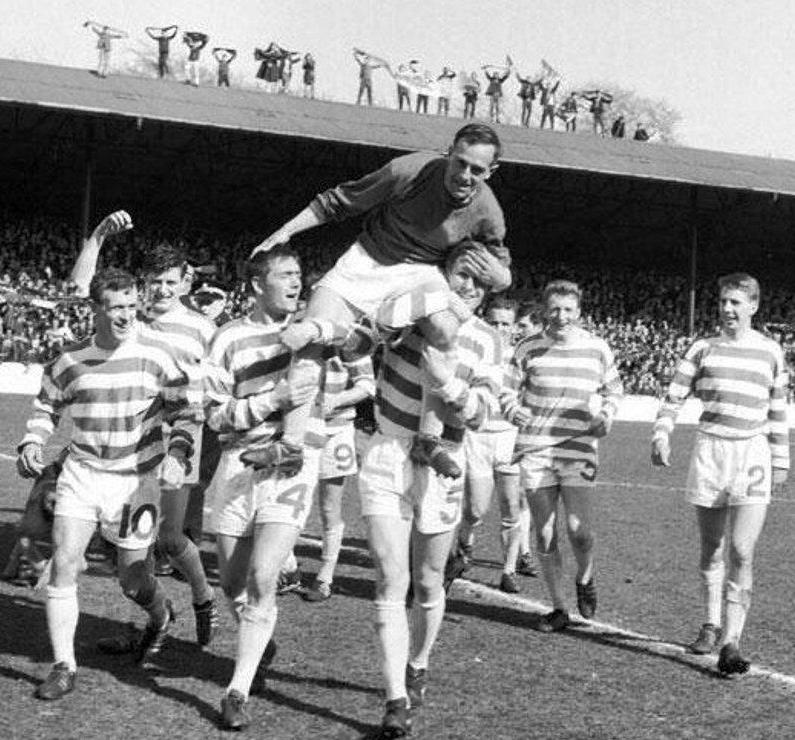 RAISING THE ROOF…ecstatic Celtic fans celebrate on top of the Fir Park enclosure as keeper Ronnie Simpson is carried shoulder high by Bobby Murdoch and Billy McNeill following the 1966 title clincher against Motherwell.
Six of the 11 who faced United would go on to win European Cup medals in Lisbon on May 25 1967 – Gemmell, Bobby Murdoch, Billy McNeill, John Clark, Stevie Chalmers and Bobby Lennox.
The flag was clinched with a 1-0 victory over Motherwell at Fir Park on May 7 1966 when Lennox pounced in the last minute to turn in a right-wing cross from Jim Craig. Another eight titles would follow in glorious succession.
The team that kicked off the historic sequence of consecutive crowns was: Fallon; Young, Gemmell; Murdoch, McNeill, Clark; Chalmers, Divers, McBride, Lennox and Gallagher.
Click Here for Comments >