JOE McBRIDE was Jock Stein's first signing for Celtic at £22,000 from Motherwell in the summer of 1965.
The powerhouse and prolific hitman walloped in 86 goals in 94 appearances for his boyhood idols in his three years at Parkhead. An astonishing 54 of the strikes came in only 55 league games.
Today in Part Two, CQN continues our EXCLUSIVE tribute to a forgotten Celt who was beset with serious injury to curtail a career that could have broken all records.
Here is an edited extract from author Alex Gordon's book, 'That Season In Paradise', a publication that takes an in-depth look at the remarkable rise of a team that transformed from east end misfits to European masters in the sixties.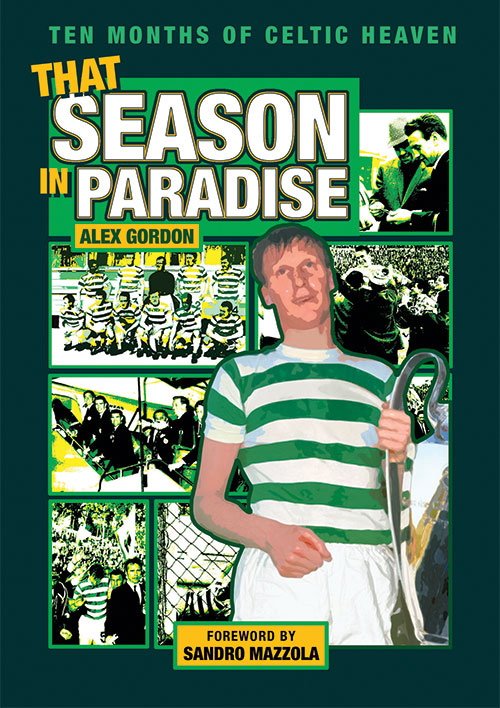 MOTHERWELL may have been dismantled and dismissed in the 1965 Scottish Cup semi-final replay, but Joe McBride remained in Jock Stein's thoughts. The fourth manager in Celtic's history had already selected his first transfer target for the club.
First of all, though, there was the Scottish Cup Final meeting with Dunfermline at Scotland's grey, old football fortress in April 1965. With the greatest of ironies, the two clubs had squared up in the Final of the competition only four years earlier – with Jock Stein in command of the East End Park outfit. The outcome, back then, was an absolute shocker for runaway favourites Celtic.
They were held to a goalless draw in the first game and the consensus of opinion was that the Fifers would have been thrashed out of sight if it hadn't been for their inspired goalkeeper Eddie Connachan, who picked that afternoon to manifest into an unbeatable barrier. He had just quit his job as a miner to go full-time in football and, on this showing, proved he had made a sound decision.
Celtic were still enormous favourites to wipe the floor with the East End Park side in the second game. Once again, Connachan would not be denied his only medal in football and two breakaway goals from David Thomson and Charlie Dickson, ironically after a terrible gaffe by Frank Haffey, took the trophy to the Kingdom of Fife.
Celtic chairman Robert Kelly, in his guise as Scottish Football Association President, watched as his wife presented the trophy to Dunfermline captain Ron Mailer while his team-mates celebrated. Kelly had done nothing to keep Stein at Parkhead when he let it be known he was prepared to leave his job as reserve team coach.
ON THE BALL…Joe McBride in one of his last games for Motherwell against Celtic in the 1965 Scottish Cup semi-final.
Billy McNeill, among others, beseeched the Parkhead supremo to keep the innovative young strategist, but Kelly paid little heed to his or anyone else's pleas. As Stein held aloft the spoils of war, the Celtic chairman, fairly magnanimously, told an SFA colleague, 'What a friend gets is no loss.'
Five years later, Stein was the Celtic manager and, unlike his predecessor McGrory, made it clear he would not brook any interference in his running of the football side of the club.
Emphatically, on the day of his appointment, he publicly declared, 'The responsibility for all team matters is down to me; the selection of players, the training, the coaching and how we play. I will make those decisions and no-one else.'
Kelly, though, was a stubborn individual who was highly unlikely to fade into the background. Before one of Stein's first games, the chairman, as was his wont, entered the dressing room to have his say to the players.
After his little sermon, Stein shut the door behind him and said, 'Right, you can forget all that for a start!' Kelly's pre-match visits became rare events after that.
The Scottish Cup, of course, was duly delivered following a nail-biting 90 minutes against a splendid Dunfermline team which only missed out on the First Division championship after finishing on 49 points, one adrift of Kilmarnock and Hearts, with the Edinburgh claiming the cown on goal average.
The Fifers' Irish manager Willie Cunningham, who had succeeded Stein, was a thoughtful, even intense, character who had continued the good work of his predecessor.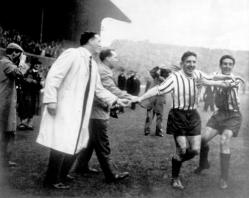 HAMPDEN FLASHBACK 1961…Jock Stein congratulates Dunfermline skipper Ron Mailer after shock Scottish Cup Final replay win over Celtic.
Dunfermline, who were, quite rightly, installed as favourites for the Cup, had a compelling blend of skill and strength with individuals such as future Celt Tommy Callaghan, a tireless midfield worker, and his brother Willie, typical of the breed of the time, a determined, little full-back.
Jim Herriot was a more than capable goalkeeper who would go on to represent Scotland, while Jim McLean was an old-fashioned centre-half who took no prisoners. There was pace and grace in the shape of wingers Alex Edwards and Jackie Sinclair and they also possessed a typical battering-ram centre-forward in John McLaughlin.
One player who missed getting the nod to play was a certain Alex Ferguson, who was left out of the team following a poor performance in a 1-1 draw with his former club St Johnstone. The centre-forward, by his own admission, 'had a series of misses in the second last league game of the season that was reckoned to have denied us the championship because we had better goal figures than either Kilmarnock or Hearts. If we had got two points instead of one against St Johnstone, Dunfermline would have won the league.'
But Ferguson, the club's top goalscorer, still believed he was a shoo-in for the meeting against Celtic after playing well in the 2-0 victory over Hibs in the semi-final at Tynecastle on the same day Joe McBride was attempting to derail Jock Stein's aspirations at Hampden.
Ferguson, an ungainly, inelegant raider, discovered only 50 minutes before kick-off that he wouldn't figure in the Cup Final and, in the days before substitutes, the nearest he got to the Hampden pitch was a seat in the stand beside his father.
As Willie Cunningham read out his line-up and Ferguson's name was missing, the future Manchester United manager exploded. 'You bastard!' he exclaimed. A transfer demand swiftly followed from the irate Ferguson.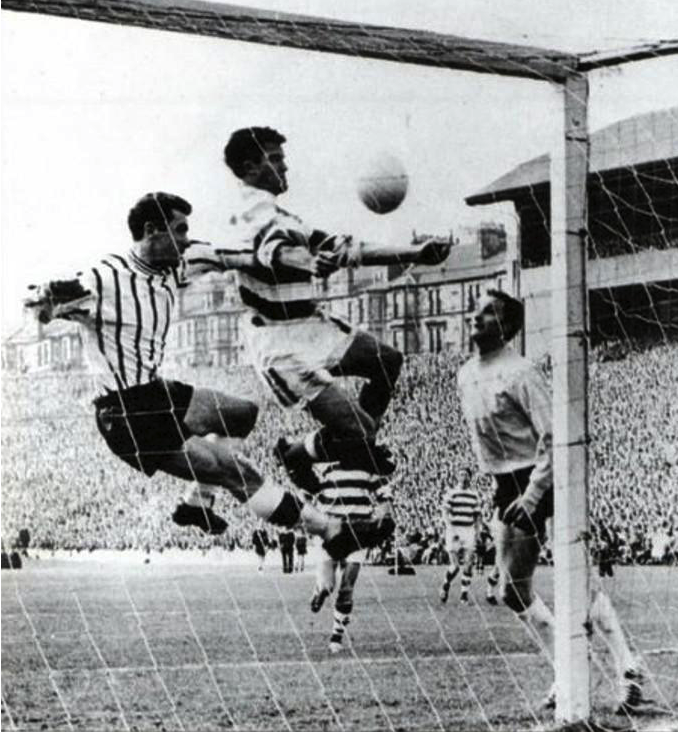 NUMBER ONE…Bertie Auld heads in Celtic's first equaliser in the 1965 Scottish Cup Final against Dunfermline. Keeper Jim Herriot and defender Willie Callaghan are helpless.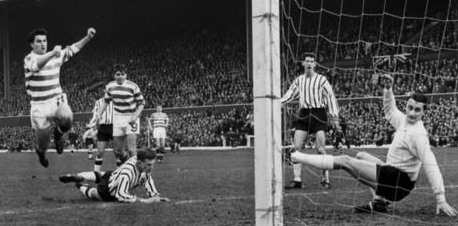 NUMBER TWO…Bertie Aulds slams in the second leveller past Jim Herriot with John Hughes looking on. Grounded Fifers' centre-half Jim McLean is too late to intervene while future Celt Tommy Callaghan gets a close-up view.
Immediately after the Fife outfit's battling defeat at the national stadium, Cunningham sought a new centre-forward. Joe McBride was the man he targeted.
Many years later, McBride admitted, 'I knew Celtic wanted me and then in came Dunfermline. I had asked for a transfer and Motherwell were not about to stand in my way. Through various routes, I was told what the Fifers were willing to pay in a basic wage and it was a lot more than what was on offer at Celtic. Big Jock told me he would sort things out.
'He didn't need to reassure me. Celtic were my club and, corny though it may sound, it had always been a dream and an ambition to pull on those green and white hoops. Now I was being given that opportunity and nothing was going to prevent me from making that move. Money was never my prime consideration.'
And McBride, like so many before and after him, ignored the financial incentives elsewhere to sign on the dotted line. Another who followed his heart and not his head was Bertie Auld. He recalled in his autobiography, 'A Bhoy Called Bertie', 'Clyde offered me £60 to sign professional forms for them in 1955. Partick Thistle offered me £50. Celtic offered £20. So, of course, I joined Celtic!'
NUMBER THREE…Billy McNeill outjumps team-mate Bobby Lennox to bullet in the 1965 Scottish Cup Final winner.
It was Auld, performing with all the gallus swagger of a typical Glaswegian, who was so instrumental in Jock Stein's first piece of silverware success. Harry Melrose scrambled in the opening goal for the Fifers in the 15th minute, but, just after the half-hour mark, the Maryhill man levelled with a brave header from just about under the crossbar after a well-struck shot from Charlie Gallagher had thumped against the woodwork.
Just before the interval, Dunfermline struck again when John McLaughlin, Ferguson's replacement, accepted a short free-kick and walloped a 25-yard effort wide of John Fallon. Back came Auld and Celtic, though, in the 52nd minute when he finished off a well-worked move with a rare right-foot drive beyond Jim Herriot.
That set up a grand finale to top the lot and bring eight years of hurt and suffering to a welcome shuddering and spectacular halt.
Nine minutes remained of a thrilling encounter when the artful Charlie Gallagher gracefully arced a left-wing corner-kick into the penalty area. Jim Herriot would have required the assistance of stepladders to thwart Billy McNeill as the Celtic captain outjumped friend and foe to meet the cross squarely with his forehead and the ball pummelled the netting with a fair degree of ferocity.
Hampden, in an instant, was transformed into a green-and-white wonderland.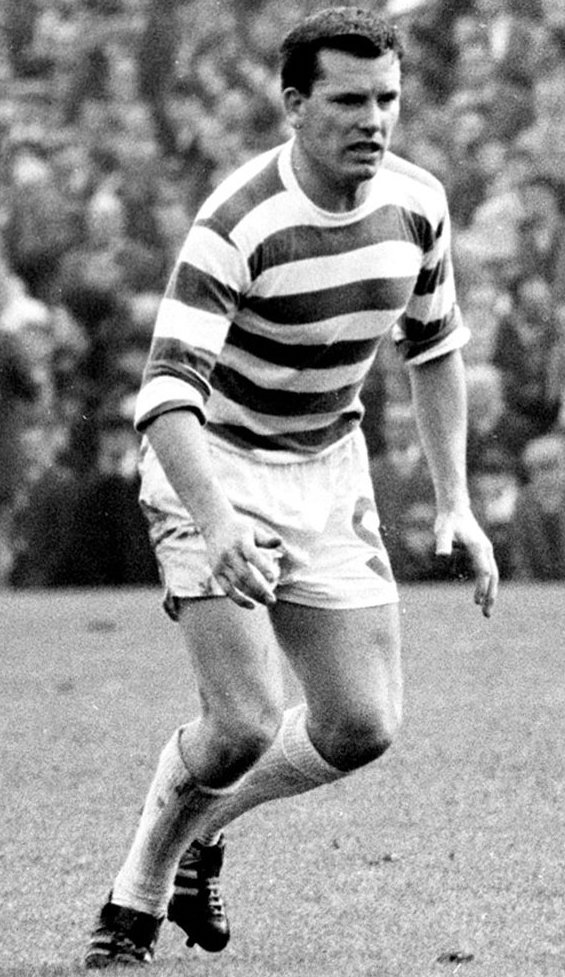 MERCHANT OF MENACE…Joe McBride was a penalty-box predator.
'Instinctively, we knew that triumph would be the start of something good for everyone connected with Celtic,' said matchwinner McNeill. 'I had played in two losing Cup Finals before that and, naturally enough, the disappointment leaves you wondering if you will ever win anything.
'It was the same for John Hughes and Stevie Chalmers. They were also in the teams that had lost in replays to Dunfermline in 1961 and Rangers two years later.
'You feel sickened for yourself, your team-mates and, of course, the man on the terracing. On days like that, you know you have failed them, you have let them down and haven't matched their expectations. It does get to you, believe me.
'Beating Dunfermline changed everything. Suddenly, Celtic supporters were smiling and wearing their colours with pride. The players didn't have to duck and dive when they were out in public. It was a pleasure to be stopped in the street and talk about actually winning something.'
Some special days lay ahead for Billy McNeill and his Celtic colleagues. And, of course, a guy named Joe.
TOMORROW: A BHOY CALLED JOE (PART THREE)
Click Here for Comments >