CALLUM McGREGOR insists Brendan Rodgers is a man on a mission in his second coming as Celtic manager.
The inspirational captain and midfielder chatted with the Irishman before his return as Ange Postecoglou's successor was signed, sealed and delivered last month.
McGregor was part of the first encounter with Rodgers as they both embarked on a historic journey that brought seven successive domestic honours which included back-to-back trebles, a feat that hadn't even been achieved by the great Jock Stein.
The former Liverpool boss, who replaced Ronny Deila in the summer of 2016 and left in February 2019, lifted two Premiership titles, two Scottish Cups and three League Cups as he expertly slalomed his way through Scottish football before his unexpected departure to Leicester City.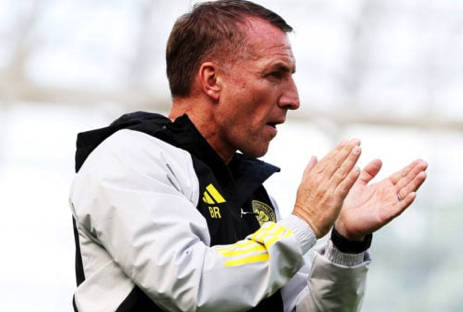 A BIG HAND…Brendan Rodgers cajoles his players from the touchline during the 1-1 draw with Wolves.
Despite delivering the FA Cup, the manager was sacked in April by the Midlands club as they panicked during their spiral towards relegation. The team that had won the English top-flight honour just seven years beforehand never recovered as they plunged thorugh the trapdoor into the second tier.
McGregor is adamant there is a desire within the comeback gaffer to pick up where he left off in Scotland and prove the doubters wrong as he leads Celtic into a new campaign.
The 30-year-old Scotland international anchorman said: "I can detect that, yes. Even when I spoke to him early doors, I could see it in his eyes and you can hear it in his voice.
"I have always said that when people have a point to prove in football then that can be really dangerous because you get a different level of work-rate and intensity. You push the guys and they push you and you can see that in him.
"He's determined to do well, he's determined to give the club success and that's matched by every single person within our dressing room. We are really together and we want to deliver success.
THE THINKER…Brendan Rodgers reflects on the weekend action in Dublin. 
"That's where we are judged, it's always about success and when he's come back this time, there's no standing on ceremony in terms of what happened the last time he was here.
"He's here to win and you can see that in terms of how he drives the boys."
McGregor, speaking to the Daily Record, continued: "We had a meeting really early on with the non-international guys and then it was the same as soon as we came in.
"There was a powerpoint about understanding and underlining the principles of what's been good about us and what we believe we can do better.
"It's been that same methodical approach, calm and incisive and that kind of information which makes people sit back and really take notice of and try to learn. I think that's one of the best things about him, he tries to help everybody and tries to teach them about the game.
"He's a master tactician and if you really go and pick his brain then there's some wonderful information in there and he's so good at getting it across to the guys, as well. That's another part of the game that we can always get better. The fundamental thing is always the football."
McGregor, who is looking forward to playing in the James Forrest Testimonial Match against Athletic Bilbao at Parkhead tomorrow night, added: "At a club like Celtic, to win is not enough.
"It's to win in a style and to please everybody and in football it's hard at times to please everybody yet you have to continue to strive for perfection.
IT TAKES TWO…Callum McGregor and Tomoki Iwata have a chat during a break in the action at the Aviva.
"Perfection probably doesn't exist as the game is always live, changing and evolving, but you have to strive for that.
"When your standards are super high in the way his are and the way the guys in the group are, they continue to push each other all the time. In football if you start to stagnate there is always someone coming to push you to try and get past you so you can never lose that hunger.
"It's about picking up where we left off in terms of tempo and incisive passing and we have been a really aggressive team over the last couple of years and that's what's been great about us. We just add more and more detail, more and more organisation and different ways to beat the press.
"We want to layer that detail, but we don't want to lose the principles of the type of team we have been over the last number of years which is about being aggressive and getting after teams and scoring plenty of goals.
"The majority of the boys have now played together for a number of years. They start to understand when to turn and make runs and know the timing of everything. So it's good that has come back fairly quickly.
"I think we are starting to see the idea coming together, the fitness levels of the boys is good and boys are scoring goals at the top end so it's good signs, but we will be judged when the serious stuff starts."
Click Here for Comments >