THE name of John Hughes was missing when Jock Stein named his Celtic line-up for the European Cup Final against Inter Milan in Lisbon on May 25 1967.
The giant forward, lovingly known as 'Yogi' to his legions of fans, had played in five of the club's eight ties during their great adventure to propel the Hoops towards the Portuguese capital that unforgettable day with history just around the corner.
Hughes' non-appearance has been the subject of conjecture ever since.
The goalscoring winger offered an insight in his acclaimed autobiography, 'Yogi Bare: The Life and Times of a Celtic Legend', which was co-authored by his friend Alex Gordon and published in 2014.
In another CQN EXCLUSIVE series, we will publish extracts to once and for all provide the answers to the Lisbon question.
Please enjoy.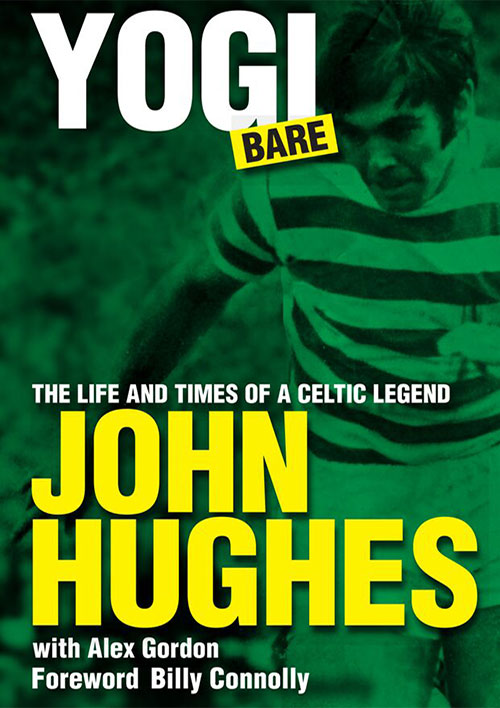 A FEW days before the European Cup semi-final return leg against Dukla Prague in the Czechoslovakian capital on April 25 1967, my ankle had started to act up and I was forced to sit it out as Celtic drew 0-0 against Aberdeen at Parkhead.
Amazingly, it was the first time we had failed to score a solitary goal at our place during the campaign. It may surprise you even more to learn the team that drew a blank was the same side that won the European Cup.
Maybe Jock Stein thought it was the ideal dress rehearsal for the meeting with Dukla because he ordered a blanket defence for this tie as he was determined to protect our 3-1 advantage.
SIDELINED…John Hughes (second right) watches from a touchline bench in Prague. Jock Stein looks pensive along with Bob Rooney, Sean Fallon and Neil Mochan while players Charlie Gallagher, John Cushley and Willie O'Neill also view the action as it unfolds.
I had never before heard our manager urging the team to adopt negative tactics. He wanted to smother the Czechs and give them no space whatsoever on their own massive pitch.
I've heard it said that Dukla were so good they pushed Celtic back for the entire 90 minutes and it wasn't part of Jock's game plan. That's nonsense. Just ask Stevie Chalmers and he'll verify that. Stevie was given the lone role up front and was told to chase everything that dropped anywhere near him.
His team-mates were instructed to play their passes into channels for Stevie to run into, utilising his fabulous speed. Stevie was another who was as brave as they come. He was a warrior on that football field and his display that afternoon was absolutely awesome.
LISBON HERE WE COME…substitute keeper John Fallon jumps for joy as a delighted Jock Stein congratulates his backroom staff  following the goalless draw in Prague.
He was here, there and everywhere as he chased lost causes. On the rare occasion he actually got the ball to his feet, he would take it down the line towards the corner flag, inviting defenders to tackle and give away a throw-in. And, of course, we wouldn't be in too much of a hurry to take the shy.
I think that's the one and only time anyone could ever say Celtic were spoilers. That just wasn't our style, but Jock was absolutely determined to guide the club to Lisbon and he was going to do it in whichever manner he believed would be necessary and, ultimately, successful.
The razzmatazz could wait until May 25, as far he was concerned.
It was a very disciplined display from our players and Ronnie Simpson was immaculate in everything he did. I recall our old friend Stanislav Strunc blazed in an early shot, but Faither was equal to it and pushed the ball over the bar. That was a rare attempt on target by the Czechs that day.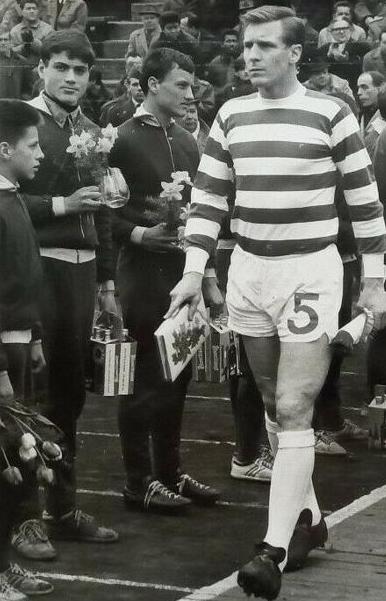 SAY IT WITH FLOWERS…Celtic skipper Billy McNeill gets an unsual welcome as he leads out his team-mates.
Billy McNeill played a real captain's part and there was the utterly astonishing sight of Jinky Johnstone and Bobby Lennox almost playing as auxiliary full-backs alongside Jim Craig and Tommy Gemmell.
I was on a touchline bench along with Jock, his backroom team and I was sitting with Charlie Gallagher, Willie O'Neill and Joe McBride, three players who had contributed in getting the club to this stage. Big Billy's back-up centre-half John Cushley was there, too.
Joe, of course, had been so unlucky with injuries and, in fact, had marked his debut in the competition with the second and clinching goal against FC Zurich in the first leg away back in September 28 which, coincidentally, was just a few days before Jock's 44th birthday.
Willie had played in the first two rounds against the Swiss and French outfit Nantes before the manager switched Tommy Gemmell from right to left-back and brought in Jim Craig at No.2. Charlie's last touch in the competition was to send over the inviting corner-kick for Billy McNeill to bullet in the last-minute winner against Vojvodina Novi Sad in the quarter-final. What a way to sign off!
TWO LEGENDS TOGETHER…Celtic captain Billy McNeill and his Dukla Prague counterpart Josef Masopust shake hands before kick-off in the vitally important European Cup semi-final.
It wasn't pretty in Prague, but no-one cared. Celtic were through to the European Cup Final, the first British club to achieve such a feat, and we felt like partying.
Strict teetotaller Jock, though, had other ideas and was swift to remind the players we had a wee game to look forward to on the Saturday – the Scottish Cup Final against Aberdeen.
"There's plenty time to enjoy yourselves at the end of the season," he said. "Not long to go now then you can all let your hair down. Ach, I don't know why you bother with that stuff, anyway."
OUTNUMBERED…Stevie Chalmers appears to have incurred the wrath of his Dukla Prague opponents.
I was in the stand when two goals from Willie Wallace gave us a 2-0 win over Aberdeen at Hampden. My ankle was still a problem and physio Bob Rooney and doc John Fitzimons seemed concerned that it hadn't healed completely.
Celtic didn't need my services on the day as they dominated the Cup Final against what we thought would be dangerous opponents.
Wispy sidefooted in the opener in the first-half and lashed in the second after the turnaround. I have to say the team looked more like Celtic as they surged forward at every opportunity.
Thankfully, the tactics in Prague were never repeated.
* TOMORROW: Don't miss the EXCLUSIVE Part Six of Big Yogi and Lisbon: The Truth – only in your champion CQN.
Click Here for Comments >