CELTIC great John 'Yogi' Hughes has passed away at the age of 79.
In another superb CQN EXCLUSIVE series, author Alex Gordon pays tribute to his long-time friend.
Alex, who co-authored Hughes' autobiography, 'Yogi Bare: The Life and Times of a Celtic Legend', has selected a few extracts from the life story of the man who is the Parkhead club's eighth-highest scorer with 189 goals.
Please enjoy the remarkable tales of the personality who had the extraordinary talent to become one of the Hoops' all-time iconic performers.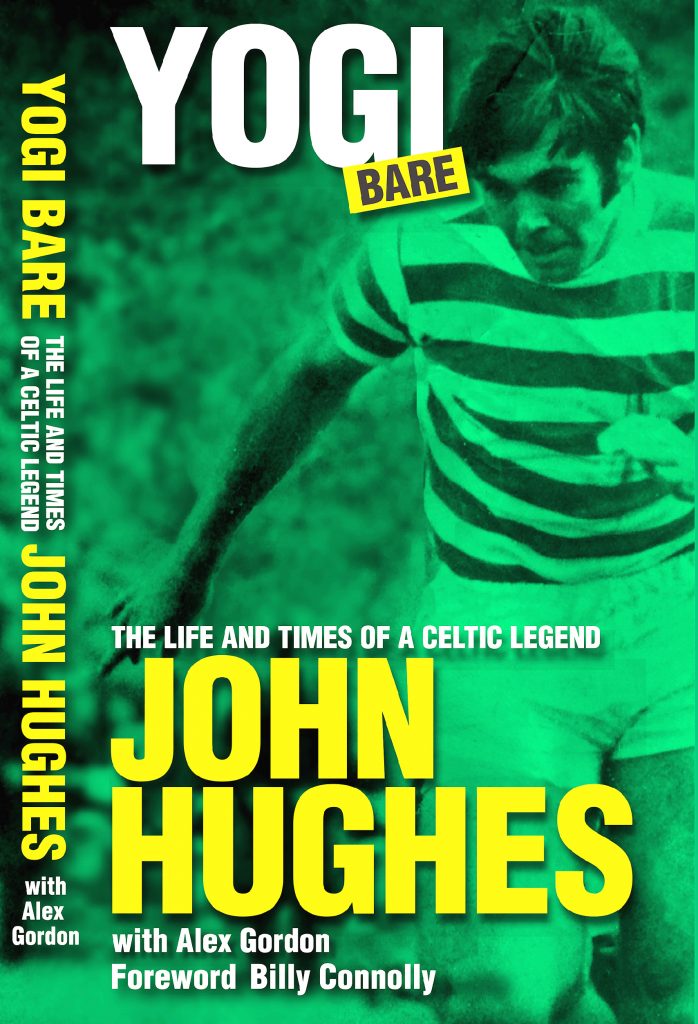 I HAVE never attempted to hide the fact I didn't want to leave Celtic. However, once Big Jock Stein had made up his mind, I realised it was time to clear my locker and get out.
I was left with the overwhelming feeling I had served my purpose, as far as he was concerned. Celtic had seen the best of John Hughes, so it was time to vacate the premises.
It didn't matter I had given everything for the club since coming into the first team as an eager seventeen year old. It didn't matter that I was only twenty-eight years old and supposedly reaching my peak. It didn't matter that I was the sixth highest scorer in the club's history with 189 goals.
It didn't matter that I had played my part in bringing six League titles, four League Cups and one Scottish Cup to Celtic. Nothing mattered. Suddenly, I was expendable; surplus to requirements and it was time to go.
UNDER THE SPOTLIGHT…Jock Stein keeps a close watch on John Hughes during training.
I felt sick. Wouldn't you? My stomach was churning. I never even got the opportunity to wave farewell to those thousands of wonderful fans who used to chant, 'Feed The Bear' on matchday; a raucous chorus that used to propel me in the general direction of Cloud Nine.
This may surprise you, but I never spoke again to Jock. I didn't receive a phone call or a letter. Nothing. Zilch. And, believe me, that hurt. One year I was good enough to play in a European Cup Final and the next I was heading for the Celtic Park exit.
Goodbye and good riddance.
I accept that was Jock's manner. Players before me and after me always insisted he didn't get involved in popularity contests; he just didn't care what others thought of him. It was Celtic all the way and so long as they were winning then that was all that mattered.
I'm a Celtic supporter and I can understand that. But there are ways of doing things and I thought Jock was just too savage and uncaring on certain occasions.
I will always believe he was unnecessarily brutal when he dealt with me in my last days as a Celtic player. I hadn't a clue the end was in sight when I trotted onto the field as a substitute in the 3-0 European Cup triumph over BK Copenhagen on Wednesday September 29 1971.
FIT AND READY…John Hughes goes through a training exercise.
I didn't realise I would never set foot on the Celtic Park playing surface again. Things were obviously going on behind my back and no-one thought to keep me informed. At the very least, I would have thought that would have been good manners.
Twenty days after my appearance against the Danes I was a Crystal Palace player. I was caught up in a whirlwind that left my head in a spin. My eleven-year Celtic career seemed to evaporate in such an alarmingly short space of time.
I may have been confused as the events unfolded, but one thing that wasn't in doubt was the fact I was no longer in Stein's plans. I was no longer wanted at Celtic.
Look, I understand football teams have to evolve. Celtic had quality youngsters such as Kenny Dalglish, Lou Macari, Victor Davidson and Paul Wilson challenging for places in the forward line. You would encourage such exciting protégés to push for places in the first team.
That's a completely acceptable and expected development of a football team.
I would have been part of that process eleven years earlier when stalwarts such as Neilly Mochan and Willie Fernie were being phased out. The legendary Charlie Tully had left just before I arrived. It's worth remembering these guys were in their thirties.
Tully, in fact, was only five years short of his fortieth birthday before he quit to wind down his remarkable career at Cork Hibs. I was twenty-eight and, arguably, my best days were ahead of me.
Or so I thought.
Click Here for Comments >