REO HATATE, Daizen Maeda, Liel Abada, Giorgos Giakoumakis and Ange Postecoglou's other recruits were introduced to the "delights" of the Scottish phenomenon of four seasons in one day in Lanarkshire yesterday.
There was rain, sleet, snow and sun before, during and after the Premiership encounter with Motherwell in Lanarkshire as the weather took turns of being nasty and nice as only it can in this country.
It was also blustery, but, thankfully, Celtic's new Bhoys – and the old guard, too – didn't allow the conditions to blow their title aspirations off course.
Despite the crazy elements, Postecoglou, who was also wrapped up well to stave off frostbite on the touchline, witnessed his team perform with poise, pace and power as they raced to a 3-0 interval lead with a double from Tom Rogic after the lively Liel Abada, with his 14th strike of the season, had opened the scoring before the half-hour mark.
Hogmanay arrival Maeda, who had started the game on the left wing but moved inside after Giorgos Giakoumakis had been withdrawn, netted the fourth with a deflected effort in the 71st minute.
CQN's ace snappers were there to capture the action.
BREAKTHROUGH…Liel Abada races away after tucking the opener behind Liam Kelly who appeals in vain for offside.
JOY BHOYS…Liel Abada and Reo Hatate take off in celebration.
HAIR-RAISING…Reo Hatate played his part again.
CELEBRATIONS…Giorgos Giakoumakis joins in with Liel Abada and Reo Hatate as they celebrate the opener.
ON THE RUN…Daizen Maeda and Motherwell defender Nathan McGinley in a duel.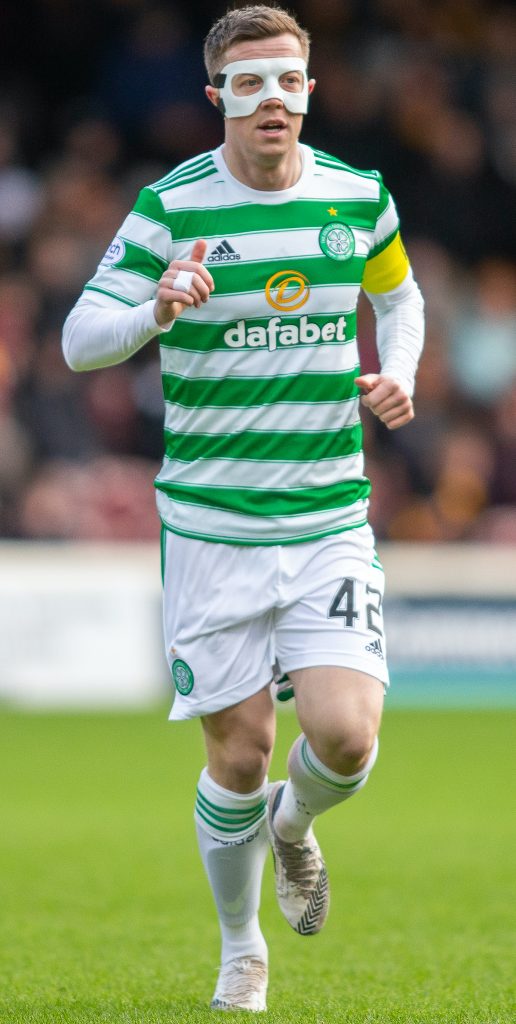 CAL-MASK…Celtic skipper Callum McGregor wears his protective facial gear for the second game.
OVER THE TOP…Callum McGrgeor blazes a shot off target with Stephen O'Donnell doing his best to block the attempt.
BLIZZARD OF OZ…Tom Rogic clips in the third goal.
WELL DONE…Daizen Maeda and Tom Rogic after the Aussie had made it 3-0 at the interval.
THREE AND EASY…Liel Abada, Tom Rogic and Anthony Ralston celebrate.
IN WITH A SHOUT…Giorgos Giakoumakis put in a good performance for 62 minutes before being replaced by Filipe Jota.
THE PERSONAL TOUCH…Giorgos Giakoumakis on the receiving end of an unsual challenge from Bevis Mugabi.
INNOCENT…Giorgos Giakoumakis pleads his case to referee John Beaton with Callum McGregor looking on.
APPEALING GREEK…Giorgos Giakoumakis states his case.
NUMBER FOUR…Daizen Maeda sees his shot deflected by the lunging Bevis Mugabi over the head of keeper Liam Kelly.
FLAT OUT FOR SUCCESS…Daizen Maeda prepares to accept the congratulations of Matt O'Riley.
LET'S FACE IT…Daizen Maeda celebrates in his own unique fashion.
S-T-R-E-T-C-H…Daizen Maeda fires one over the top.
THUMB'S UP…Daizen Maeda acknowledges his wayward attempt.
ON THE BALL…Filipe Jota displays his artistry.
STILL ON THE BALL…Filipe Jota prepares for a throw-in.
HEAD BHOY…James Forrest attempts to get on the end of a Filipe Jota cross with Nathan McGinley for company.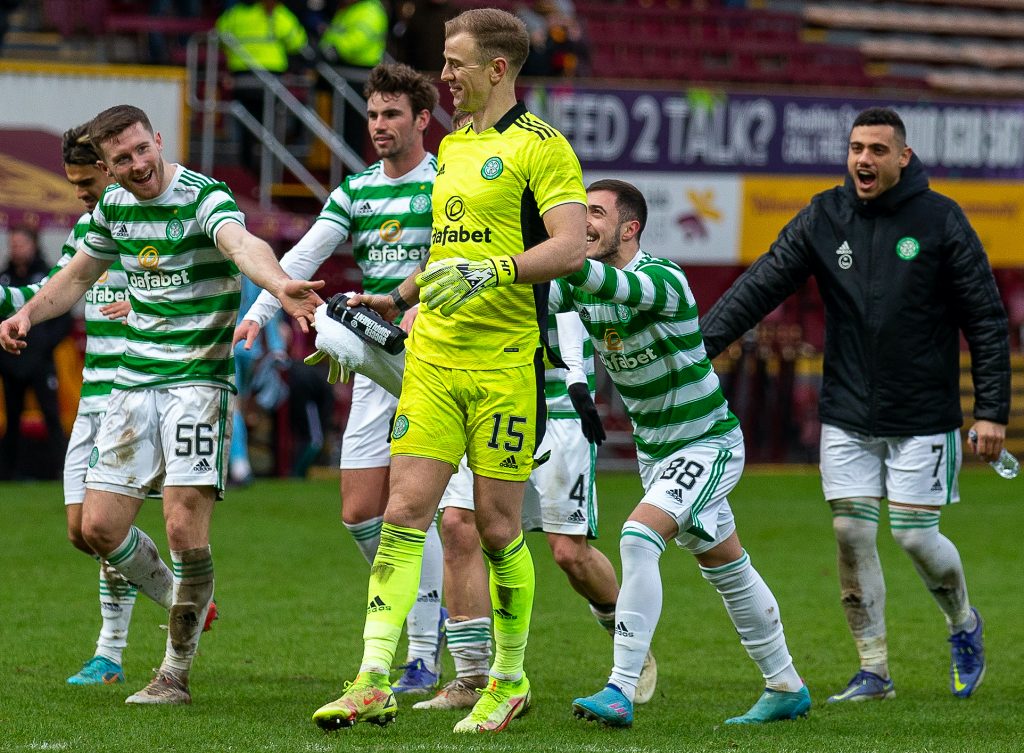 BHOYS' OWN…Joe Hart takes the lead role in the aftermatch celebrations.
FIST OF GLORY…Joe Hart acknowledges the fans.
NO FLAGGING…Ange Postecoglou applauds the fans after another job well done.
Click Here for Comments >