BRENDAN RODGERS is back in charge of Celtic after an absence of over four years.
The Irishman won seven successive domestic honours during his first spell as manager after arriving in May 2016.
It was a rollercoaster two and a half years before he departed Parkhead in hasty and controversial exit.
Life was rarely dull when the charismatic gaffer was around.
In another CQN EXCLUSIVE series, we are celebrating Rodgers' second homecoming by reviewing the first two and a half years of his Celtic adventure.
Author Alex Gordon, who has had fifteen Celtic books published, including '50 Flags Plus One', 'CELTIC: The Awakening' and 'That Season in Paradise', opens the pages of another publication, 'The History Bhoys', to chart the progress of an extraordinary character.
Please enjoy.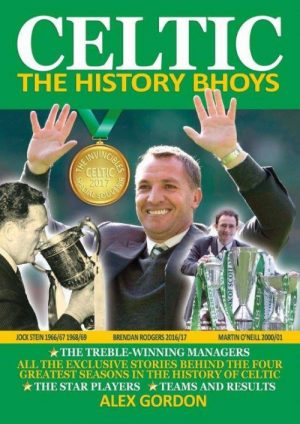 BRENDAN RODGERS was in a philosophical mood as the applause for his historic double treble-winning deeds of his second season in 2017/18 faded to a crescendo.
There is no chance of the Celtic manager allowing an inflated ego to carry him off towards dangerous territory. The man from the village of Carnlough, in County Antrim, Northern Ireland, is as grounded an individual as you will find.
There are no chest-thumping moments of bravado or wayward promises from a 45-year-old team boss whose focus remains rigidly on winning football games.
He admits there is no place for sentiment in the sport. He paid £1million to Bundesliga outfit RB Leipzig for centre-half Marvin Compper in January 2018, but the one-time German international did not even get 90 minutes on the pitch for the seven-in-a-row champions.
The defender made his debut in the 3-0 Scottish Cup win over Morton at the start of March, was taken off near the end and was never seen again for the remainder of the campaign.
A seven-figure transfer deal does not guarantee a place in a Brendan Rodgers line-up.
THUMB'S UP…double treble-winner Brendan Rodgers shows his delight.
Similarly, he would not be enticed into affording Chelsea loanee Charly Musonda any more game-time than he thought was deserved. The 18-month temporary contract had a year shaved off it at the end of the season and the 21-year-old Belgian playmaker returned to Stamford Bridge.
With one minute to go in the Scottish Cup Final, Rodgers might have thought about giving Patrick Roberts the opportunity to say farewell to the fans after his two-and-a-half years as a Celtic player on loan from Manchester City.
Instead, Rodgers introduced Scott Sinclair for James Forrest to see out the fading moments at Hampden.
That's the way he calls it, a man who can take a step back and remain detached from the sea of euphoria that can sometimes engulf all-too-willing participants whose desire for praise and adulation appears as important as oxygen.
Rodgers looks at the bigger picture and says: "For teams like ourselves, it's not the punches to the head and body that stop you, it's the pats on the back."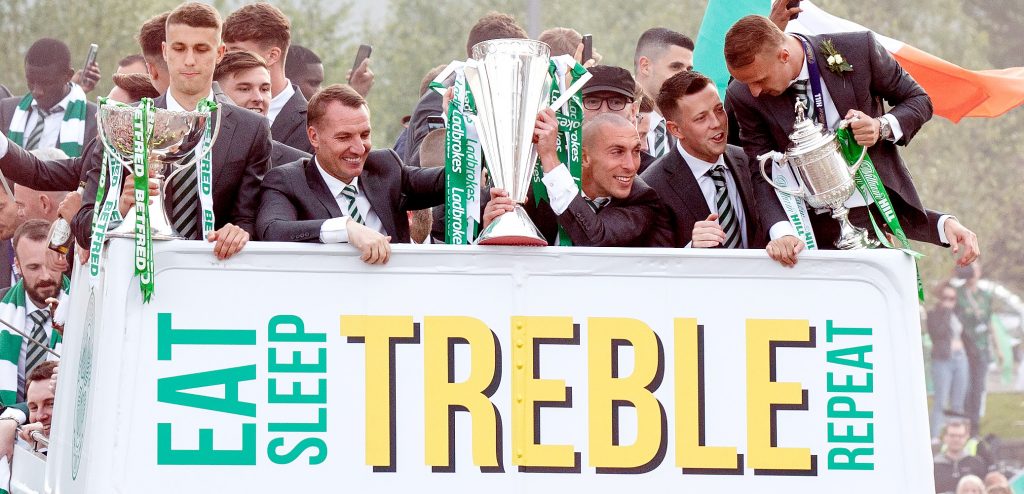 SILVERWARE PARADE…Brendan Rodgers and skipper Scott Brown hold the Premiership trophy on the open-deck bus display. Jozo Simunovic takes care of the League while Leigh Griffiths has the Scottish Cup in his grasp.
He has been victorious where no Scottish manager has succeeded in the history of the Scottish game, winning six trophies in two years.
However, he has no interest in personal glory. He insists: "My satisfaction is for the club as a whole, the joy it will give people and during the off season and then it will all quickly be forgotten about and we'll go again next year.
"When you come off the back of a really successful season like last year, it's so easy to go soft and timid and not have quite the same aggression and that's something I was really aware of.
"We have to continue to work. The spirit of the team is strong, the mentality of the team is to improve and get better.
"I don't have players who don't want to be better every day and that's clearly important. We can never be satisfied. In the cycle or era that we'll be here, for however long it is, we have to be hungry to succeed.
"Winning everything, that's the idea. I certainly need to push them even harder next season. They won't get the pats on the back. This is our job, we are here to win. I think we can be better."
* TOMORROW; Don't miss the ninth instalment of the remarkable Brendan Rodgers Story so far.
Click Here for Comments >