BRENDAN RODGERS is back in charge of Celtic after an absence of over four years.
The Irishman won seven successive domestic honours during his first spell as manager after arriving in May 2016.
It was a rollercoaster two and a half years before he departed Parkhead in hasty and controversial exit.
Life was rarely dull when the charismatic gaffer was around.
In another CQN EXCLUSIVE series, we are celebrating Rodgers' second homecoming by going back right to the start of his Celtic adventure.
Author Alex Gordon, who has had fifteen Celtic books published, including '50 Flags Plus One', 'CELTIC: The Awakening' and 'That Season in Paradise', opens the pages of another publication, 'The History Bhoys', to chart the progress of an extraordinary character.
Please enjoy.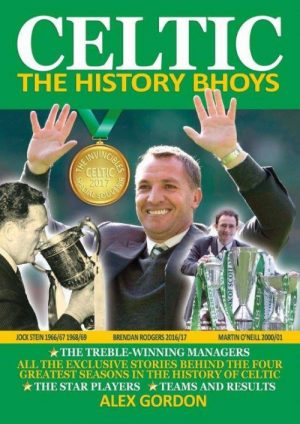 BRENDAN RODGERS was standing drenched on the Hampden touchline while his all-conquering players cavorted on the pitch behind him to the strains of "You'll Never Walk Alone".
A goal deep in stoppage time by Tom Rogic had just beaten Aberdeen to give Celtic the Scottish Cup to complete the historic treble.
Rodgers, in his first season, had led the club to an unprecedented forty-seven game unbeaten sequence against Scottish opposition – something never achieved by any team before his Invincibles.
The TV interviewer stated: "This club have fallen in love with you and you have fallen in love with this club."
The Irishman practically snapped: "No!"
The manager swiftly explained: "I was born into Celtic. I was born into a Celtic family. There's been no growing into this club.
REIGNING IN THE RAIN…Brendan Rodgers holds aloft the Scottish Cup with Lisbon Lions Willie Wallace and John Clark joining in the applause.
"There has only been pride and and it's a huge privilege to manage Celtic. I have always wanted to manage Celtic. I'm here now and I just think it is the right time for everyone, myself and the club."
As the rain still swirled around the national stadium, Rodgers added: "We've created an identity this season and, hopefully, we can build on that and improve over the coming years. What we have achieved has been really spectacular."
Rodgers also described the "special feeling" of emulating Jock Stein and Martin O'Neill after leading Celtic to the fourth treble in their history.
"Maybe the stars were aligned this year," he smiled. " I remember the centenary year for Celtic and there's just a feeling about this season. But don't get me wrong, we've had to earn it. We've worked hard.
"It's a huge honour. I think what the players have achieved and you see how difficult it is, the great history of this club and the great managers and players who have been here before me.
"To have achieved that in the first season, along with everything else that we've done is very humbling.
HAMPDEN HOORAYS…Brendan Rodgers salutes the fans after an epic Scottish Cup Final.
"I still get a wee bit of a funny feeling, it doesn't sit quite right with me. Jock was a real pioneer in leading the club where they wanted to go. Martin did an incredible job here.
"History will judge me and I've only just begun, so when I leave here people will look at what I did. It's been truly enjoyable. It's a really special feeling today."
A dramatic 2016/17 campaign was edging to a shuddering climax with Celtic and Aberdeen locked at 1-1 in the Scottish Cup Final on a day of crazy changeable weather conditions in Mount Florida on the Saturday afternoon of May 27, 2017.
The champions had been rocked when the Pittodrie outfit had taken the lead through an effort from Jonny Hayes, but, thankfully, Stuart Armstrong had the perfect response with the leveller just over a minute later, a low left-foot drive from the edge of the box that zipped beyond the desperately diving Joe Lewis.
Two minutes into stoppage time, the scoreline hadn't changed – until a moment of magic from the man known as the Wizard of Oz, Tom Rogic. No danger threatened as he picked up a pass from Stuart Armstrong and ambled forward. There was a spurt of acceleration to leave Anthony O'Connor in his slipstream.
WINNER ON THE WAY…Tom Rogic pulls back his right foot before claiming the Scottish Cup clincher with Dons pair Any Considine and Anthony O'Connor mere spectators.
Menacingly, Rogic carried into the penalty area, a shimmy one way and then another bamboozled Andy Considine before the Aussie playmaker spotted a space between the keeper and his near post. With a nonchalant sweep of his right foot he tucked the ball sweetly into the net.
About a minute later, referee Bobby Madden blew his whistle for time-up and the Scottish Cup was on its way to the east end of Glasgow to keep the Premiership and the League Cup company in the Celtic Park trophy cabinet.
History had been made with virtually the last kick of the ball.
It had been that kind of season.
* TOMORROW: Don't miss the eighth instalment of the remarkable Brendan Rodgers Story so far.
Click Here for Comments >