BRENDAN RODGERS is back in charge of Celtic after an absence of over four years.
The Irishman won seven successive domestic honours during his first spell as manager after arriving in May 2016.
It was a rollercoaster two and a half years before he departed Parkhead in hasty and controversial exit.
Life was rarely dull when the charismatic gaffer was around.
In another CQN EXCLUSIVE SERIES, we will celebrate Rodgers' second homecoming by going back right to the start of his Celtic adventure.
Author Alex Gordon, who has had fifteen Celtic books published, including '50 Flags Plus One', 'CELTIC: The Awakening' and 'That Season in Paradise', opens the pages of another publication, 'The History Bhoys', to chart the progress of an extraordinary character.
Please enjoy.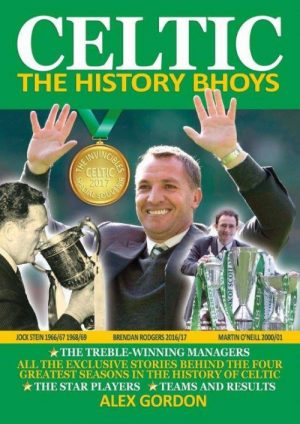 BRENDAN RODGERS realised only too well the awesome responsibility that had been placed upon his 44-year-old shoulders after his arrival as Celtic manager.
As he addressed around 13,000 expectant fans at Parkhead on the afternoon of May 20 2016, the Irishman said: "For me, the objectives are pretty clear; to continue with the domination of Scottish football and also to make an impact in European football as this club is steeped in that tradition.
"You obviously go back to 1967 when Celtic became the first club from these islands to win the European Cup. There is a huge history here for the club in Europe."
So far, so good for the Irishman. Until the 48th minute of his initial competitive confrontation, the first leg of the Champions League second round qualifier against Lincoln Red Imps on July 12 in Gibraltar.
WE'RE BEHIND YOU…the signs are good for new boss Brendan Rodgers.
The tie was viewed as a potential banana skin. The shabby, unkempt artificial playing surface would prove to be a great leveller in terms of minimising the quality of the visiting players. The conditions were never going to favour Celtic. And so it proved.
In front of a meagre crowd of 1,632, the second-half was only three minutes old when Efe Ambrose misjudged a long ball down the middle into Celtic territory. It looked like a routine clearance.
However, Lee Cascario, a 34-year-old Ministry of Defence police officer, took advantage of the Nigerian defender's fatal error and slid the ball beyond the exposed Craig Gordon. Leigh Griffiths twice struck the woodwork, but the face-saving equaliser wasn't in this particular script.
Red Imps captain Roy Chipolina, a thirtysomething local Customs Officer, was in no mood to play down the achievement of the minnows. He declared delightedly: "This is the biggest shock in European footballing history."
It was difficult to mount a cogent argument.
However, the latest incumbent of the Celtic dug-out, at least proved he did not possess a panic button. While the world apparently collapsed around his ears, he said: "There's no embarrassment," adding: "It was a tough game in tough conditions.
ON TARGET…Patrick Roberts was a marksman in the 3-0 win over Lincoln Red Imps at Parkhead.
"We dominated and had enough chances, but sometimes it can happen like that – one ball up the pitch and they're in. They took their chance.
"You let the local team have their night, we press on, another week's training and be better for it. It's a two-legged affair and our objective is to get through. The message for our fans is to stay calm."
A week later, 55,632 followers turned out on a balmy Glasgow evening to witness Celtic winning the second leg 3-0 with three quickfire goals in seven first-half minutes from Mikael Lustig, Leigh Griffiths and Patrick Roberts.
The Champions League adventure was still on; commendably, the manager had never been in any doubt.
TOMORROW: Don't miss the fourth instalment of the remarkable Brendan Rodgers Story so far.
Click Here for Comments >