DAVIE HAY was appointed manager of Celtic on July 4 1983 as he replaced fellow-legend Billy McNeill who had quit to take over Manchester City.
Despite his inexperience in the dug-out, the Hoops had given the awesome responsibility of the top job to their former player who was only 35 at the time.
During four turbulent years in charge, Hay won a league and Scottish Cup before the sensational return of McNeill to lead the club into their centenary year of 1988.
In another CQN EXCLUSIVE, we look at the difficult start and an extraordinary Hampden triumph Hay experienced in his first two seasons at Parkhead with the inside story from his 2009 autobiography, 'The Quiet Assassin,' co-authored by his long-time friend and writer Alex Gordon.
Please enjoy.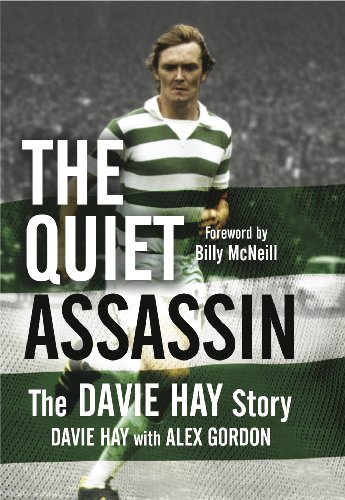 MY first season as Celtic manager had drawn a blank. I didn't need reminding that it was the first season since 1978 that the club had not won a trophy.
So, you might assume, correctly, that there was a fair bit of pressure on yours truly on a wet and windy afternoon on May 18 as we lined up to contest the Scottish Cup with our so-called hoodoo outfit Dundee United at Hampden. I had ninety minutes to turn things around or face another barren campaign.
That weighed rather heavily on me although I went out of my way to disguise my emotions. If the players perceive the manager is a nervous wreck or showing signs of being overly-stressed it will undoubtedly transfer to them. Outwardly, I was as upbeat as ever. Inwardly, I knew I defeat was unthinkable.
BEFORE…Davie Hay lines up with skipper Danny McGrain, Pat Bonner and Tommy Burns during the pre-match formalities in the 1985 Scottish Cup Final against Dundee United at Hampden.
AFTER…Davie Hay holds aloft the Scottish Cup following a dramatic Hampden encounter against Dundee United.
We had met the Tannadice outfit nine times over the two seasons I was in charge at Parkhead and won only once, a 3-1 triumph in the league at their place on October 20 1984. That was our solitary success from eight league head-to-heads. They had beaten us three times and the remaining four matches had ended all-square.
There wasn't much between the teams, but they had also knocked us out of the League Cup at the quarter-final stage, winning 2-1 at their place. I felt it was appropriate that we do something about it. It was time for the Celtic support to celebrate again. A crowd of 60,000 turned out to witness the spectacle that was the 100th Scottish Cup Final.
As usual, United sat back and allowed us to come at them while they went through their cat-and-mouse routine. They would suck you in and then hit on the break. We had encountered it nine times in two seasons and here we were at Hampden going through it all again.
THE EQUALISER…Davie Provan (extreme left) sends a sublime free-kick over Dundee United keeper Hamish McAlpine into the top corner of the net to make it 1-1.
I warned my team about keeping their wits about them at all times. 'Take your eye off this lot and they will punish you,' was one of the last things I said to my players in the dressing room. It was goalless at the interval and I was reasonably satisfied with what I had seen from my team.
Sure enough, Jim McLean had set out his tactics as he had done so many times before. They were trying to lure us upfield and then explode behind us with their pace. About ten minutes into the second-half we were a goal down. They had done it again. I couldn't believe it. Our defence was left exposed, Roy Aitken had to try to match Stuart Beedie for speed and the United frontman got through to squeeze the ball low past Pat Bonner.
That's the way it stood with around fifteen minutes to go. Managers are paid good money to think on their feet and I made two momentous decisions that could have backfired spectacularly. I took off Paul McStay and Tommy Burns and put on Pierce O'Leary and Brian McClair.
Tommy was far from happy about being removed from the action. He muttered something as he walked past me on the touchline and I said, 'Just shut up and sit on your backside.'
JOY BHOYS…goalscorer Davie Provan is congratulated by Pierce O'Leary as Willie McStay races to join in.
The tension was beginning to tell. It was all or nothing now. I put O'Leary into the middle of the defence alongside Tom McAdam and freed Aitken to get forward on the right. I thought his running power might unsettle the United back-lot.
The switches worked a treat, I am happy – and relieved – to tell you.
Davie Provan curled an exquisite twenty-five yard free-kick high past United keeper Hamish McAlpine for the equaliser. Game on! We wouldn't be denied and we weren't about to play out time to take the game into an extra half-hour. We could sense victory was ours and, with the clock ticking down, we struck a deadly blow.
Six minutes remained when Aitken went on a lung-bursting run down the right before thumping over a ferocious cross to the near post. Frank McGarvey made contact with his head and powered the blurred object beyond a helpless McAlpine and the trophy was ours.
THE WINNER…Frank McGarvey is flat out as he watches his header fly into the net with Dundee United defender Richard Gough looking on in obvious alarm.
The first guy to congratulate me immediately after the final whistle was Tommy Burns. He wasn't one to bear a grudge. By the way, that Cup winner was to be McGarvey's last goal for the club and I have often been asked why I transferred him to St.Mirren that summer.
I read in the newspapers not that long ago that Frank revealed that his goal had saved me from the sack. I saved myself from getting a P45, Frank.
Actually, I think he should have thanked me for allowing him to stay on the Hampden pitch that afternoon. I made HIM a hero. While I was mulling over my substitutions, I admit I did think of taking off McGarvey. Even he might admit he wasn't playing particularly well against United.
But something popped into my head that my old Motherwell gaffer Ally MacLeod used to say. 'Don't take off a goalscorer,' Ally would repeat over and over. 'When you need a goal, keep on your goalscorer.' That stuck with me and, boy, did we need a goal against Jim McLean's team that day.
PICK IT OUT…Frank McGarvey prepares to race away in triumph as Dundee United keeper Hamish McAlpine and his defenders get that sinking feeling.
Frank was coming out of contract that summer and I decided to offer him an extension. I duly did so and I presented him with a deal that was identical to the one that was about to expire. I could see he was distinctly underwhelmed by my gesture.
Frank believed he was worth more and I disagreed. I thought he was on reasonable money and I told him so. I asked him to go away and think about it. However, I detected more than just a slight rumbling of discontent from my player.
Like Jock Stein eleven years beforehand in my own situation, I didn't want a dissatisfied player in my dressing room. I already had Mo Johnston, signed for £400,000 from Watford in October that season, and Brian McClair to lead the attack. I was already planning in making them my regular partnership up front in the new term.
Brian had completed the season with twenty-four goals and Mo chipped in with nineteen. I had also signed Alan McInally for £100,000 from Ayr United and the bustling hitman, nicknamed Rambo by the fans, was scoring on a regular basis, too.
Frank, Cup hero or not, was expendable. I actually accepted a reduced transfer fee from St.Mirren for the player to enable him to get a more lucrative signing-on fee. I'm still waiting for him to say thanks.
THE CUP THAT CHEERS…goalscorers Davie Provan and Frank McGarvey share the joy with the Celtic supporters.
Actually, reaching the Scottish Cup Final was a bit of a slog for us. We made heavy weather of dismissing Hamilton in the opening round. We edged through 2-1 with goals from McGarvey. At least he started as he meant to carry on in this competition.
We sauntered to a 6-0 win over Inverness Athletic, as they were called back then, with a hat-trick from Paul McStay and singles from MacLeod, Johnston and, you've guessed it, McGarvey. We were held to a 1-1 draw by Dundee at Dens Park, but we managed to beat them 2-1 at our place with goals from Johnston and, yes, McGarvey.
The semi-final was scheduled for April 13 and Motherwell battled out a goalless draw before collapsing 3-0 in the replay a few days later with Johnston (2) and Aitken doing the damage.
Then it was the turn of Dundee United to be added to our hit list.
*TOMORROW: Don't miss Day Three of Celtic Confidential as Davie Hay reveals all.
Click Here for Comments >