We started a series last week looking back at Celtic's English opponents in Europe and so far have covered the first four ties, one a decade in the 60s, 70s, 80s and 90s. We'll also have a look at our games against Spanish and German sides over the next few weeks.
In these eight matches against English sides in Europe Celtic have won 3, drawn 3 and lost 2 but were eliminated on three occasions. All matches were close affairs with Celtic notably playing well in the away ties.
Here are the features from last week for you to have a look at.
ENGLISH OPPONENTS IN EUROPE:
LIVERPOOL 1966…READ HERE.
LEEDS UNITED 1970….READ HERE.
NOTTINGHAM FOREST 1983…READ HERE.
LIVERPOOL 1997…READ HERE.
Now for Men Against Boys…
FIVE years after going out to Liverpool on the dreaded away goals rule Celtic were drawn to play Blackburn Rovers in the UEFA Cup. Martin O'Neill had come in and had transformed Celtic's fortunes in a more positive way that anyone since Jock Stein almost 40 years earlier.
In his first 2 seasons, he had guided Celtic to SPL glory by 15 points in 2001 and by 18 points in 2002. To put that in perspective,  Celtic had trailed (a cheating) Rangers by 21 points, at the end of 1999-2000, just a couple of months before O'Neill took over. In addition, O'Neill had led Celtic to the first domestic treble in 32 years.
An extra dimension was added to this particular 'Battle of Britain' with the presence of old foe Graham Souness (EBT) as the Blackburn Rovers manager. The home game, on the last day of October, was one of Celtic's poorer displays on the road to Seville. However, Celtic did manage a win; as a bonus, Blackburn failed to grab any vital away goals. With time running out, Larsson grabbed a goal. His 85th minute strike gave Celtic an important advantage going into the away leg. Goalkeeper Brad Friedel could only parry  a header from John Hartson and Larsson was waiting to convert the chance. This was Larsson's 22nd European goal and broke Ally McCoist's Scottish record. Throughout the game, Blackburn had more of the play. Fortunately for Celtic, Blackburn failed to turn their undoubted superiority into goals.
At the end of the game, Souness made his infamous quote that the game was 'men against boys' and these words came back to haunt him 14 days later.
In the early stages of the Ewood Road encounter, Blackburn created a few chances. Rab Douglas had excellent saves from, first, Andy Cole then Damian Duff. However, Celtic took the lead in the 15th minute, through the talismanic Henrik Larsson. Larsson ran on to a Sutton pass, Craig Short slipped and Larsson clipped the ball over Blackburn goalkeeper Brad Friedel to put Celtic ahead.
Blackburn now required 3 goals to go through. However, for the remainder of the first half, Celtic were in total control and it  really was 'men against boys.' Stillian Petrov came close with a long range free kick. Blackburn had a few chances but Rab Douglas was in outstanding form and dealt with anything that the home side could muster in a calm manner. His confidence spread through his defence, where Valgaren and Balde completely dominated the highly rated Blackburn attacking duo of Dwight Yorke and Andy Cole.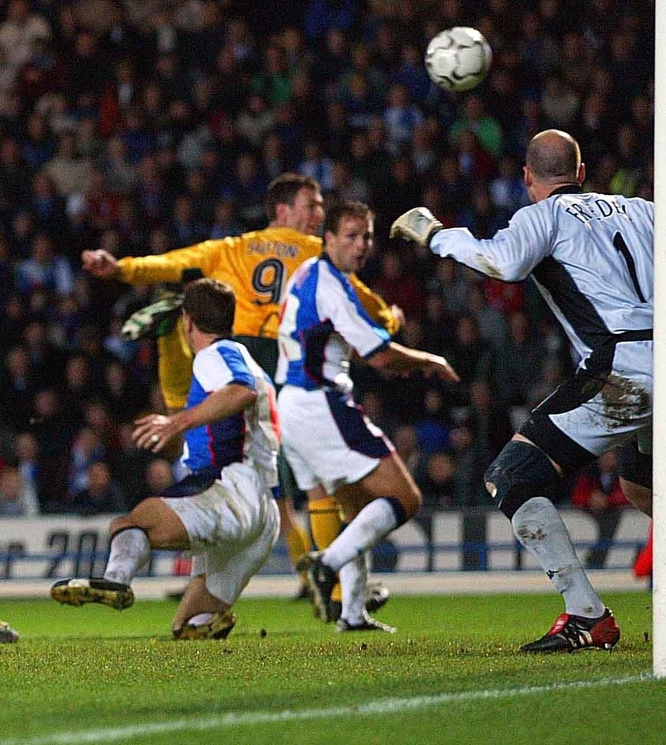 At the beginning of the second half, Larsson fired just wide from outside the penalty box.  Then a Larsson cutback was knocked into Hartson's path by Sutton. However, Hartson mishit his shot with the goal at his mercy. Shortly after that, Sutton came close with a header from a Steve Guppy corner.
However, Celtic received the reward for all the pressure, in the 68th minute. Sutton put the game totally beyond Souness' boys with a superb glancing header from a Petrov corner. Friedel reached it but could only help the ball into the roof of his net.
Blackburn finished the match strongly but a combination of poor finishing and good goalkeeping from Douglas meant that Celtic were through on a convincing 3-0 aggregate score. This was  Celtic's most convincing ever win against English opposition in Europe.
It was a very satisfying win for all associated with Celtic. However, for Celtic manager Martin O'Neill, it must have been unbelievably sweet. Years earlier, O'Neill had been badly hurt by  a typical crude Souness tackle, when O'Neill was winding his career down at Notts County.
O'Neill completely outmanoeuvred Souness tactically. He played Sutton in an unfamiliar role, just behind Larsson and Hartson. It was a gamble, because it meant sacrificing Celtic and Scotland captain, Paul Lambert. It worked a treat, with Sutton being the best player on the park. Souness, sporting as ever, said after the game that, 'Lady Luck was with Celtic.'
The Celtic support that night was as magnificent. How they enjoyed themselves!
NEXT IT'S THIRD TIME LUCKY AGAINST LIVERPOOL!
Written by Hugh Gallagher for CQN.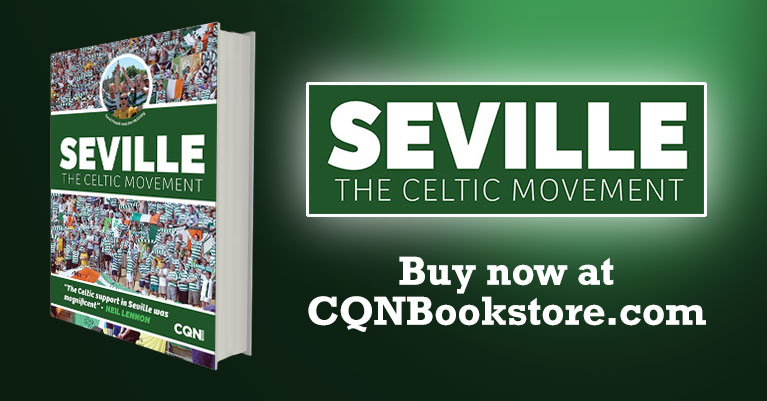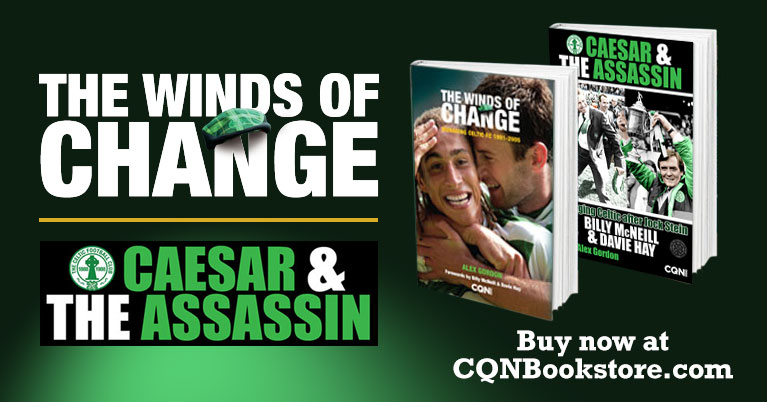 Click Here for Comments >