FORMER Celtic star Andy Ritchie has revealed his battle against the killer disease coronavirus.
The 64-year-old ex-midfield ace and Hoops scout battle has been forced to spend the last FORTNIGHT in bed with the terrifying infection.
Ritchie suffered a burning fever and told the Scottish Sun, said: "I've never had anything that totally debilitates you all over your body like this.
"It was just there, pulling my system right down.
"I've had flus over the years that have been worse in terms of everything feeling sore.
"But this just makes you feel really unwell. I could feel my body trying to fight against it. Everything seemed to be over-compensating for what was going on inside, which sounds crazy.
"You're up and down, drinking water and taking paracetamol in the hope it gets better.
"The body is just not strong enough to fight it off.
"You can't put your finger on what's wrong. It just goes right through your body."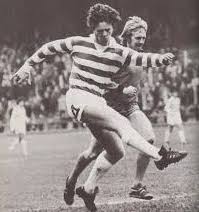 BY THE RIGHT…Andy Ritchie, during his Celtic days, fires in a shot with Dundee United defender Allan Rennie too late to intervene.
Two months earlier, Ritchie's youngest son Stephen had visited Milan where the coronavirus outbreak swept the country.
The former Morton hero continued: "The last time I was out was March 8, the Sunday. I'd gone to Morton v Arbroath the day before and, coming back up the road, I didn't feel great.
"By the Sunday evening, I was starting to get a temperature and could feel something coming on. I'd read a bit about the symptoms they said were related to coronavirus.
"I had this warm tingling sensation across my chest and tingling in my fingers.
"I just thought I wasn't well. You wonder if you are imagining it because people are saying all these things.
"Once it started to come on properly, the symptoms they talked about were what I had. I wasn't totally breathless, but I could feel a difference.
"I'm a smoker and it felt like the morning after when you had smoked more than normal the previous night.
"Years ago, when I was on the drink, as well, I'd get up with that heavy breath, but it would last a day then be away.
"With this, I was trying to catch my breath."
Ritchie, though, is beginning to feel as though he is on the mend and he added: "I do feel a lot better now. I've not been eating the same, so I still feel a wee bit weak.
"People need to be sensible and protect the people who need protecting."
Ritchie had a promising start to his career at Parkhead and was tipped by Jock Stein to have a great future ahead of him. However, the legendary Celtic boss swopped the playmaker for Morton keeper Roy Baines in 1976.
The player became known as 'The Idle Idol' at Cappielow with his ambling style, but he had seven fabulous years at the Greenock outfit – winner the Scottish Player of the Year award in one of the seasons – before moving to Motherwell.
He also turned out for Clydebank, East Stirling and had a spell as player/manager at Albion Rovers in 1984/85.
Click Here for Comments >