TOMMY BURNS surprised a few people in Scottish Football in 1989 when he decided to leave his beloved Celtic to drop down two divisions and join Kilmarnock. The man that Tommy made his Captain to get Kilmarnock back to the top flight, Ray Montgomerie, answers Ten Questions in a row on the great man himself. Ray knew Tommy not only as a fellow player or as his Manager but he was a close personal friend. Scott Alcroft asks the questions for CQN Magazine…
When did you first hear that Kilmarnock were looking to bring Tommy in?
From memory Scott, it was just after his Testimonial game at Parkhead. There was a bit of turmoil here at the time, the club was in the middle of a takeover. There was going to be fresh investment made and the new board wanted to make a bit of a statement. You know, it was a major story in Scotland at the time. Tommy was coming to the end of his Celtic career and I think the new board saw an opportunity there so they went in for him.
Could you quite believe it was happening? It was a massive coup for Killie at that time.
Well, we were only a part-time Club at the time and Tommy was our first ever full-time player! You have to look at it like this. We only trained on a Monday and a Thursday night then and then one Thursday night, a Scottish Internationalist and top,top player was sitting in the changing room ready to go out and train. We couldn't quite believe it.
Tommy obviously bought in to what the plans were for the Club and it shows the measure of the man that he was willing to drop two leagues not only to make his mark on the team but the Club as well.
What can you remember about the first time you met him?
I had played against him a few times and was a wee bit in awe of him yes. It was just surreal that he was actually here at first. I was asking myself, should I even be in the same team as this guy. As time went on though, in training especially, I got in his face sometimes and he got in mine and the arguments we had.
The one thing about Tommy is that when you had an argument with him, he never carried it on. It was forgotten about once it was done. He never held grudges and that was the kind of guy he was. What he did as well was, because of the level of player he played with at Celtic, we felt like we had to raise our game and we did.
Tommy is known for his amazing sense of humour. What sort of mischief did he get up to?
I remember this one time at the end of the season, my contract was running out and a few teams were looking at me. Back in those days, you got six weeks off and not something like the two you get these days. Before I went on my holidays I shook hands with TB and said, don't worry TB I'll be here next year and off I went. I went on my holiday and Tam went on his. When I got back, my wife said there was a mystery caller on the phone from the press. Now I wa
s a bit naive then with the press and didn't really speak to them much, not like today but that comes with experience.
I took the call and the question from the journalist was, 'What do you think of the job Tommy Burns and Billy Stark are doing at Kilmarnock?'
So I'm in full swing, I start singing their praises, they're the best thing since sliced breed, both of them are so far ahead of their time etc etc to be met with roars of laughter in the background.
Tommy had the phone on loudspeaker to all the boys in the dressing room haha. So I comes in on the Monday to all the boys, oh aye, you and Tam Burns are like that eh? Teacher's pet. As I came back in, as a measure of the man, I sat down and signed the new contract and Tommy made sure my wages got back dated the six weeks as well. That was the thing, we shook hands and that was both our word, the deal was done six weeks previously. Another club could've offered me treble my wages and I wouldn't have gone.
Was Tommy apprehensive about moving from being a player to a manager or was he a natural?
Tommy was always going to be a manager. He was so far ahead of his time and watched videos of the Italian League all the time and stuff like that. He was very tactically aware and his philosophy on how the game should be played was there for all to see.
He would dissect everything about the game. He wanted to be his own man and you just knew that management was going to come naturally to him.
What set Tommy apart from other managers you worked with and how do you think he would cut it as a manager in today's game?
His Man Management skills were second to none. Don't get me wrong, he could be fiery with that red hair of his but like I said earlier, once an argument was done with, that was it. He never continued it or held a grudge. In a football environment he was fiery but every day in life he lived by his religion, his faith and his family.
They say humility is the greatest gift of life and Tommy had that in abundance. He would very much cut it today as a manager. The stuff Tommy was doing in 1993, teams are only starting to do now. He was years ahead of his time.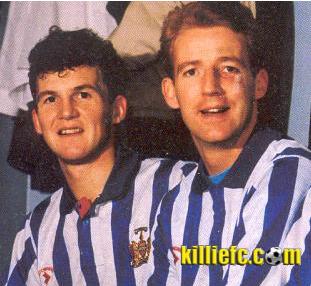 Did the rumblings of Fergus McCann wanting Tommy to manage Celtic disrupt Killie?
We'd heard the rumours that Fergus McCann was trying to poach Tommy from Kilmarnock Football Club. Personally speaking, it was the right job for him, just at the wrong time. I was honoured and privileged because Tommy phoned me up personally and told me of his decision. He even got all the players in and told them too before the story broke.
I have to tell you Scott, he pondered it and pondered though for a very long time.
Now you as a Celtic supporter might find that strange as why would he do that to the Club he loves? I'll tell you this, because of the type of loyal person he was. He didn't like breaking deals and he was on a journey here and building something special.
He told me personally that if he was ever going to leave Kilmarnock then it was only going to be for one club and that was Celtic. The timing was wrong but his way of looking at it was this. How often is the Celtic job going to come around and what if I don't take it?
Would it be offered to me again?
If you're faced with that opportunity do you take it? I say he was right in the end, you go for it. He left here with a heavy, heavy heart. I believe we got compensated for Tam but he would've liked it to be done through the proper channels.
Fergus McCann was ruthless but that was just the way he did business. Tommy Burns made it known that he wanted Kilmarnock to get compensated and not Fergus McCann. The Kilmarnock fans weren't happy at the time but they bear no ill feelings whatsoever to Tam. I wish he'd stayed here and completed the journey he started here but I totally understand why he went.
The fans weren't mad with Tommy leaving as such, they were mad at the way Fergus McCann conducted his business. It's all forgotten about now and Tommy is still very well thought of here.
If there's one thing you could change about Tommy's time at Killie barring him leaving, what would it be and why?
I would've liked to have seen him finish what he had started for sure. I'll tell you this one. There was a Scottish Cup Semi Final against Rangers in 1994. Rangers beat us in a semi final that year and Dundee Utd went on to win it.
We were beating Rangers 1-0 at half time. A corner kick comes in second half, Mark Hateley headers it and I clear it off the line. It's NEVER in but the referee gives a goal. Now this was long before goal-line technology as you know.
Tommy drew me into a wee room in Hampden and starts going off the heed. "Tell me, tell me before I go in there and give them what for, was that baw over the line or no?" I said, "Tam, that baw wiznae over the line."
He never said a word and stormed off cause he knew I wouldn't lie.
He went straight into the referee's room to give them it. You know he felt we were cheated but I'll tell you this as well. He came on the bus after the game and says, "take a good look at it, we'll be back here and we'll win that Scottish Cup."
We won it in 1997 but I wish we'd won it for Tommy in '94.
Do you see similarities in the way Tommy Burns Celtic side were and how Brendan Rodgers side is today in the way they try to play football?
I do, but wasn't Brendan with Tommy when he was at Reading? I don't know Brendan personally but I've been in and around his company.
You can see similarities with the way they press the game and the tempo they play at. TB was playing like that in 1993/94. We were squeezing teams down.
I think what Brendan Rodgers is also doing is trying to educate the Celtic support. They understand now how he's trying to play the game.
Talking about how we squeezed the game and Celtic do now, you just have to look at how PSG did it to Celtic at Celtic Park. That's the next level up right there. Now these things don't happen overnight. It's a philosophy that played out the training ground and Brendan and TB will have drilled that into their players day in day out.
Finally Raymond, was there one piece of advice that Tommy gave you or one conversation that has always stuck with you through your own life?
There is yes. I'll never forget it, Tommy pulled me to the side one day and said this. "Razz," he says, "see when you look at yourself in the morning? Just look at yourself and say, 'I want to be the best person that I can be today.'"
I've always done that to this day.
When I'm getting washed in the morning I always look in the mirror and say that. "Raymond, be the best person that you can be today."
Tommy not only touched my life, he touched so many as you've heard even talking to people here today. He was a special person and he's sadly missed.
AFTER THE INTERVIEW
Raymond, that was what I was looking for and so much more. I've always wanted to do something on Tommy Burns. He is Mr Celtic and a man that is held in so high a regard by Celtic fans Worldwide. I wanted to talk to someone that ticked all the boxes. Played with, against, managed by and a close friend. You ticked all those boxes.
What you've done today is something different, we've seen Tommy go outside his comfort zone at Celtic and thrive on it.
Like you said, he was building something at Kilmarnock.
He then came to Celtic and this probably isn't only my opinion but he wasn't given enough time as manager with us as he was building something with us too. You mentioned the ruthlessness of Fergus McCann and that was definitely proven when he sacked Tommy.
Thanks for your time today Ray and good luck with everything at Kilmarnock.
Interview by Scotty Alcroft copyright CQNMagazine, 2017.
@Sco2hot
#10IAR
NEW FROM CQN BOOKS! JIM CRAIG – RIGHT BACK TO 67, THE LISBON LION DIARY, ORDER A SIGNED COPY NOW!
CHECK OUT SOME OF THE GREAT CELTIC BOOKS AVAILABLE AT CQNBOOKSTORE.COM…
Click Here for Comments >