FORMER Scotland and Rangers goalkeeper Andy Goram has passed away at the age of 58 following a brief battle with cancer.
He was the controversial netminder who broke the hearts of Celtic managers, players and fans with some superlative saves and performances in Glasgow duels.
The Hoops earned every goal they put behind Goram in his seven years at Ibrox between 1991 and 98 and football followers, irrespective of which team they support, will unite in their sympathy for a truly excellent and gifted sportsman.
Celtic book author Alex Gordon recalls a meeting with the shotstopper before Goram moved to Ibrox.
SAFE HANDS…Andy Goram as a goalkeeper coach.
Alex, who was sports editor of the country's best-selling journal the Sunday Mail at the time, wrote the tale for his second book of newspaper memoirs, 'A Raccoon Stole My Thunder', which was published in November 2021.
Here is the complete chapter as it appears in the tome under the following headline:
GERS, GORAM AND THE GLOVE STORY EXCLUSIVE 
THE Rangers hierarchy denied an exclusive story I wrote and which appeared on the back page of the Sunday Mail not long before the conclusion of an exciting 1990/91 season. I wasn't too perturbed, I knew the tale was 100 per cent accurate.
Dixon Blackstock, a fine sportswriter at the newspaper at the time, received a call from Walter Smith, Graeme Souness' assistant manager, complaining about the lack of accuracy in my transfer report and also the timing of it.
Apparently, it may have been placed to unsettle goalkeeper Chris Woods before an important league game against Celtic at Parkhead in late March.
Someone else at Ibrox wanted to know where the yarn had originated. 'No truth in it whatsoever,' we were informed.
My story stated Andy Goram would be leaving Hibs to join Rangers in a £1million deal in the summer. I knew the move had been agreed and I was also aware Andy had been given a pre-contract medical and had passed without a problem.
GREAT SCOT…Andy Goram during one of his forty-three appearances for Scotland.
Of course, I couldn't go into greater detail because my source for the story would have become fairly obvious. I would never give up a name of a contact, so an impasse was reached.
I understood nerve ends would be jangling big-time with another campaign being played out during a drama-laden run-in to the championship. Rangers were the defending champions, but Aberdeen, under the astute management of Alex Smith, were gaining ground.
In such circumstances, even the most level-headed of individual can see snakes under every rock. Clearly, I had upset someone in Govan by breaking the news on a day the Ibrox club would be playing their age-old foes Celtic in the east end of the city.
The timing of the tale was completely coincidental, trust me. Naturally, at a Sunday title you only have one publication day. If you miss a story, it's highly unlikely it will remain quiet for another seven days. I had worked at the Daily Record for twenty years before taking over as sports editor at the Sunday Mail.
At the daily newspaper, you might get away with holding back a tale for one or two days, but it would have been rare to sit on a big story for a week.
I hadn't gone looking for a back-page headline-buster when I travelled through to Edinburgh for a meeting with my old chum Steve Archibald. The one-time car mechanic from Rutherglen who replaced Diego Maradona at Barcelona was back in Scotland after returning from Espanyol. Previously, he had had a two-year stint at Hibs where he and Andy Goram became friends.
Steve and I had arranged to go for a bite to eat in the Bar Roma restaurant in the city's west end. I was told Andy might pop in at some stage. No problem, as far as I was concerned. We were a couple of hours into the evening when the Scotland international goalkeeper joined us at our table.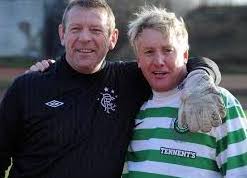 TWO OF THE BEST…Andy Goram and Frank McAvennie.
He had some good news to impart. Guess what? He was going to join Rangers at the end of the season. I realised Andy was not at the wind-up and Steve reminded him what I did for a living.
If this was an off-the-record conversation, I would never have written a word. Andy, though, insisted I could write the tale. He reasoned it would 'come out sooner rather than later'. There had been the usual whispers, of course.
At the time, UEFA, European football's governing body, were about to introduce a rule limiting foreign players, which meant Rangers could only field three non-Scottish players in European matches. One look at the Ibrox squad back then highlighted a monumental problem for Souness and Smith.
For a start, goalkeeper Woods was just one of seven Englishmen who was a first-team squad regular along with Gary Stevens, Terry Hurlock, Nigel Spackman, Trevor Steven, Mark Walters and Mark Hateley. The back-up netminder was Israeli Bonni Ginzburg plus there were others such as Ukrainian defender Oleg Kuznetsov and Dutch winger Peter Huistra in the cosmopolitan squad.
Something had to give. Andy Goram taking over from Chris Woods made a lot of sense. I wrote the story and it hit a few raw nerves. I could have anticipated that, but it was most certainly not my intention. My only consideration was ensuring the Sunday Mail sports section was the best in the country and we were giving our readers the service they deserved.
DENIED…Andy Goram somehow turns a close-range shot from Pierre van Hooijdonk over the bar during a 3-3 draw at Ibrox in November 1995.
After the initial furore had died down, the Goram link was not mentioned again for the remainder of the season. Woods, who was signed by Souness from Norwich City for £600,000 in 1986, remained in place as an ever-present during another successful championship crusade for the Ibrox club.
By the way, I can tell you Rangers' initial target in their quest for a new shotstopper back then was Peter Shilton, the 125 times-capped England stalwart who was with Southampton. Talks reached an advanced stage before Shilton changed his mind. He later admitted to associates he feared playing in Scotland may have hindered his international career. A year later, he joined Derby County.
So, Woods was in place as the season reached its crescendo. Back in March, he had been beaten three times by Celtic as Rangers lost 3-0. Just under a month later, April 16, to be precise, Graeme Souness left Rangers to return to Liverpool. His good friend Kenny Dalglish had rocked football on February 22 when he quit the Anfield club, only two days after a 4-4 draw with Everton in a rousing English FA Cup-tie.
Long-serving coach Ronnie Moran was asked to step up, but he made it clear he did not want the position on a full-time basis. Once more, the jungle drums went into overdrive. Souness became the favourite for the role.
The only surprise was the actual timing of Souness packing his bags in Govan. There were only four league games to be played and the club was on the cusp of a third successive title on their way to a record-equalling nine in a row, first achieved by Jock Stein's all-conquering Celtic side from 1966 to 1974.
BEATEN…Andy Goram is left clawing air as Malky Mackay rises to bullet in a header in a 2-0 Scottish Cup win for Celtic at Parkhead in March 1997. Paolo di Canio netted the second via the penalty spot.
Souness informed chairman David Murray Liverpool had approached him and he was inclined to accept their offer. He made it clear he would be more than willing to wait until the end of the season. He was told to leave that day. I was informed there was a fair bit of bitterness in the vicinity.
At an extraordinary and hastily-arranged press conference at Ibrox, the club owner, with Souness sitting beside him, announced the manager's departure. Within a few hours, Souness was in Liverpool and Smith was in charge of Rangers.
A tumultous season reached a rollicking conclusion when Smith, after 1-0 wins against St Mirren and Dundee United and a 3-0 loss at Motherwell, guided the team over the line with a 2-0 success against Aberdeen at Ibrox, completing the term with 55 points, two more than the Dons.
Chris Woods didn't realise it, but he was making a championship-winning farewell to Rangers that day. In August, he was signed by his former Gers team-mate Trevor Francis who had taken over as manager of Sheffield Wednesday.
Around that time, Walter Smith announced the £1million signing of Andy Goram from Hibs.
Rest in peace, Andy.
ALEX GORDON has written 24 books, fifteen on his beloved Celtic. The author is flanked by Billy McNeill and Davie Hay at the launch of his tribute tome to the club legends – 'Caesar and the Assassin' – at Celtic Park on December 8 2014.
Click Here for Comments >