BILLY McNEILL, a genuine Celtic legend among a club awash with iconic personalities, today received worldwide support from everyone who loves football.
The unforgettable leaders of the Lisbon Lions has proved his loyalty to the club many times during his medal-laden career as player, manager and now Club Ambassador. Billy McNeill is woven securely into the rich tapestry of Celtic's proud and unsurpassable history.
Yet it could have been such a different story at the start of the sixties when McNeill's love of the Hoops was put to the sternest of tests. He admits there were extremely lucrative and tempting offers to walk away from a troubled Parkhead, the team apparently going nowhere and clearly lacking leadership on and off the park.
Pre-Jock Stein's arrival in March 1965, it would be fair to say the players were becoming more than a shade disillusioned and disaffected. Billy McNeill, an obvious rising star amidst the wreckage of a team that hadn't won a trophy since the remarkable 7-1 League Cup trouncing of Rangers in 1957, was a magnet for attention from clubs across the border.
He recalls: "It was said at the time that Matt Busby wanted to sign me for Manchester United. My pal Denis Law had just arrived from Italian outfit Torino for £115,000 which was a mind-boggling sum at the time. Another good friend, Paddy Crerand, was just about to go to Old Trafford, too, around that time. Newspapers were speculating about a double deal and, to be perfectly, honest I think Celtic would have sold us both for the right money.
"Paddy, of course, made the switch to United, but I realised he would have been more than happy to have spent his entire career at Celtic. We weren't just players, we were fans. Paddy used to get the supporters' bus from Gorbals Cross to attend games up and down the country. It was the same with me on the Bellshill bus. They always made space for a young Billy McNeill and I will never forget their kindness.
"In actual fact, though, the Press had got it wrong. Matt Busby, to my knowledge, anyway, never made a bid for me. I'm sure I would have found out if he had. They had Bill Foulkes at centre-half and he was a bit of a mainstay in their line-up, so I don't think they needed cover in that position.
"It was a different story with Tottenham Hotspur, though. Their manager was Bill Nicholson, a former England international. However, he loved the attitude and courage of the Scottish players and, of course, had bought my Scotland colleague Dave Mackay from Hearts. Tapping a player was as illegal back then as it is today. Remember, this was long before Bosman deals and, basically, your club owned you, body and soul. You were registered as their player and that was the end of the matter.
"Players who asked away risked losing a percentage of any transfer fee. I knew of football agents in Italy, but there weren't any in the UK, as far as I was aware. Of course, there were ways round that obstacle. Clubs used to call in trusted newspapermen to make contact with a target.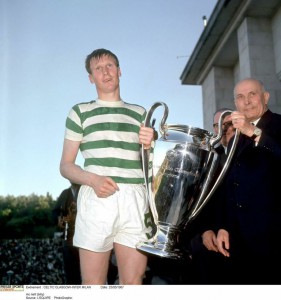 "There was nothing to prevent a journalist picking up the phone, making a call and revealing that such-and-such a club have taken a shine to you. They would be after a story, of course, but they also seemed to be furnished with a heck of a lot of details about what a club would put on offer, including salaries, bonuses and the like.
"Tottenham Hotspur were a massive club at the time who were able to splash a lot of cash on players who caught their eye. They paid exactly £99,999 to take Jimmy Greaves from AC Milan to White Hart Lane because they didn't want to put pressure on him by making him one of the first £100,000 players. True story.
"They were looking for a centre-half and the focus was on me and I was well aware of it. They were winning trophies almost every season and were a glamorous club packed with big-name stars. However, after a lot of soul-searching, I informed them I wasn't interested in leaving Celtic. About a year later, they paid big money to buy Welsh international Mike England from Blackburn Rovers and he remained with the London club for almost a decade.
"In between times, Big Jock Stein returned to Celtic in 1965 and I was delighted I wasn't lured away from Parkhead. That's when everything clicked into place and there was no other team on this planet I would rather have played my football with. I can look back today and honestly say I don't have a solitary regret."
Billy McNeill's silverware haul at Celtic is simply breathtaking. The European Cup triumph over Inter Milan on that glorious May day in Lisbon in1967 is at the pinnacle of awesome achievement as a player, but there were also nine League Championships, seven Scottish Cups, six League Cups, 29 full Scotland caps and the first-ever Player of the Year award in 1965. He also picked up an MBE for services to sport in 1974.
As a manager, he lifted four League titles, three Scottish Cups and one League Cup.
On behalf of a grateful support, CQN would like to thank Billy McNeill for what he achieved as a Celtic player and manager and wish him all the very best battling his illness.
Hail, Hail Caesar!
You will never walk alone.
Click Here for Comments >