DAVID EDGAR was back late last night to give his thoughts on the dull 90 minutes at Ibrox and the explosive 5 minutes of comedy gold that followed.
Edgar previously managed to find a defence for the Famine Song but unfortunately for Pedro, the Hand and Heart podcaster can no longer defend Caixinha's time as the Sevco boss.
Edgar opens up by calling former rangers player Kirk Broasfoot a disgrace as apparently the Zombie hard-man Jack only "lightly brushed his head," while there's no mention of the kick.
He talks about dreading their usual "post first half slump" which sounds like a new level of awfulness that Pedro has managed to introduce at Ibrox. That sis one achievement given that he followed on from The Magic Hat and Salary McCoist, who deliciously was taunted and teased by the Celtic support (named this week as the Best Fans in the World by FIFA), who looked up at the BT Sport commentary box above them and constantly sang "ALLY McCOIST, YOU LET YOUR CLUB DIE'. You should have seen his face!
Haven't they suffered enough?
If you have the stomach for another ten minutes of zombie hurt and suffering here goes. Warning there is some hunnish language in the video.
Here's what actually happened last night in Govania…
— Li'l Ze (@LilZe8) October 25, 2017
ORDER Charlie Gallagher? What a Player! and we'll send you a copy of The Winds of Change for FREE only at www.cqnbookstore.com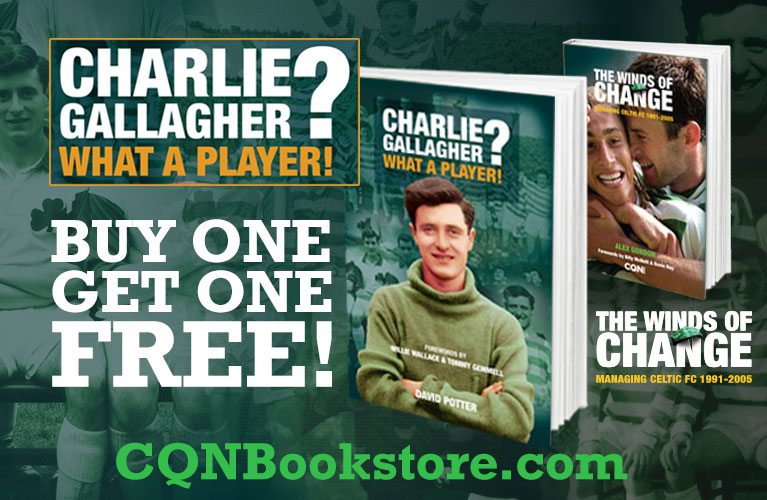 Click Here for Comments >